Welcome to Forest School & Garden
Forest School
2018-2019
Summer 1
Year 4 made a shelter which Reception class tested.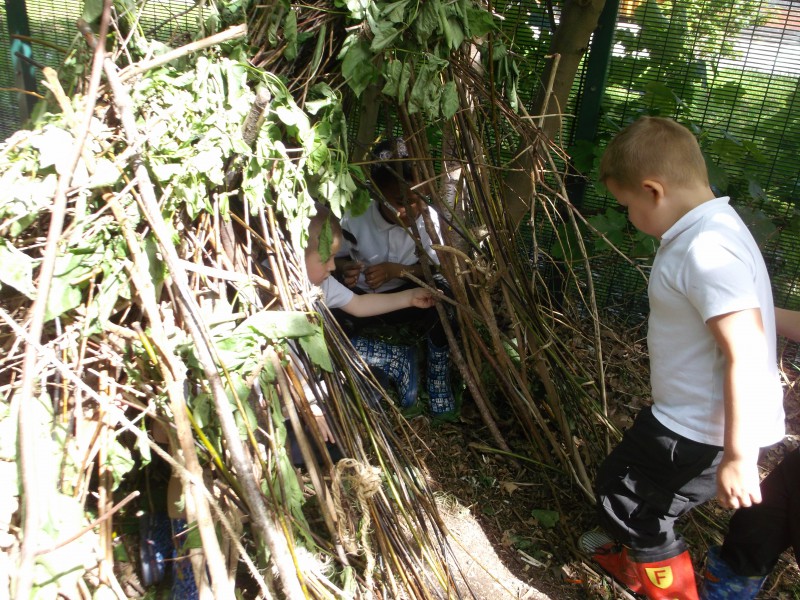 We harvested rhubarb leaves. We will sell them during the Gardening Club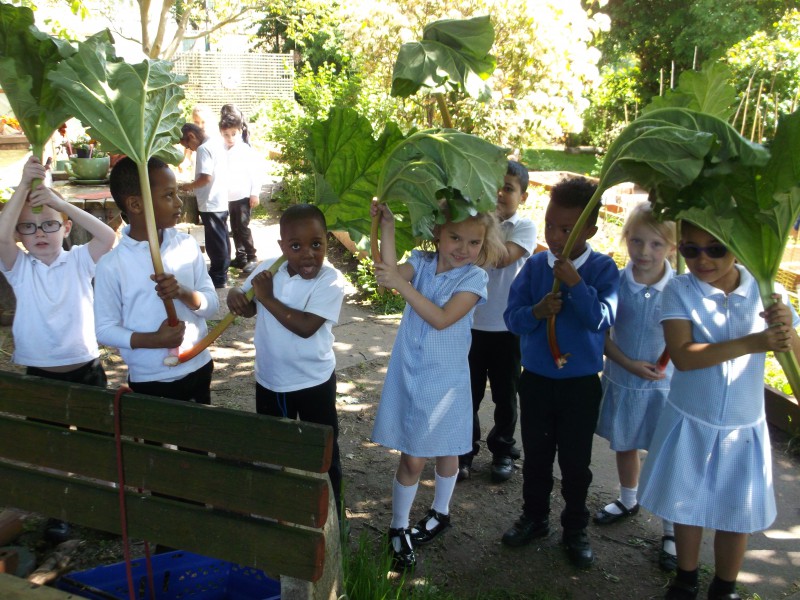 Year 1 are learning new stories. This week w read"The Stone Soup"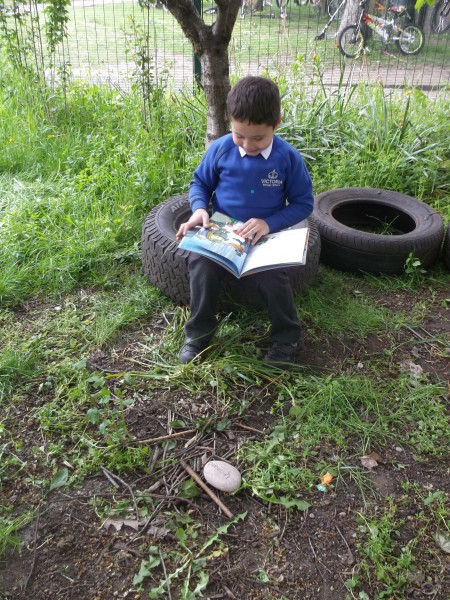 Everyone made up a different recipe for their soup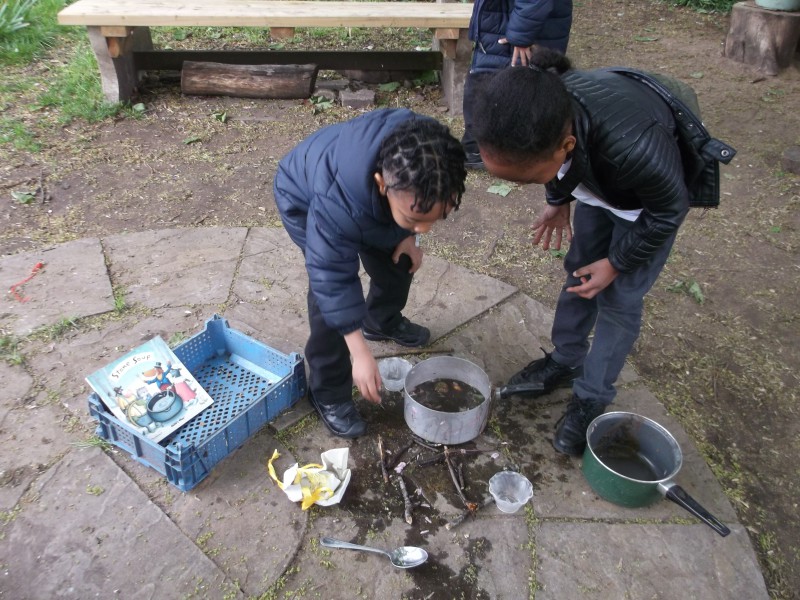 Enjoying a story under the plum tree
Y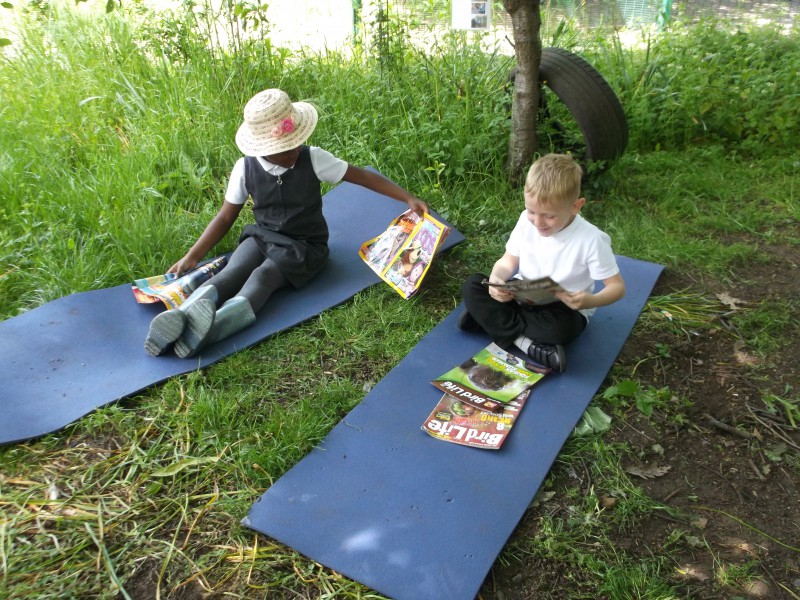 Reception class made some butterflies in Forest School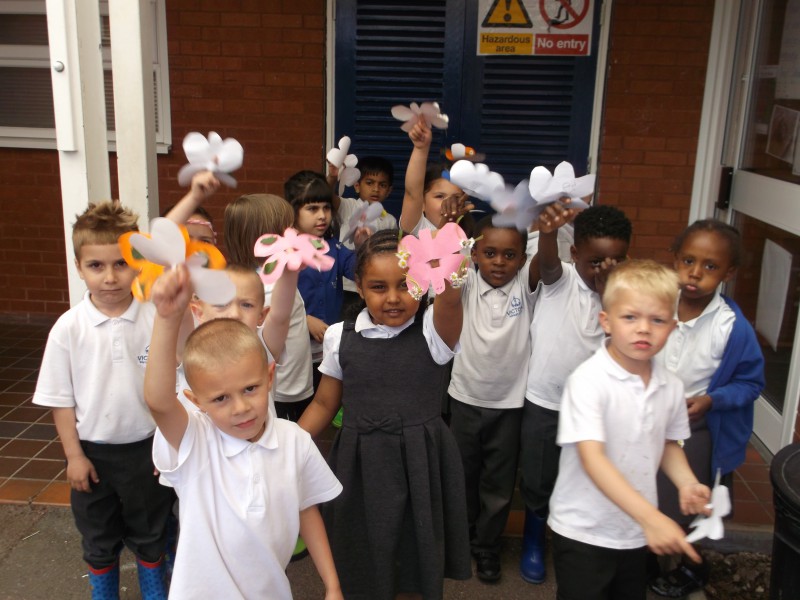 Year 4 trip to Arkwright Community Gardens
We have learned about different activities and services that the gardens offer to people who live in the Meadows area.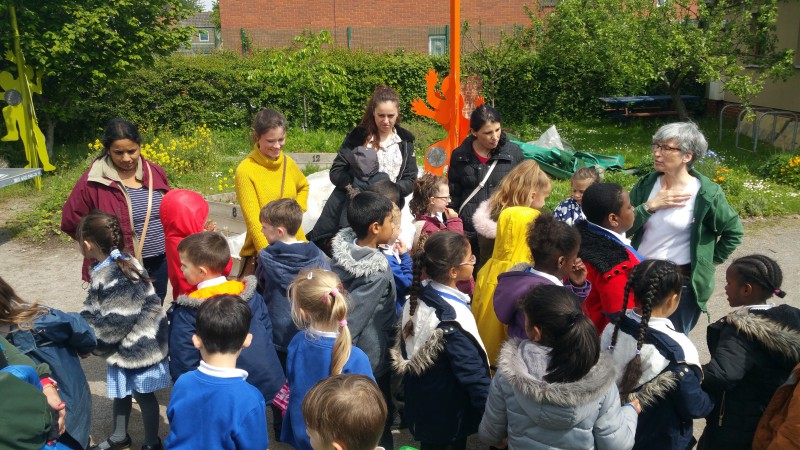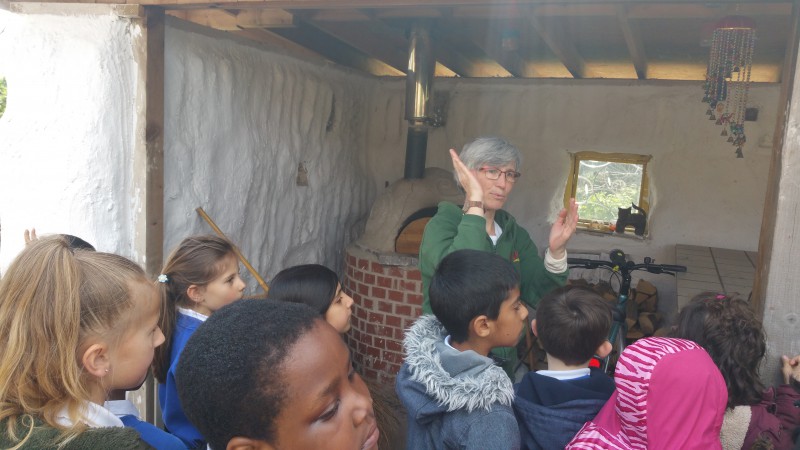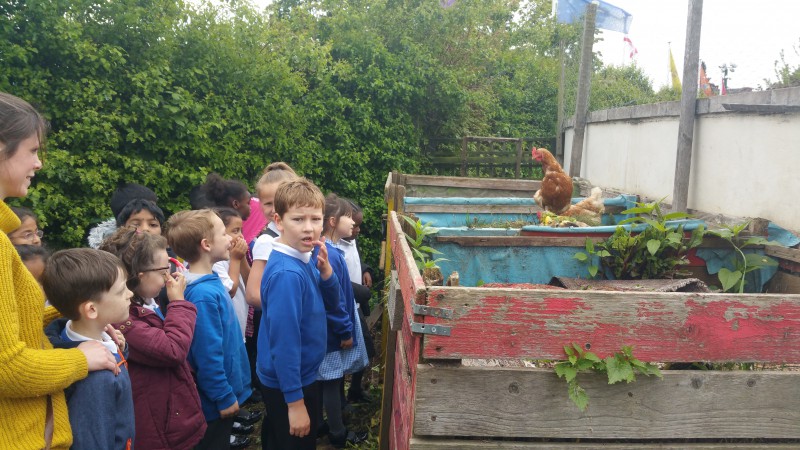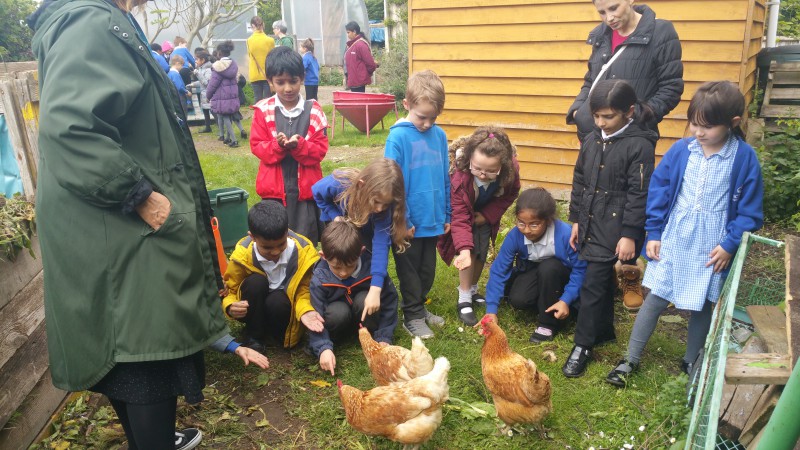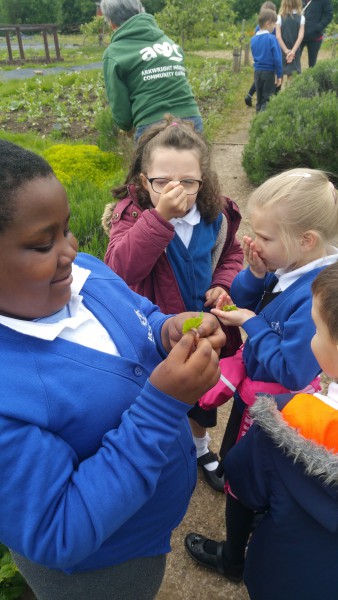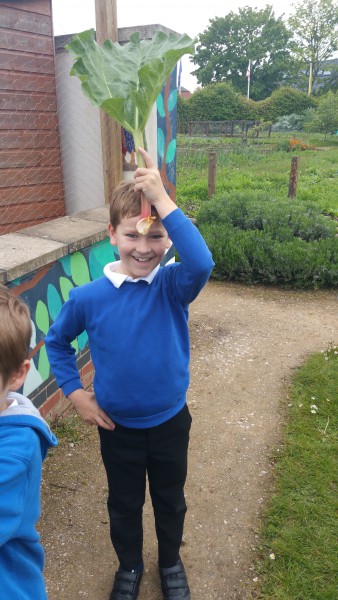 Reception class is looking for mini-beasts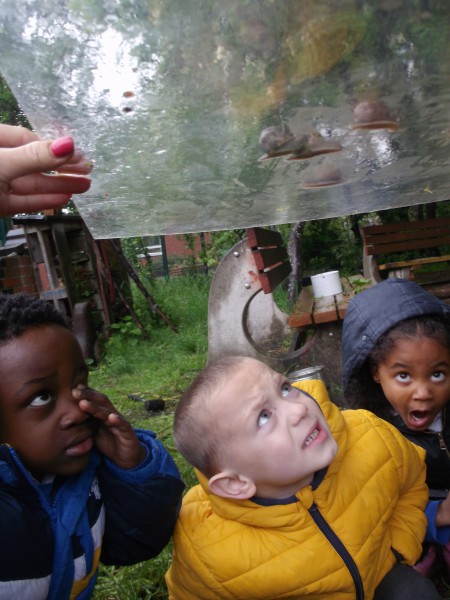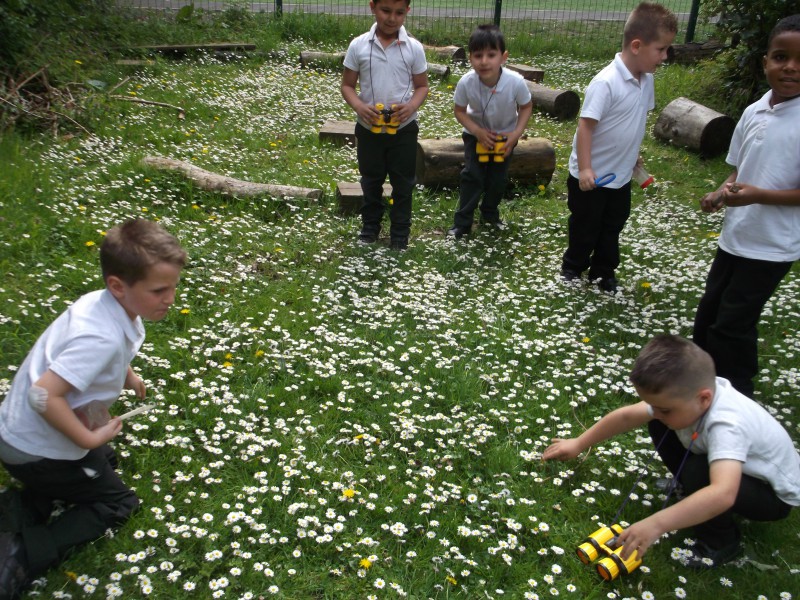 Year 1 children are hammering sticks in for the new fences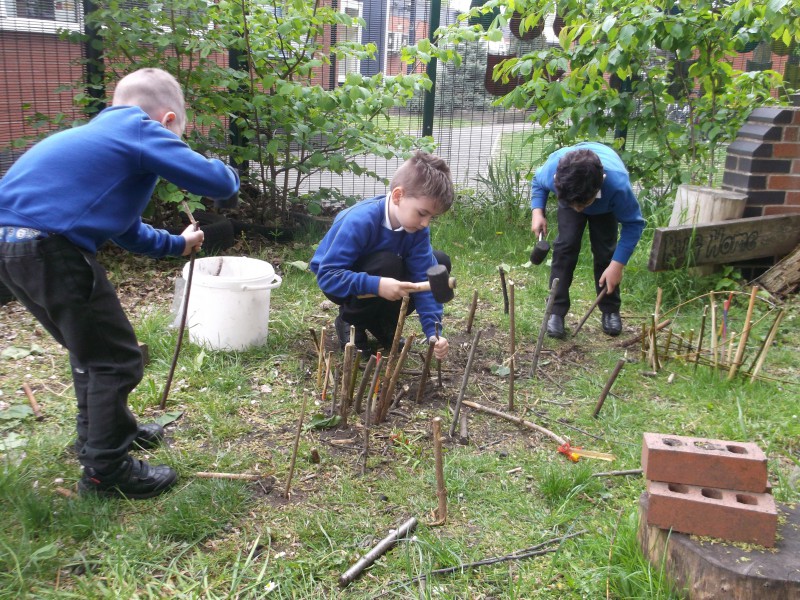 Spring 2
Spring flowers in our garden
Can you name them?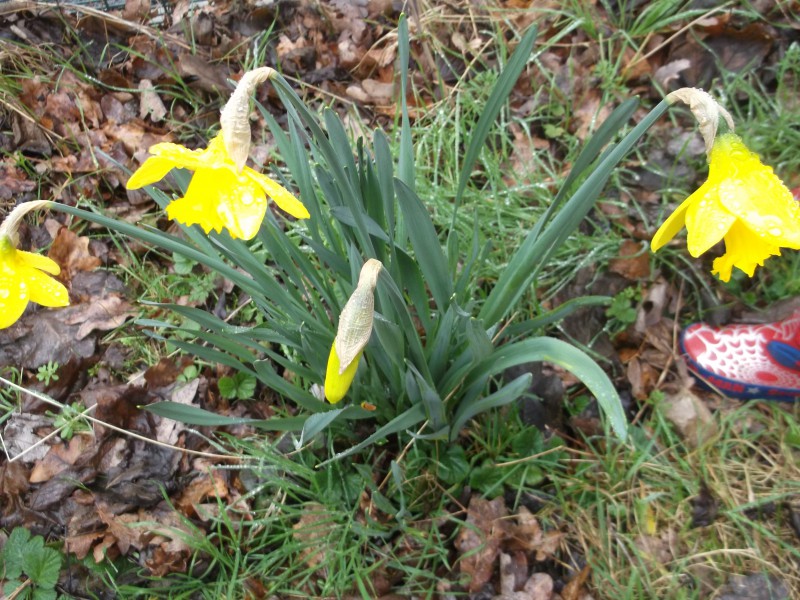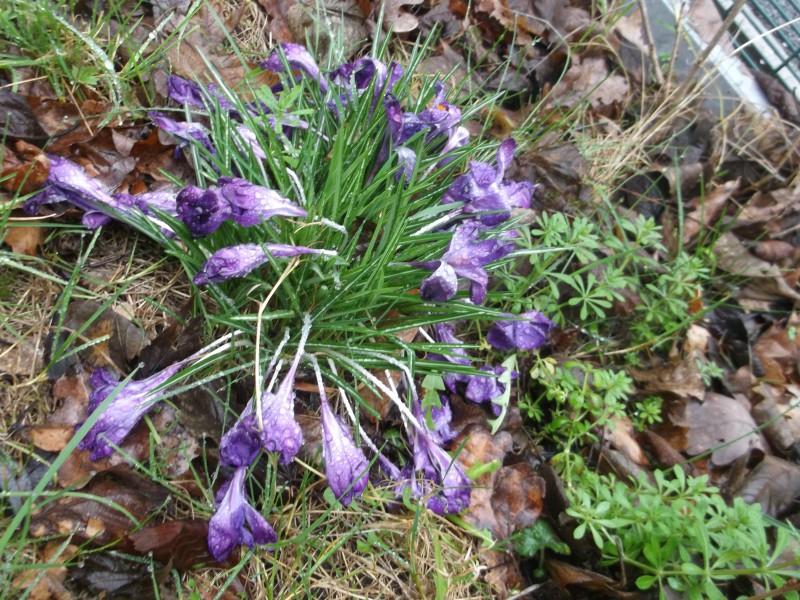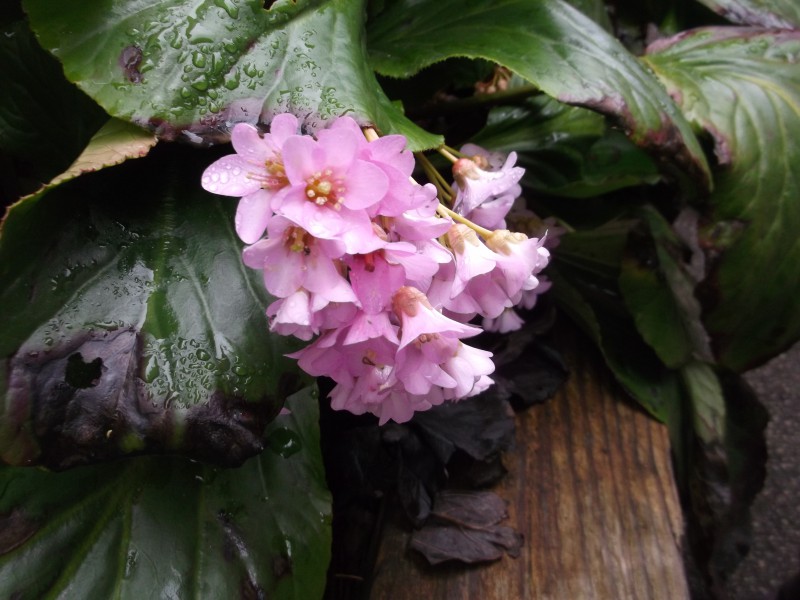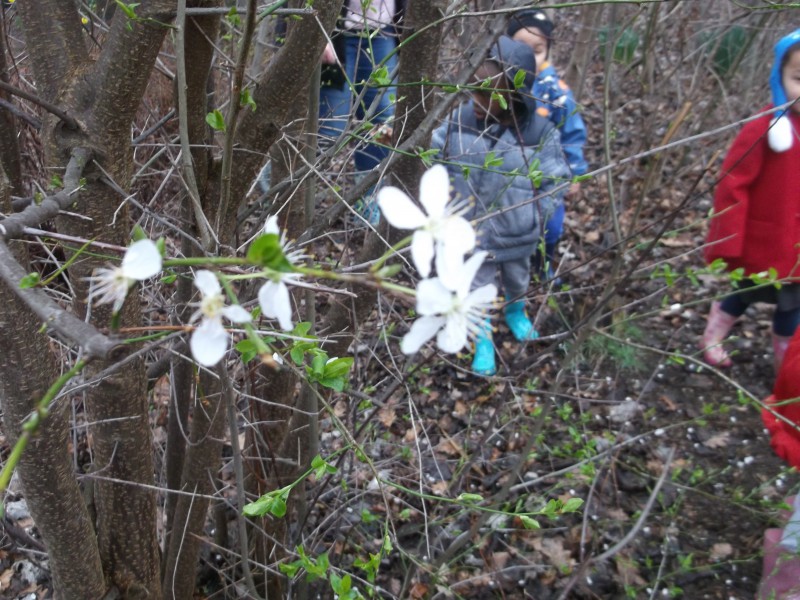 Daffodil Crocus Bergenia Cherry blossom
_____________________________________________________________________
Charlie has made a necklace using elder tree wood.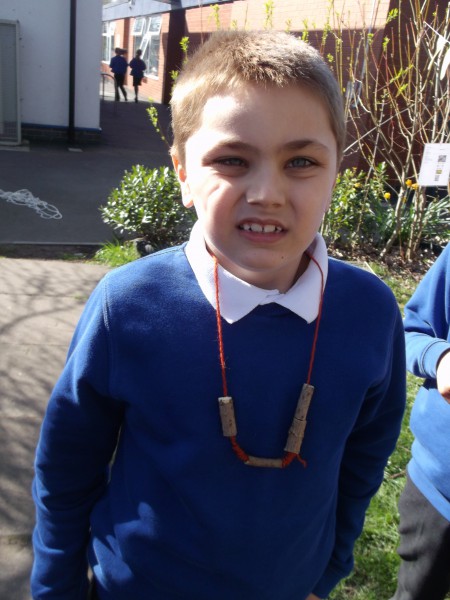 Year 4 are learning about the state of different materials. We are using bicarbonate of soda to create gas and make fizzy potions.
We also had an unexpected visit from out of space. The aliens deposited some frozen eggs in our garden. Some eggs were good and needed preserving and some were dangerous and had to be destroyed. We worked together to melt or insulate the eggs.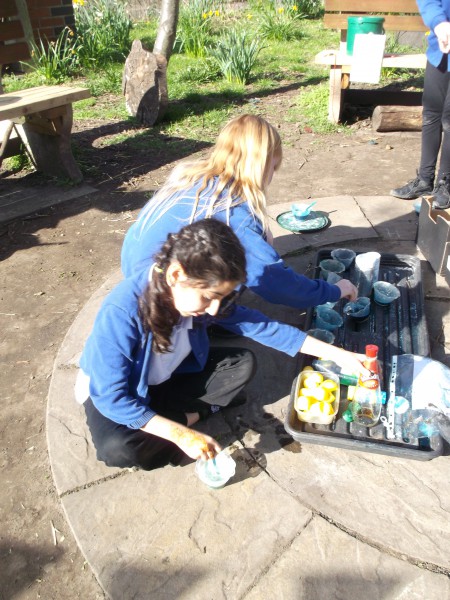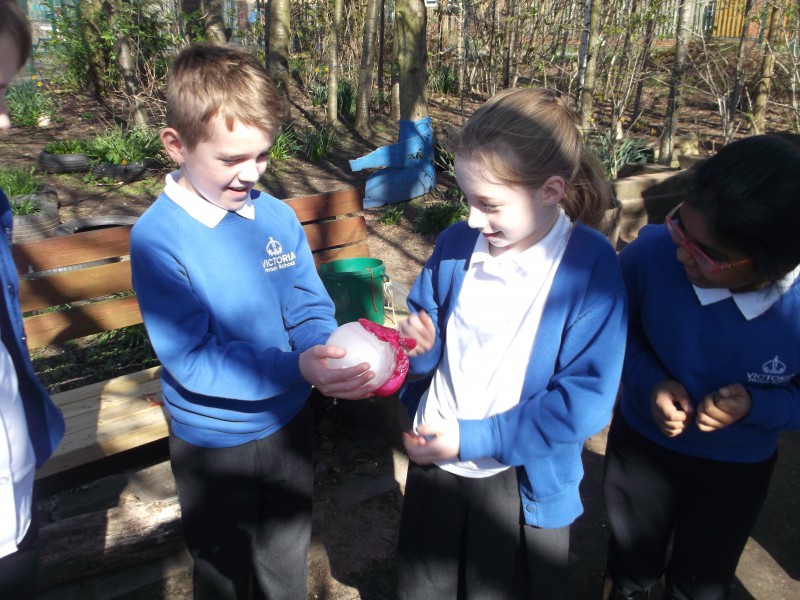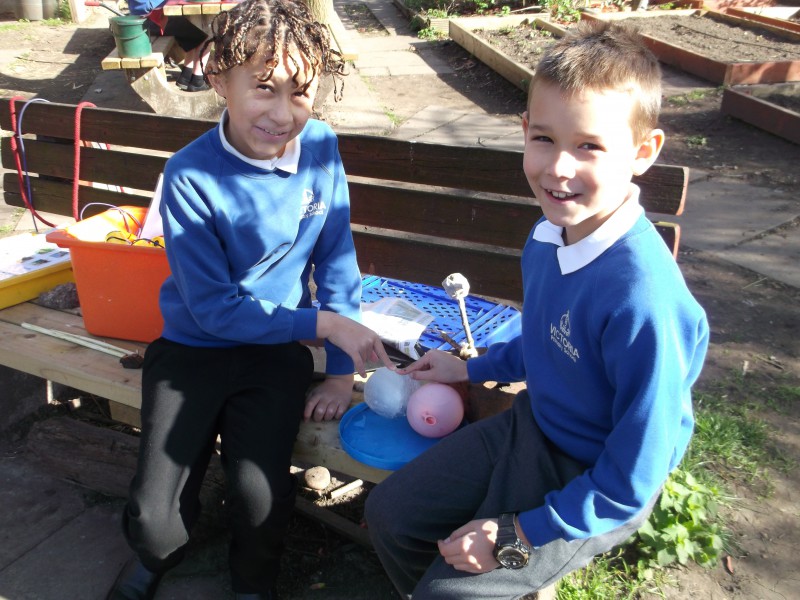 Reception class working in Gruffalo Cafe. What's on the menu; scrambled fox or owl ice cream?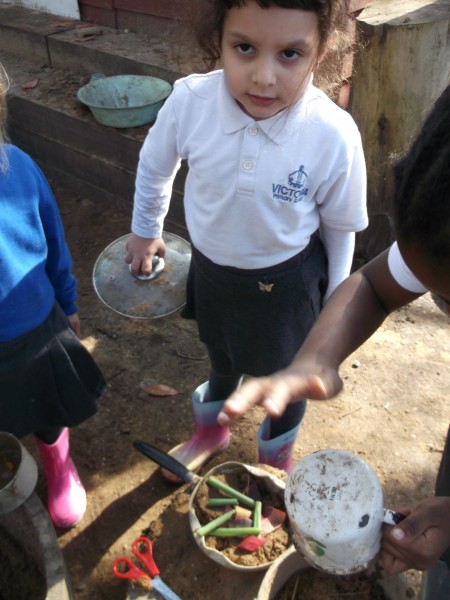 Year 1 is preparing the soil and sowing the seeds in our flower bed.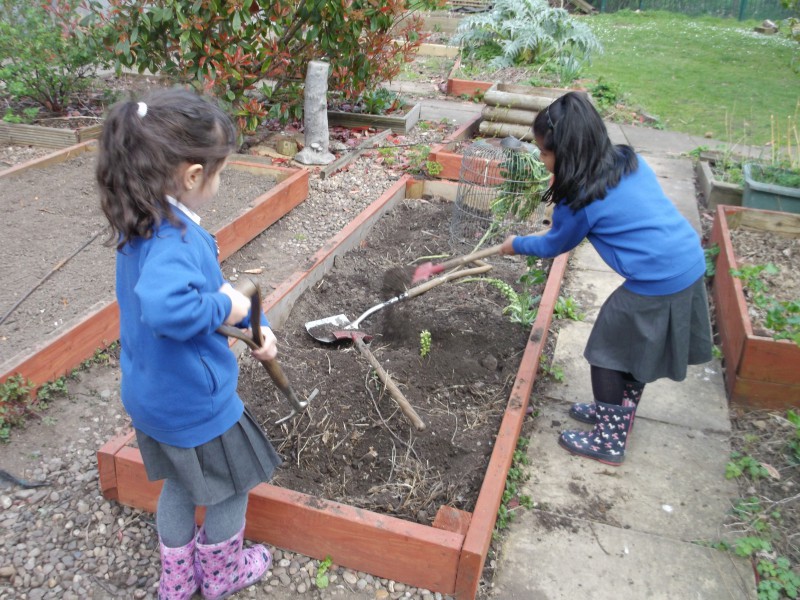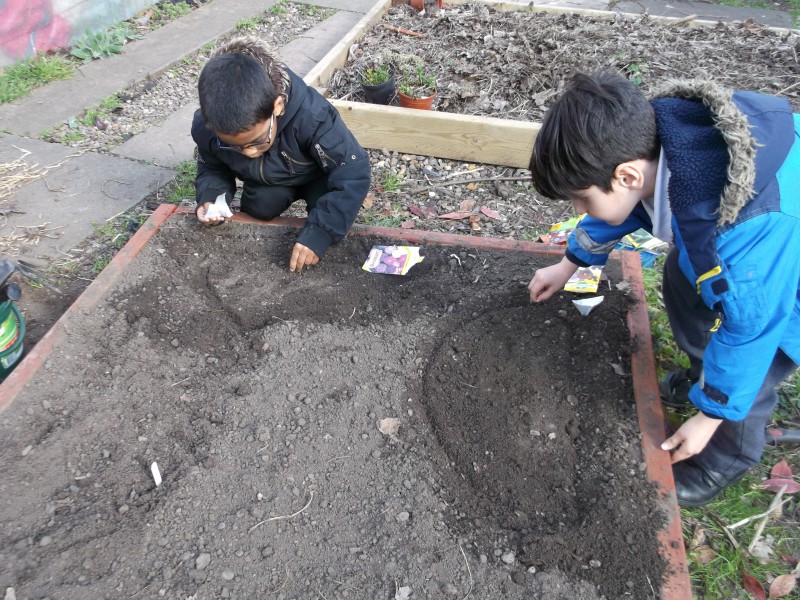 Our guinea pig is always popular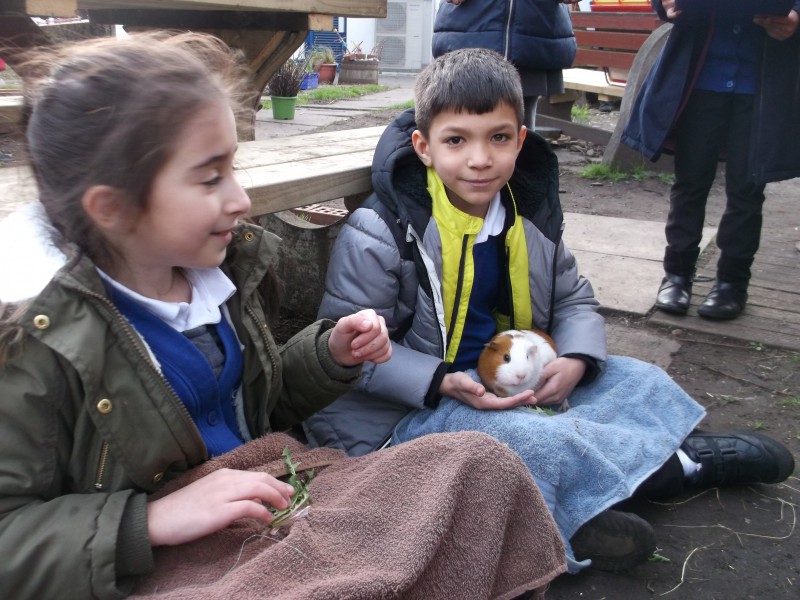 Year 4 children practising their skills in whittling.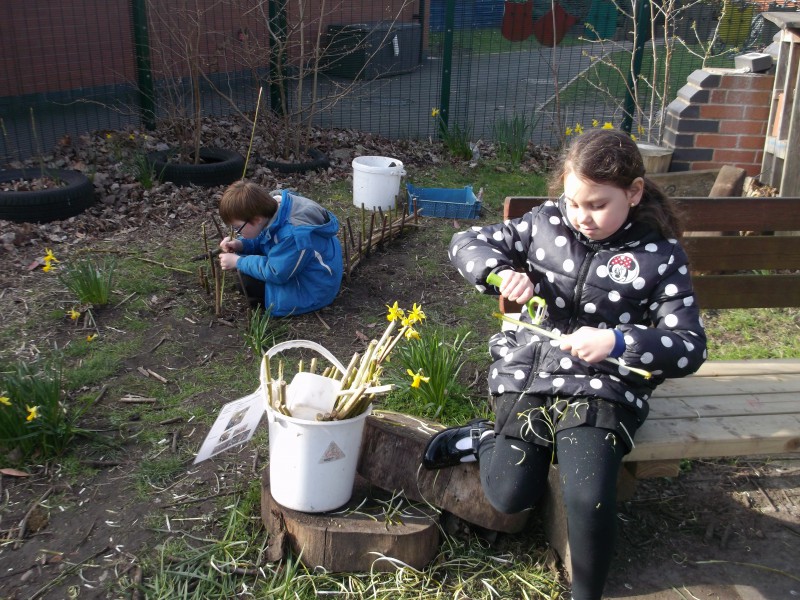 Fantastic mobile Amari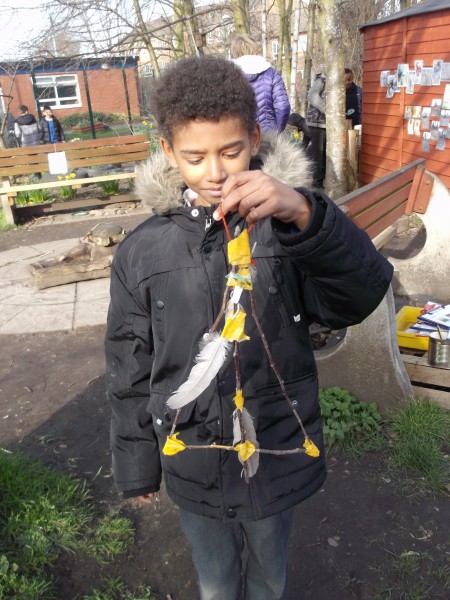 We made a mini pond with Mr Waker to ensure our frogs have a safe place to lay their eggs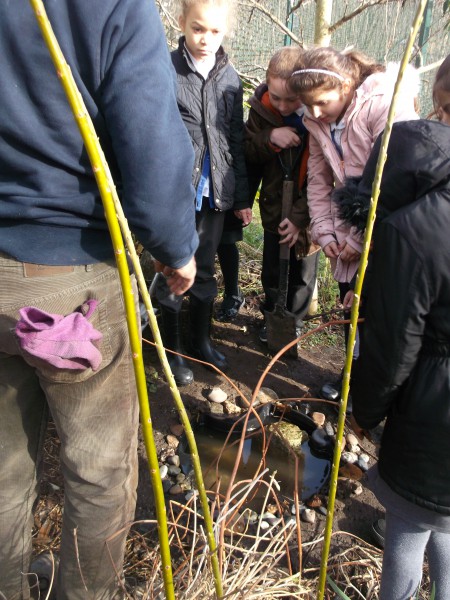 __________________________________________________________
Magical creatures
Year 2 are being creative making troll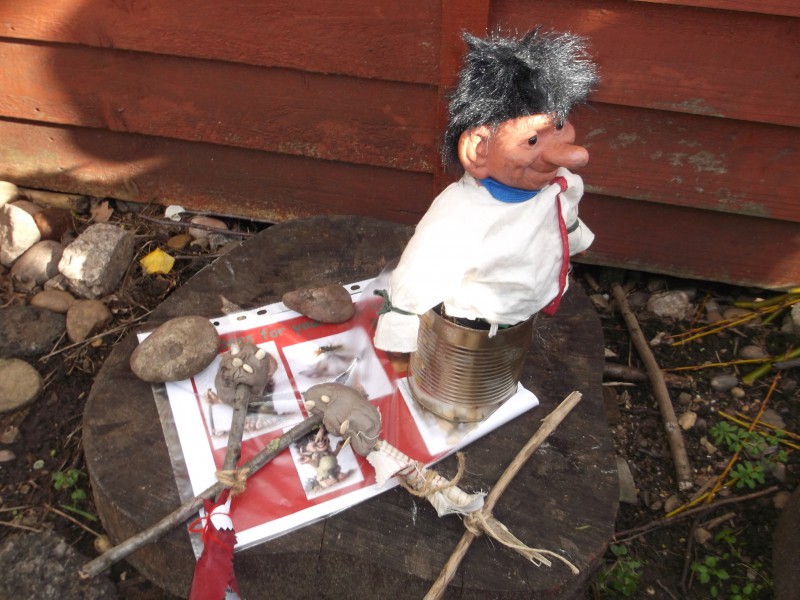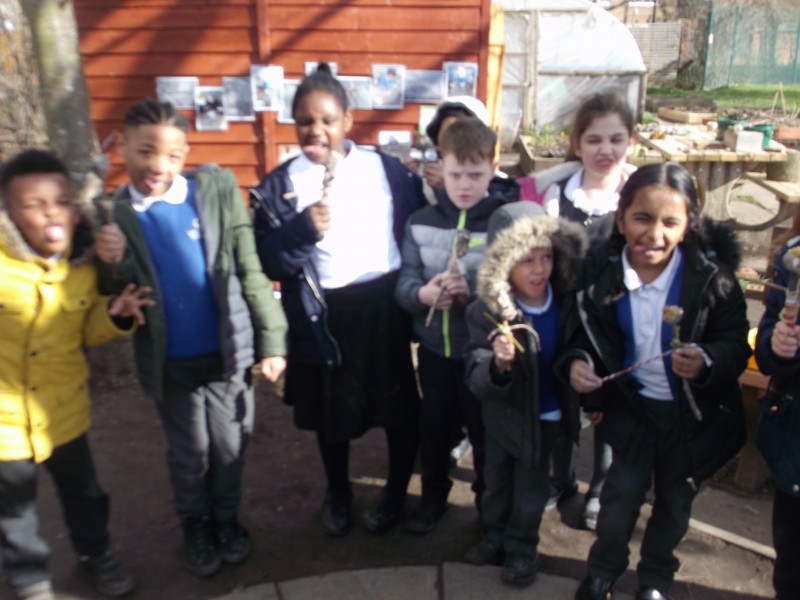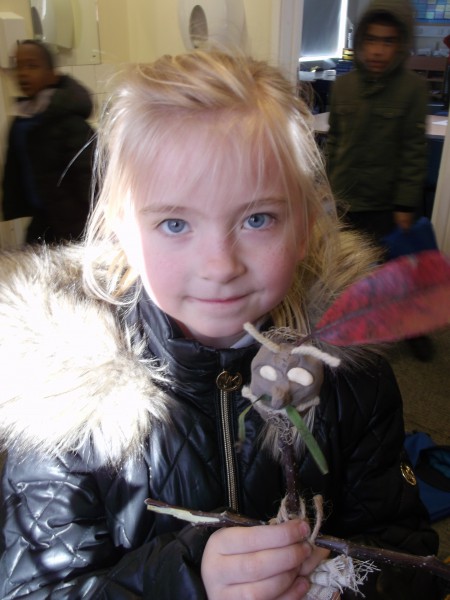 He has a long nose, shaggy hair and a long tail. He is a perfect Troll!
____________________________________________________________________
Gruffalo hunt with Reception class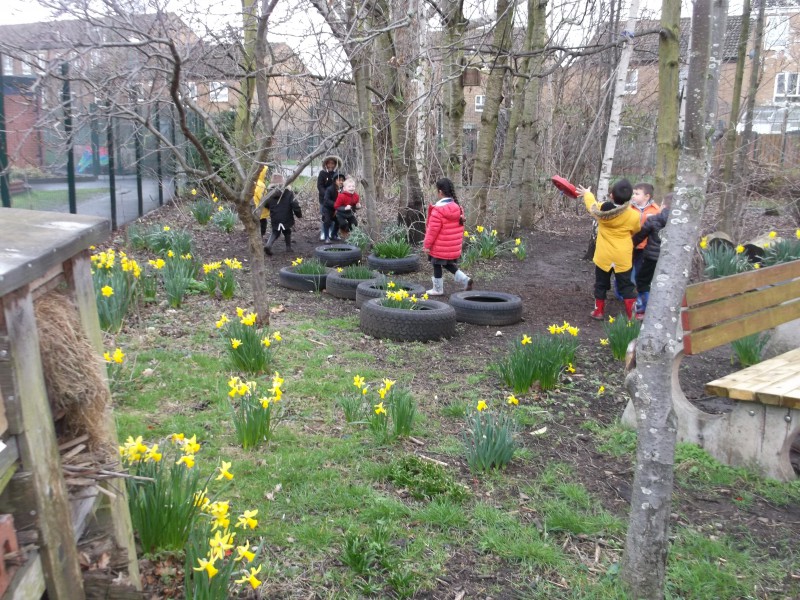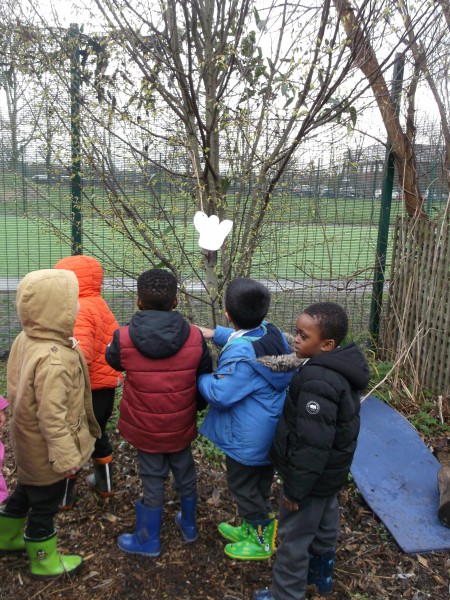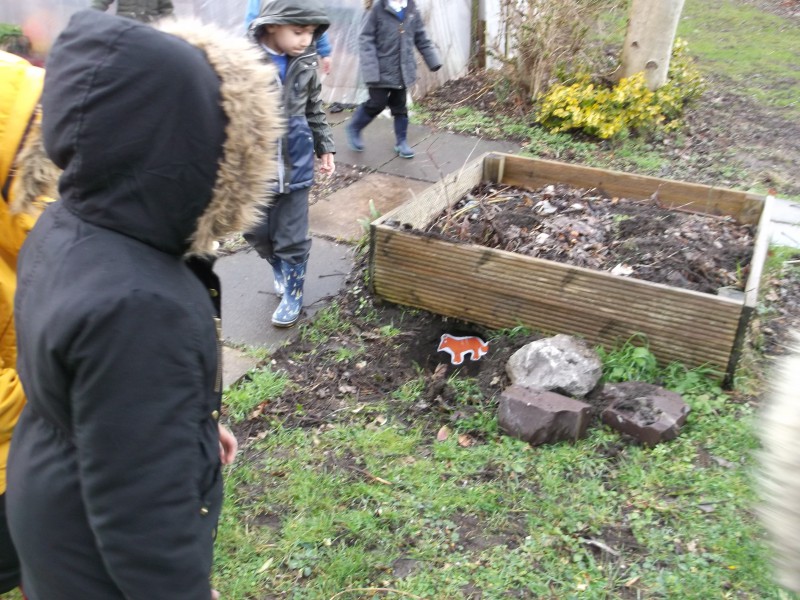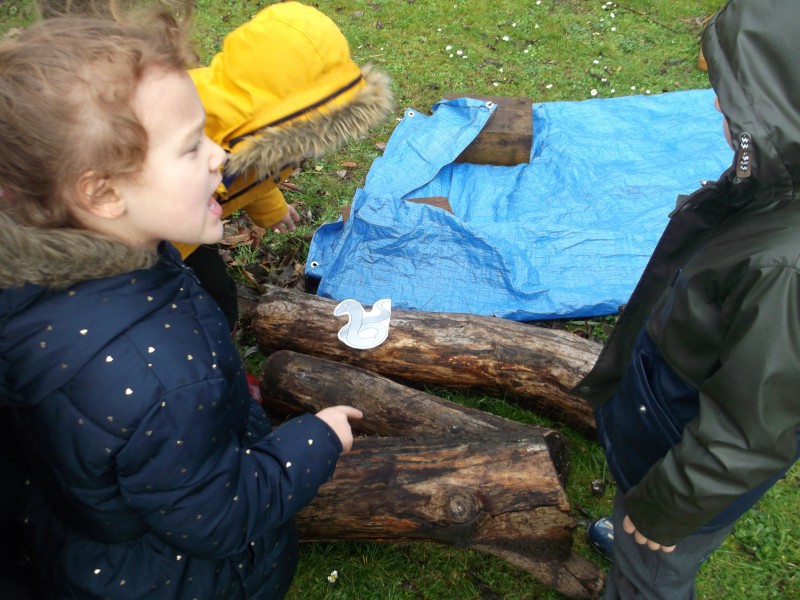 We made some Gruffalo scary faces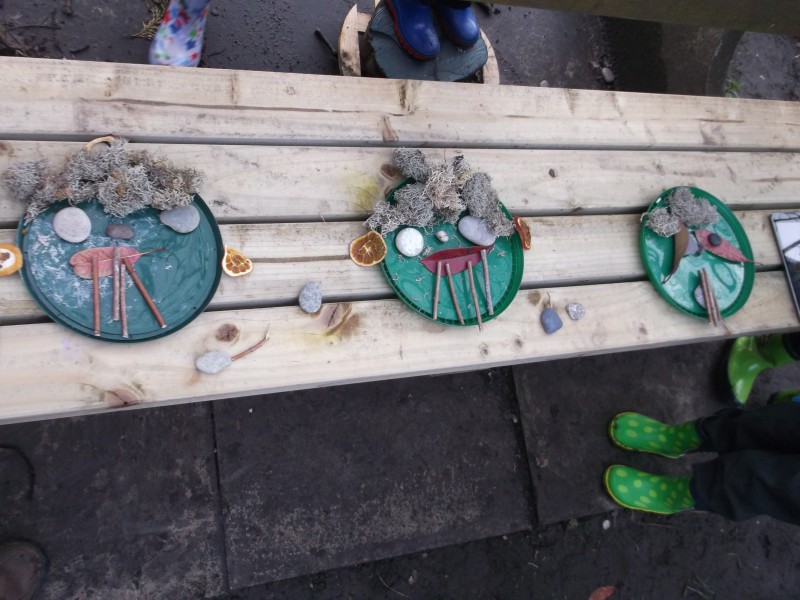 ..and look what we found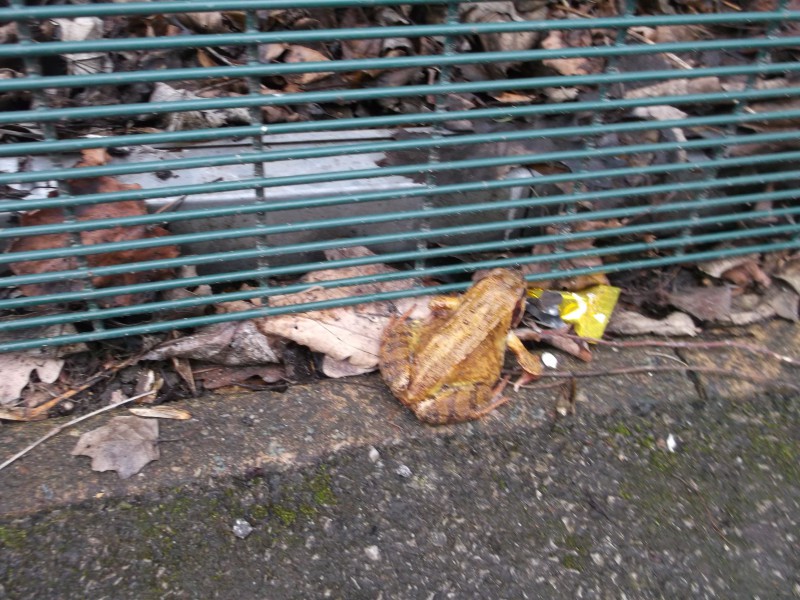 Spring 1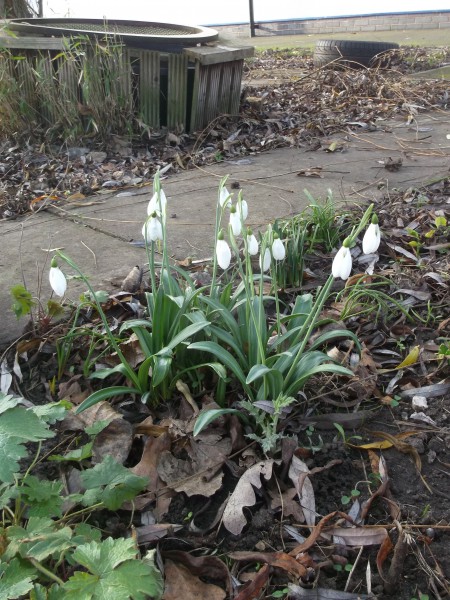 The first spring flowers in our garden -snowdrops.
------------------------------------------------------------------------
Reception classes made some people using sticks , stones and other materials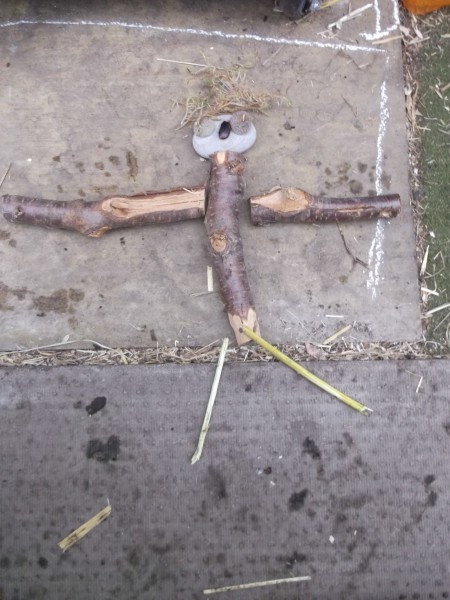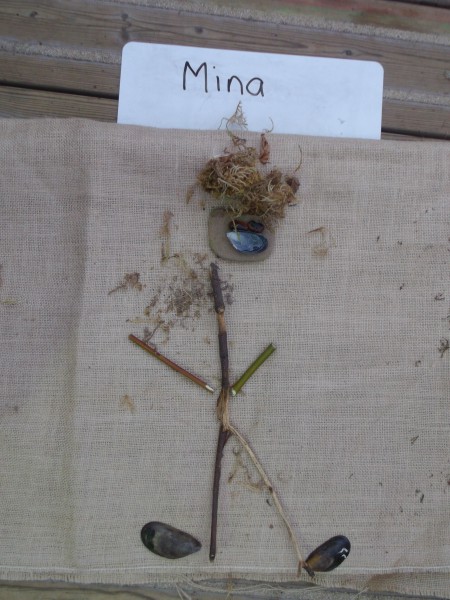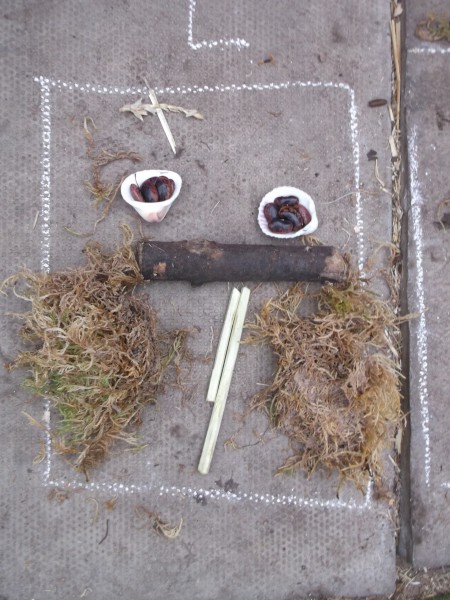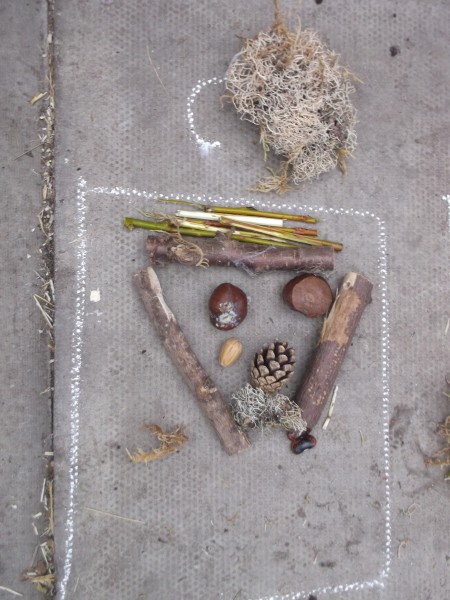 We had a visitor in the Forest School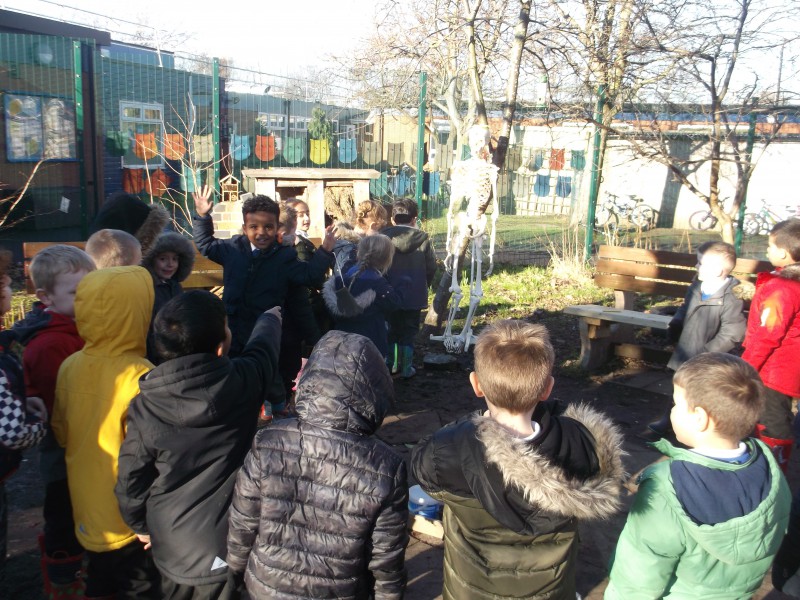 A skeleton!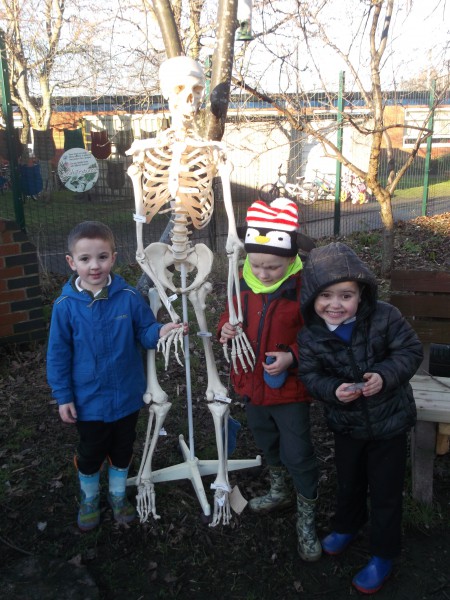 Using sticks, stones and seeds we made our own skeleton.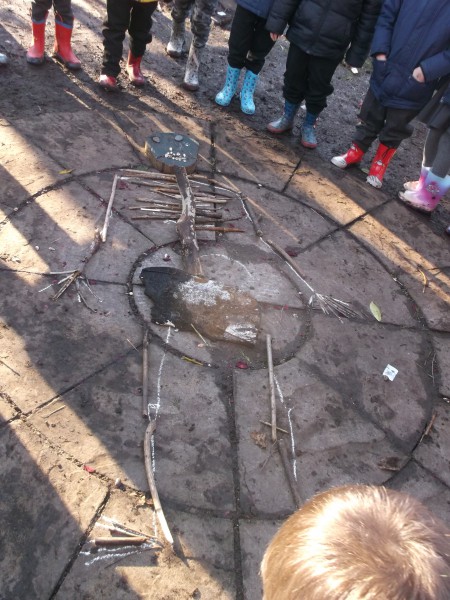 It was a cold day in the Forest School. We found lots of ice in different containers. This piece was a perfect circle!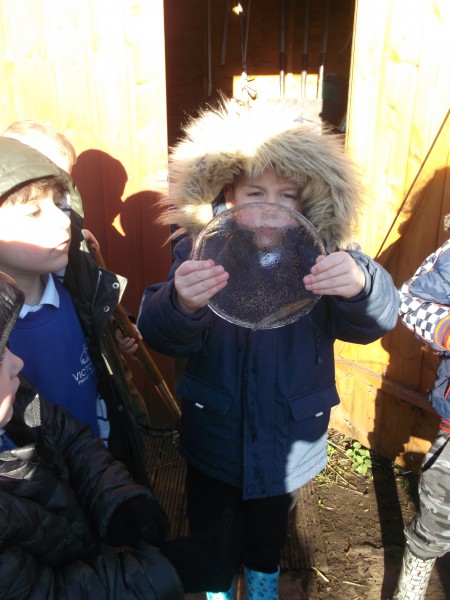 Year 4 are learning about India
We made some Rangoli patterns using natural materials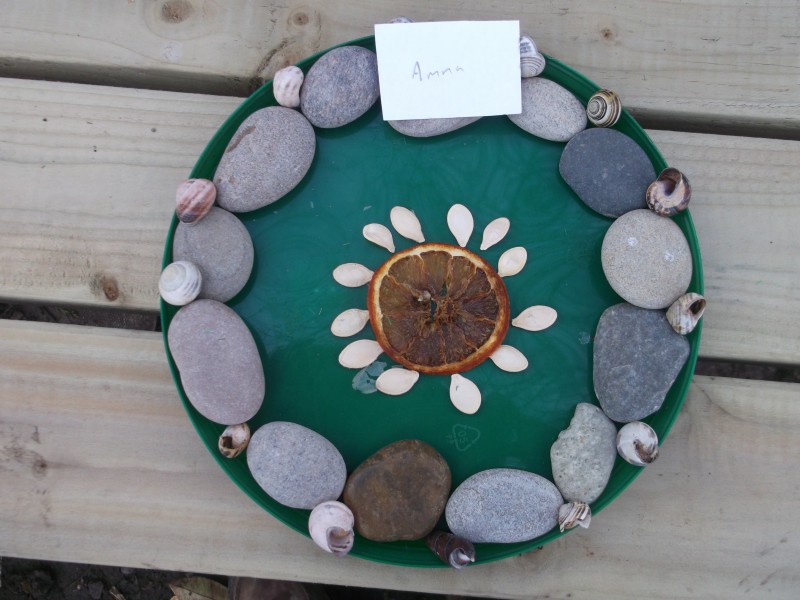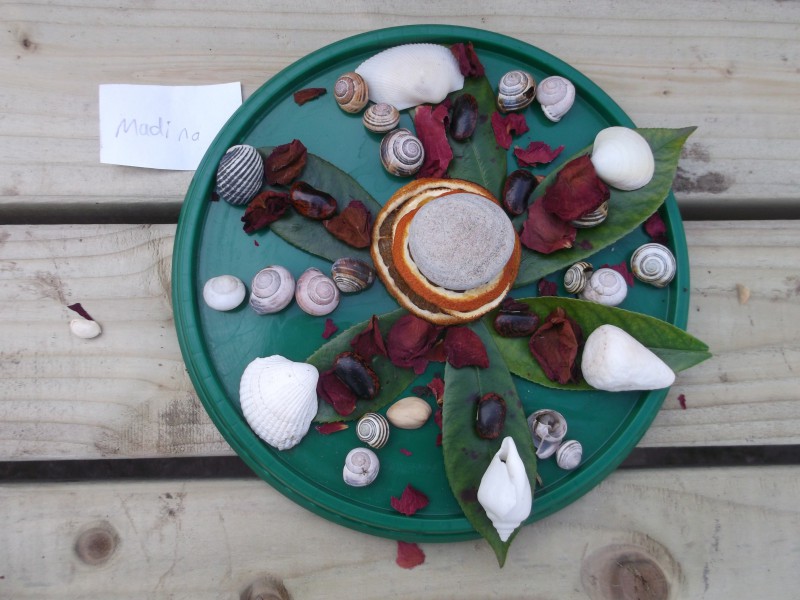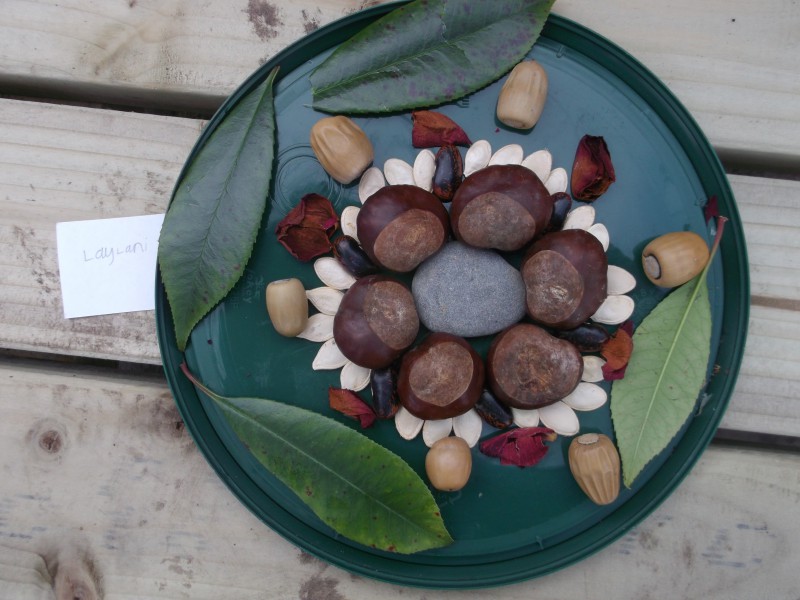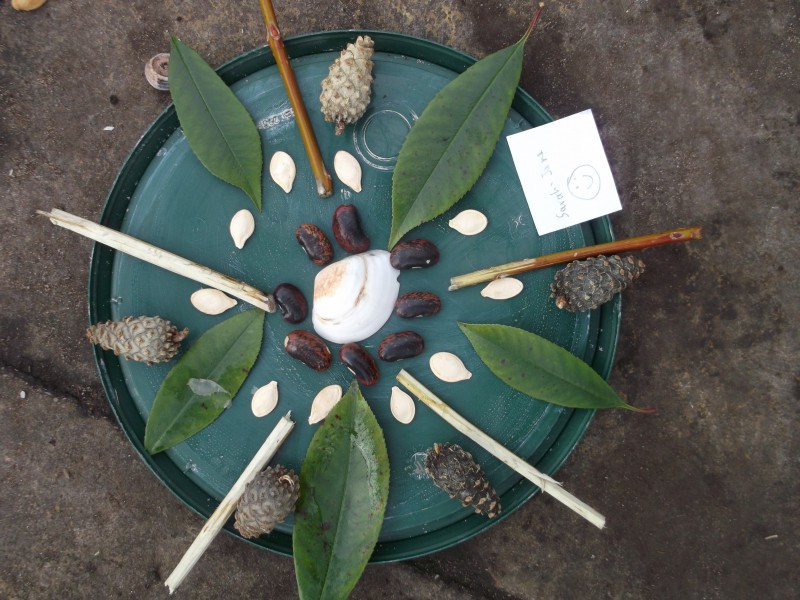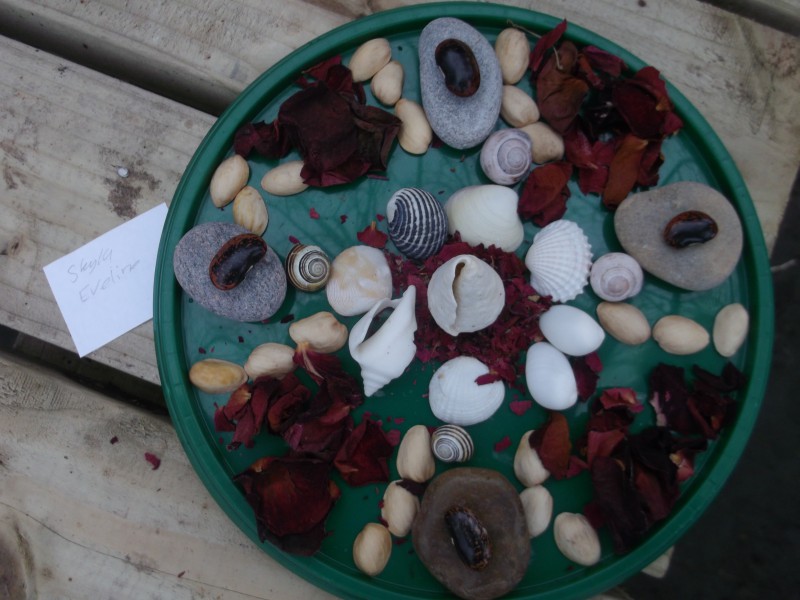 We practised archery inspired by the story of Rama and Sita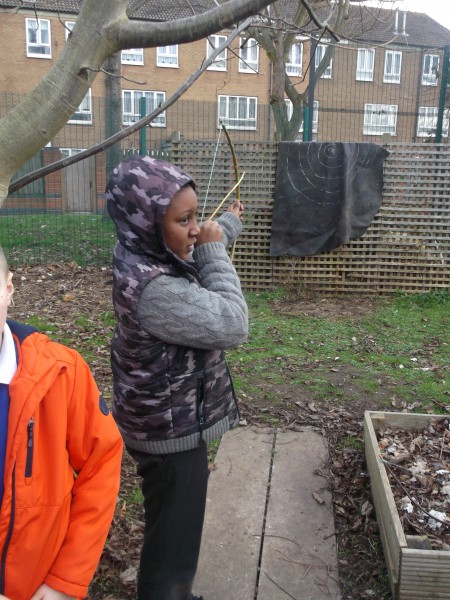 Autumn 2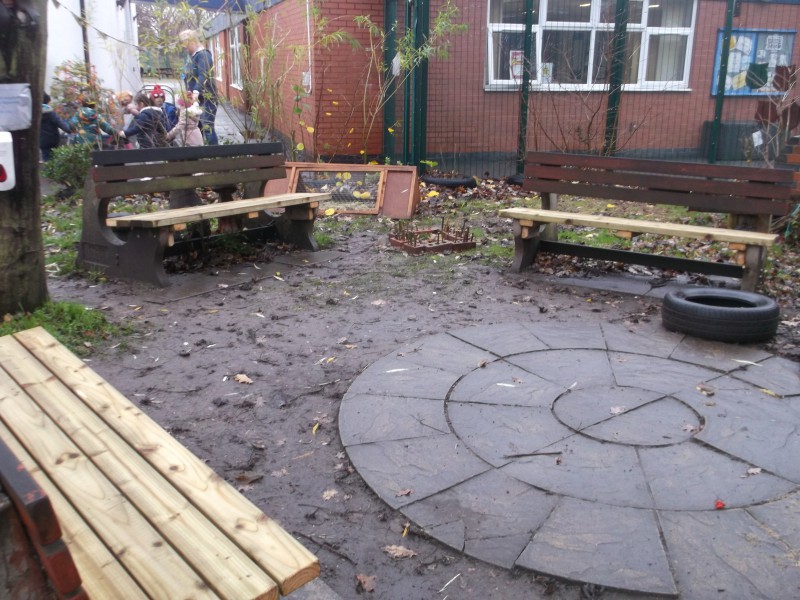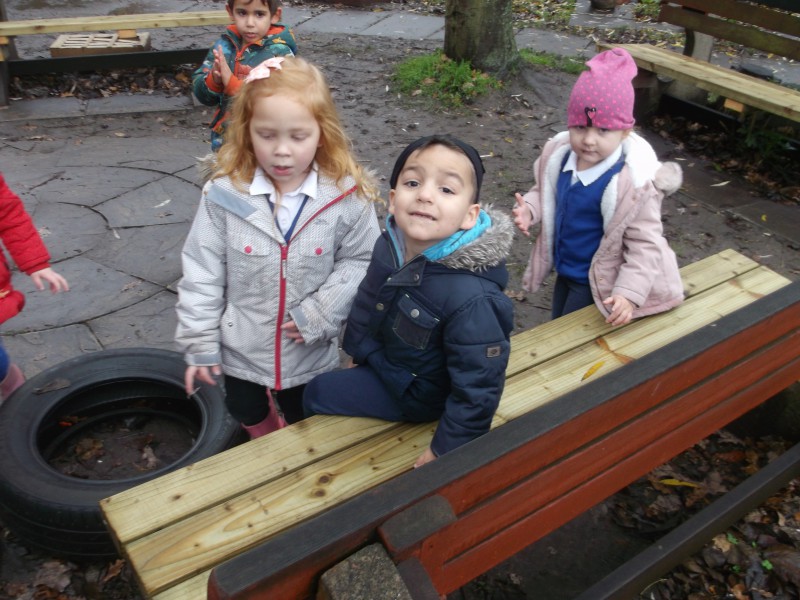 We have new benches in Forest School. An early Christmas present!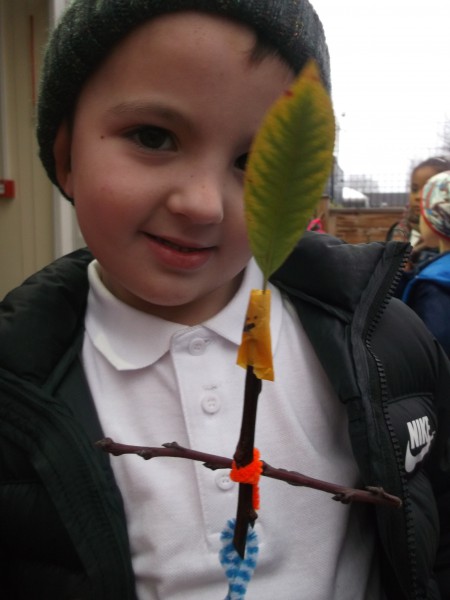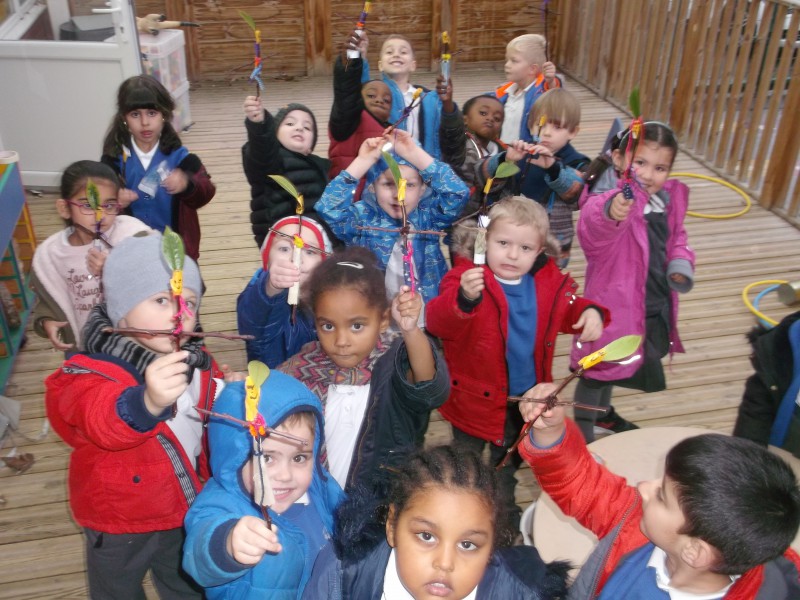 Reception classes made stickmen to help them to retell their favourite story
_______________________________________________________________
The members of the Gardening Club made some musical instruments and sang "Jingle bells" round the Christmas tree.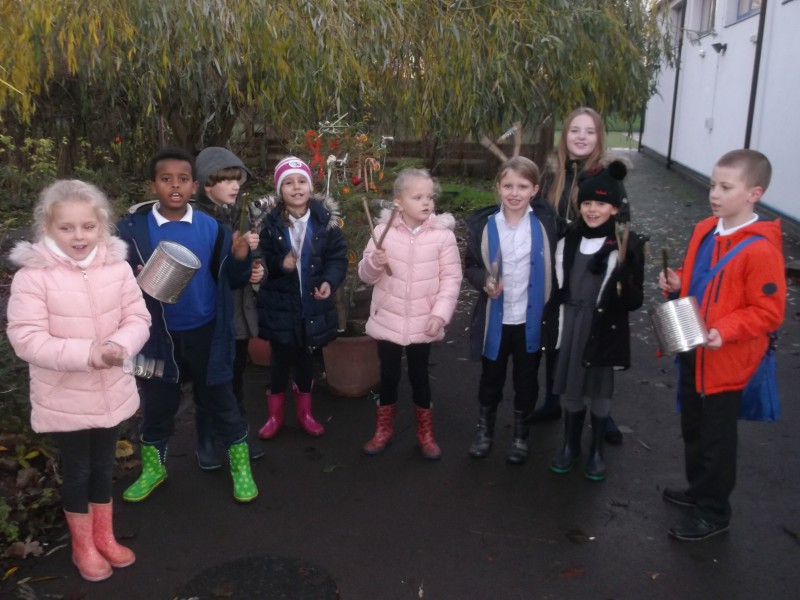 Christmas Tree for birds and animals in the garden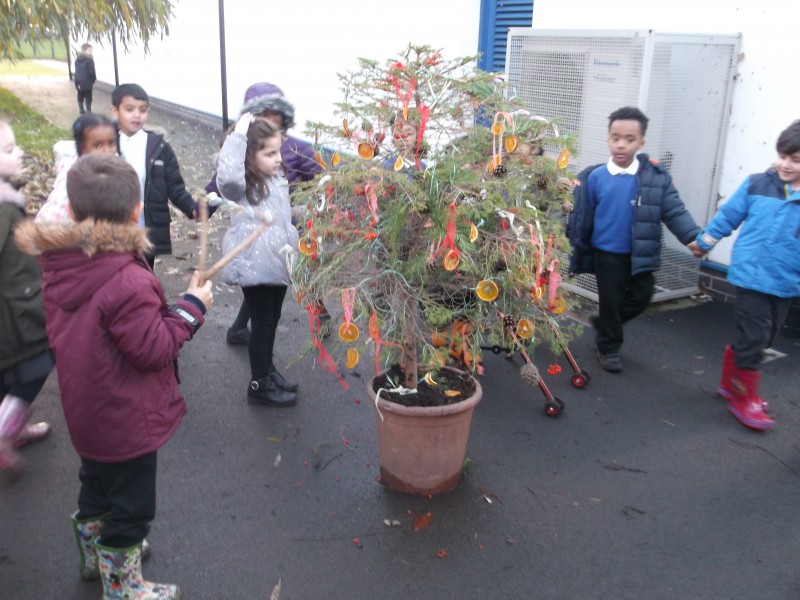 Here we go round our Christmas tree....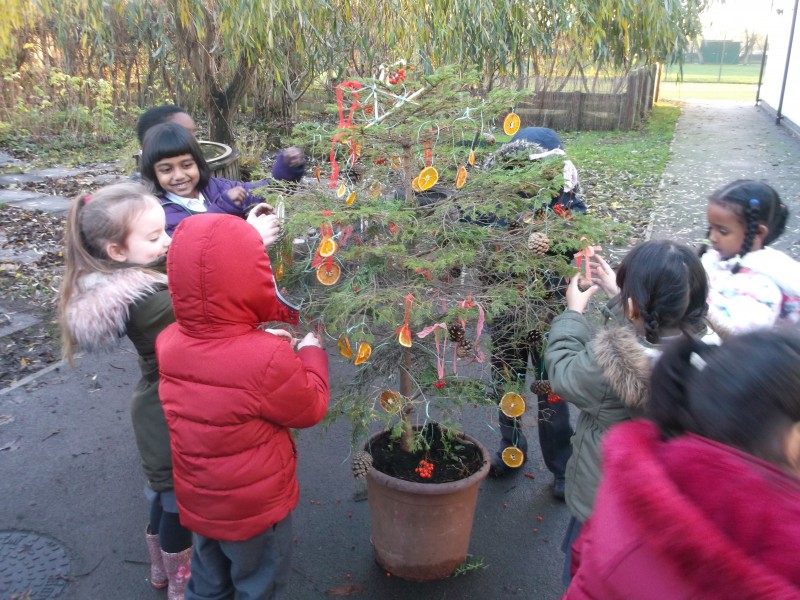 Guinea Pigs monitors are selling Christmas Cards to raise some funds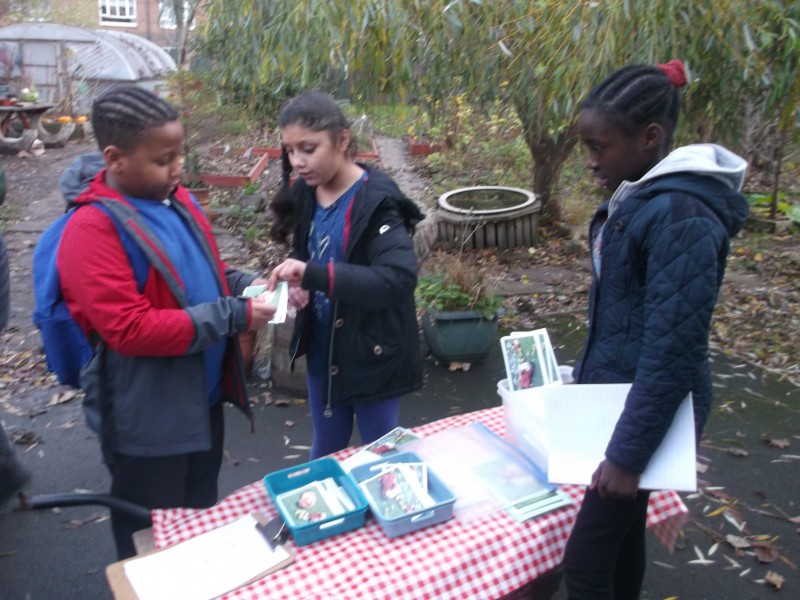 Year 2 We have been learning about fire safety. Our topic this term is Fire of London.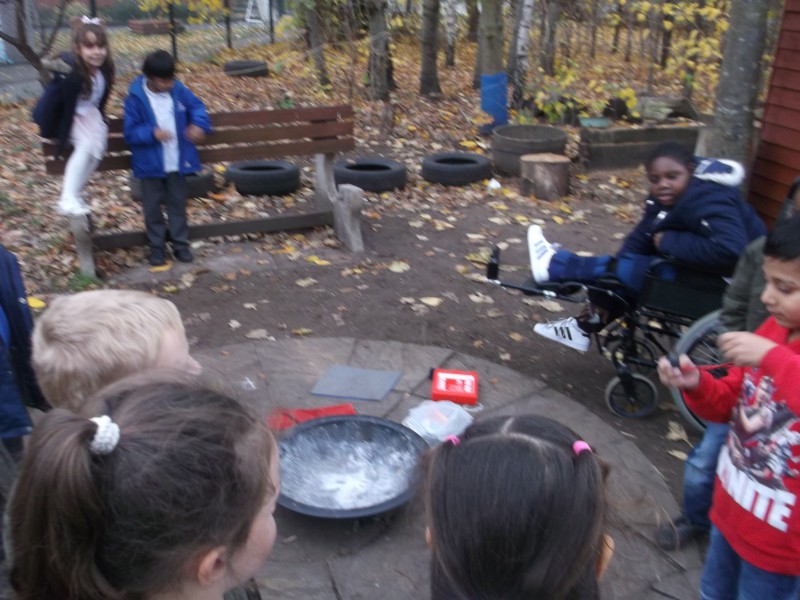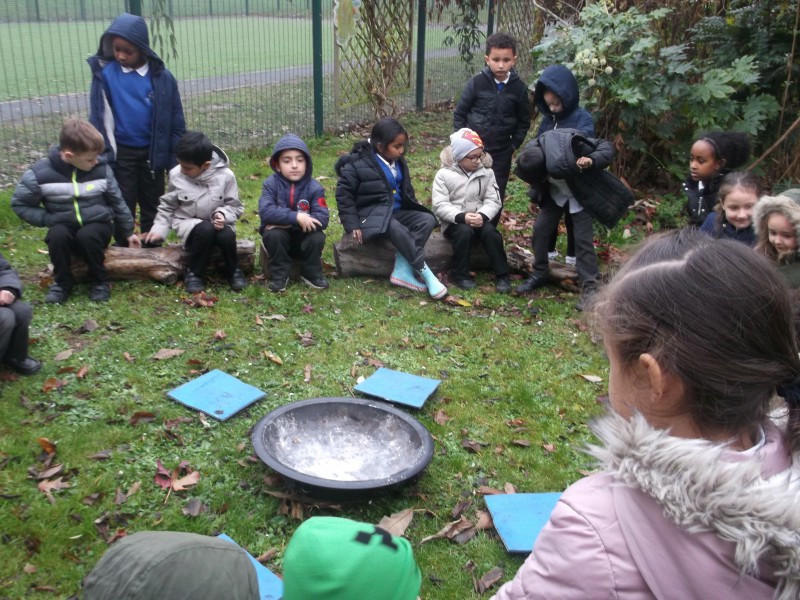 ___________________________________________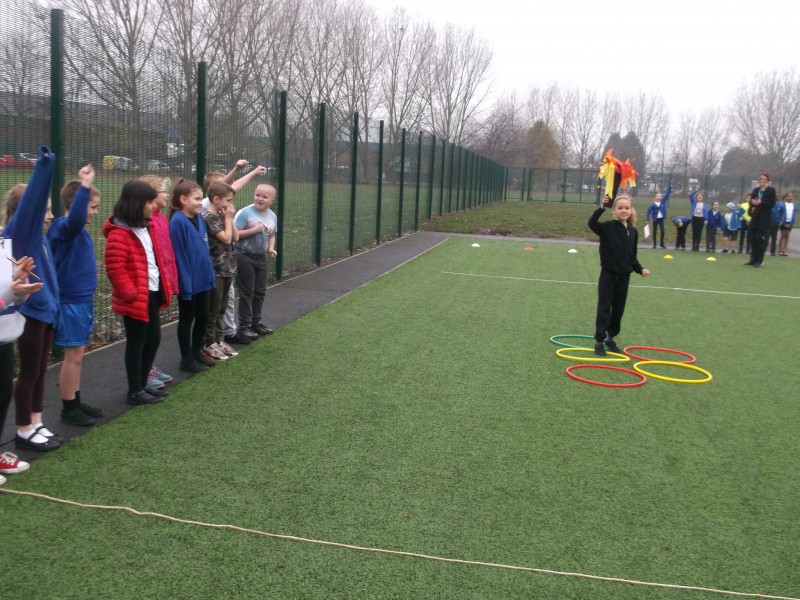 Year 4 Greek Mini Olympics!
The Olympic torch was lit!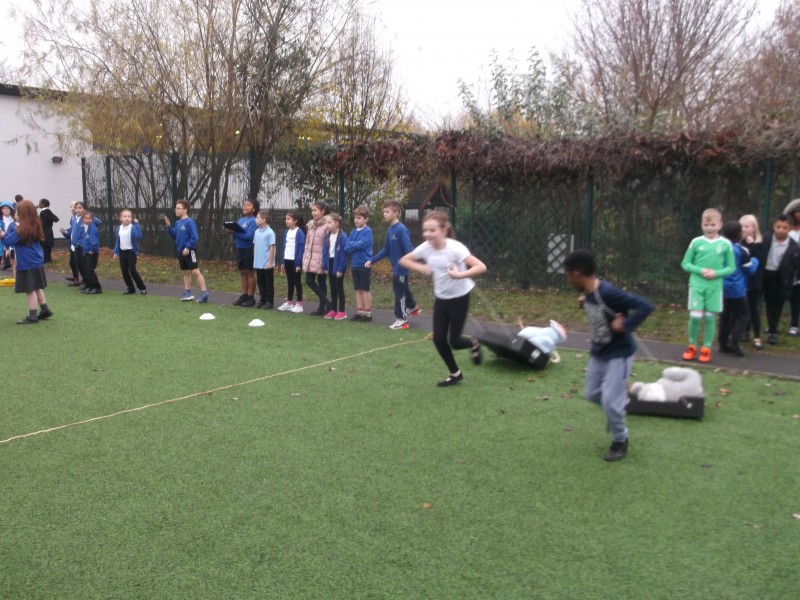 The chariot race
The long jump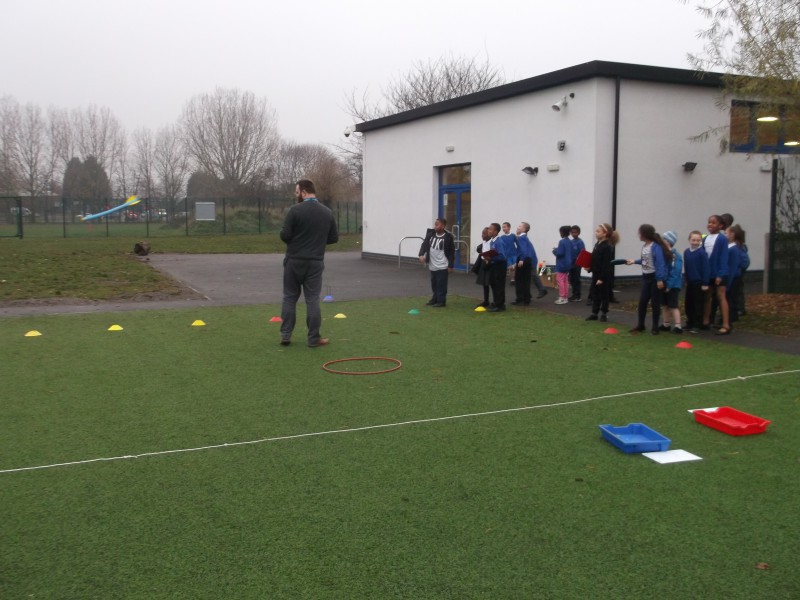 The javelin and discus throw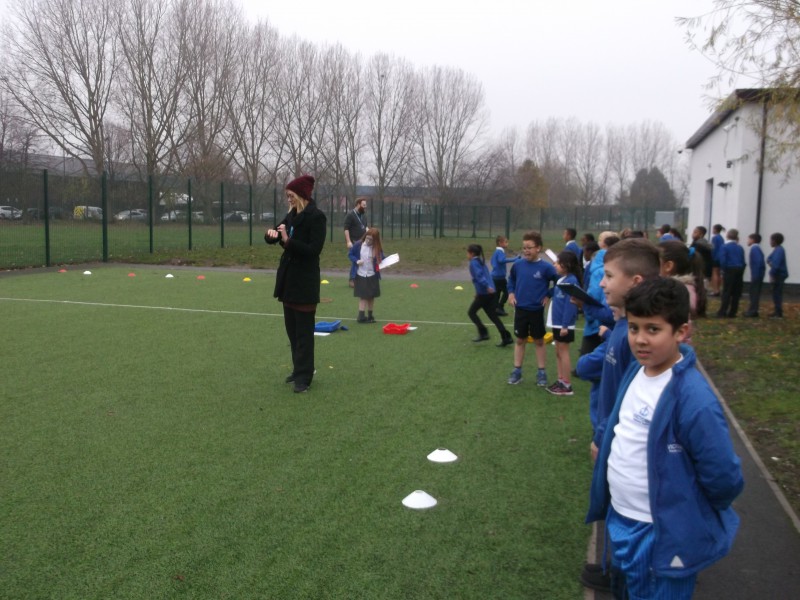 The skipping and bean bag tossing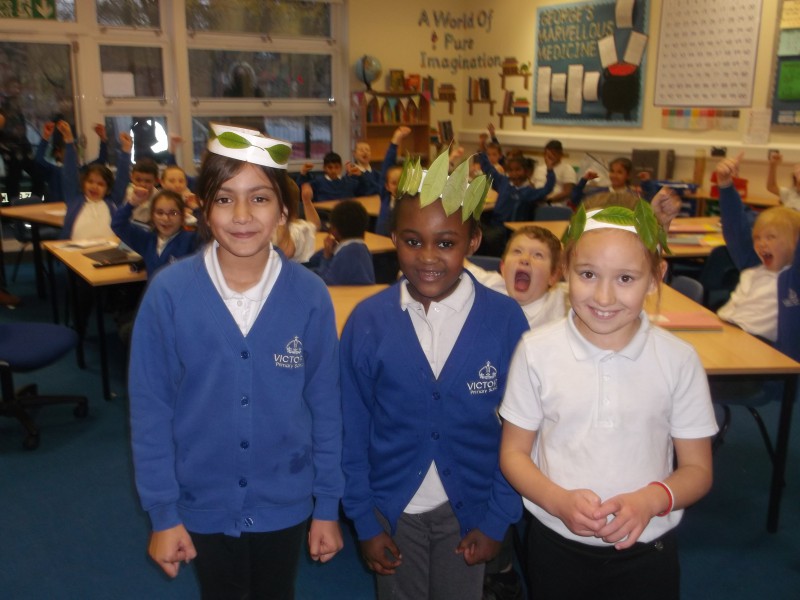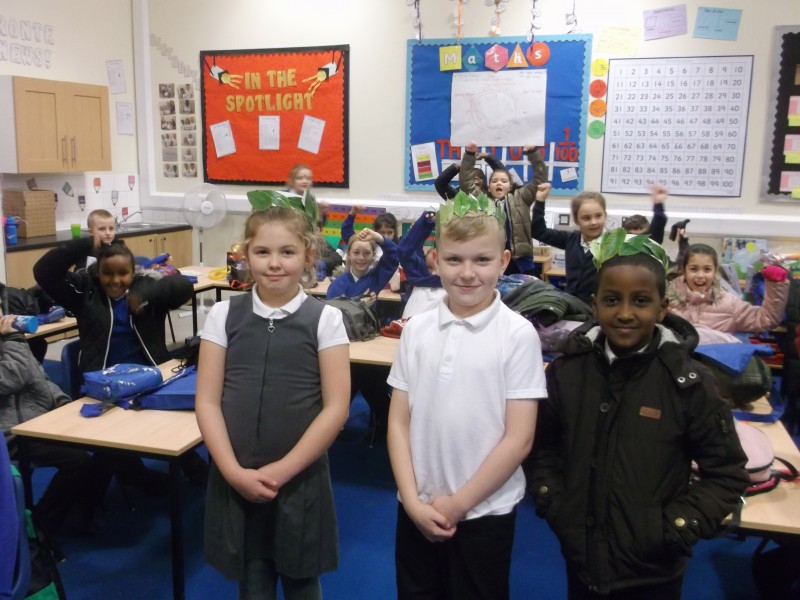 The best Olympians wore the laurel wreaths
___________________________________________________________
Forest School Club made some vegetable babies :)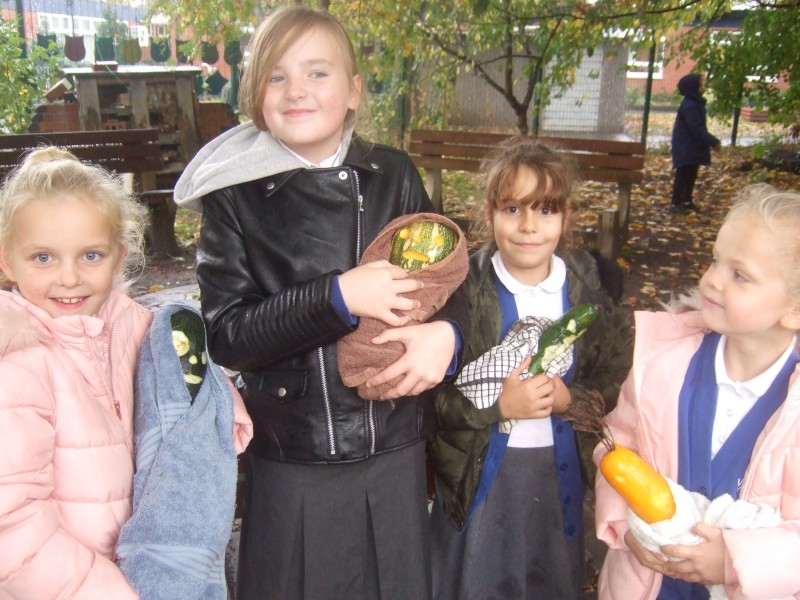 The story of Rama and Sita. Year 1 children are watching the puppet show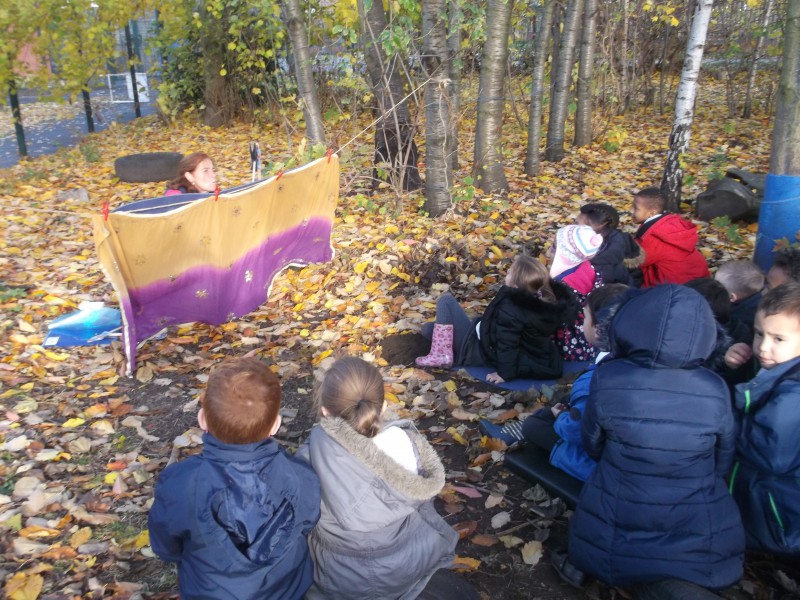 Everyone wanted to be as good as Rama at archery.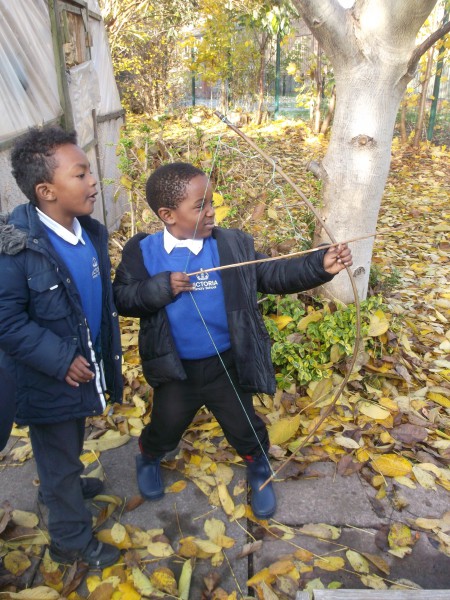 Identifying where different animals live. Year 2 are having an animal treasure hunt.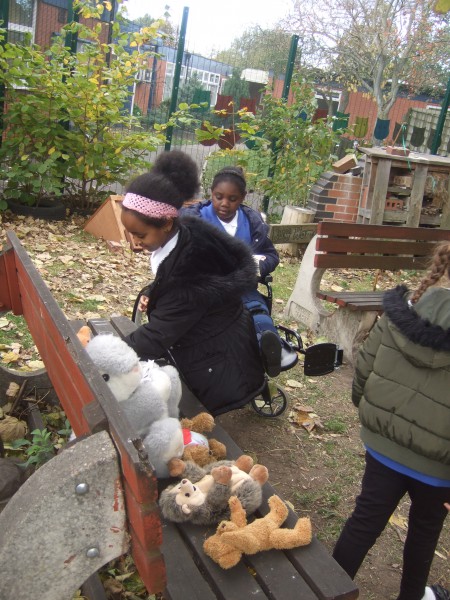 Autumn 1
Our guinea pigs have a new drinking water bottle. Thank you Oskar!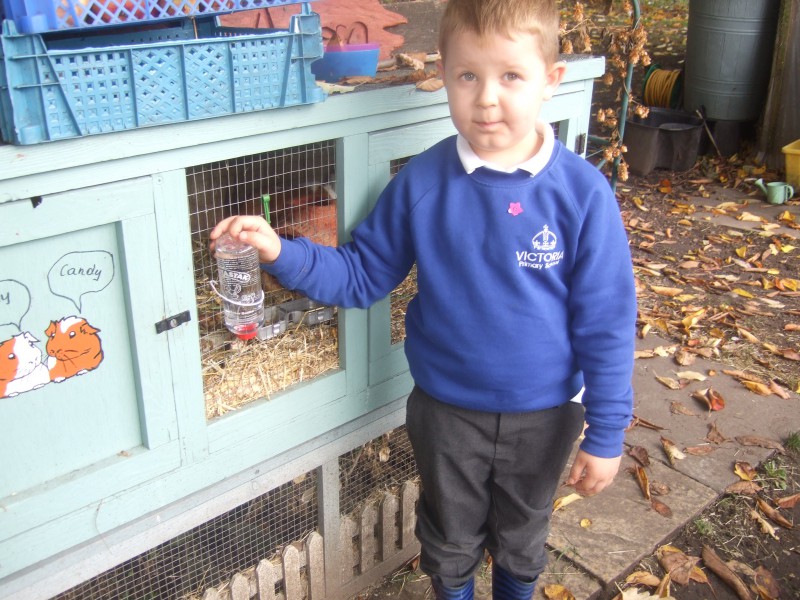 We have 3 new fish to look after in Forest School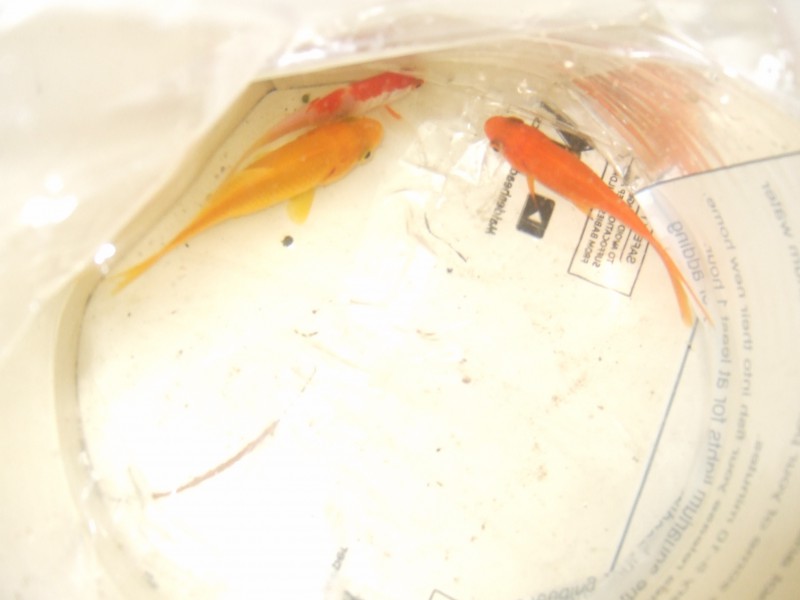 Year 2 are learning about different animals.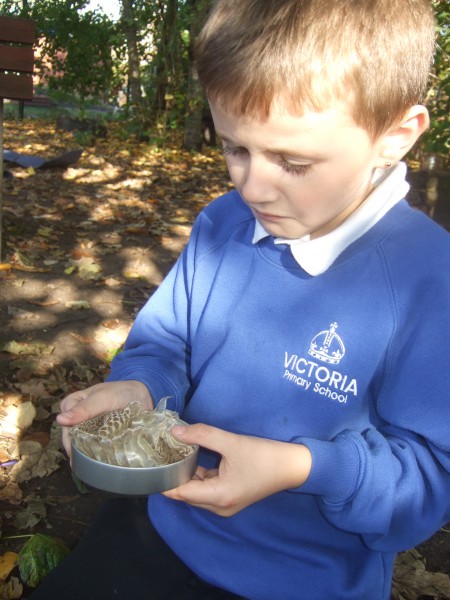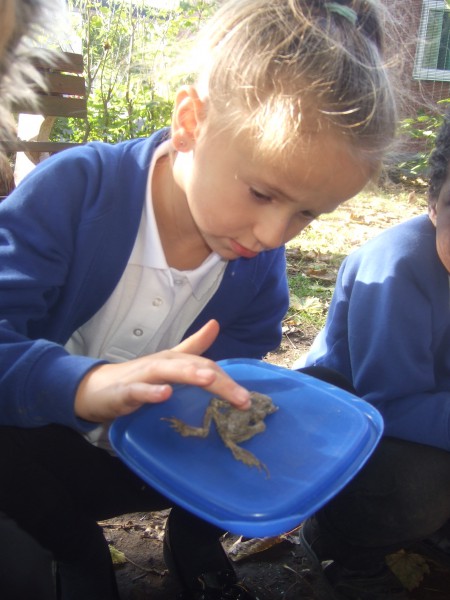 We saw snake skin and the dry body of a frog.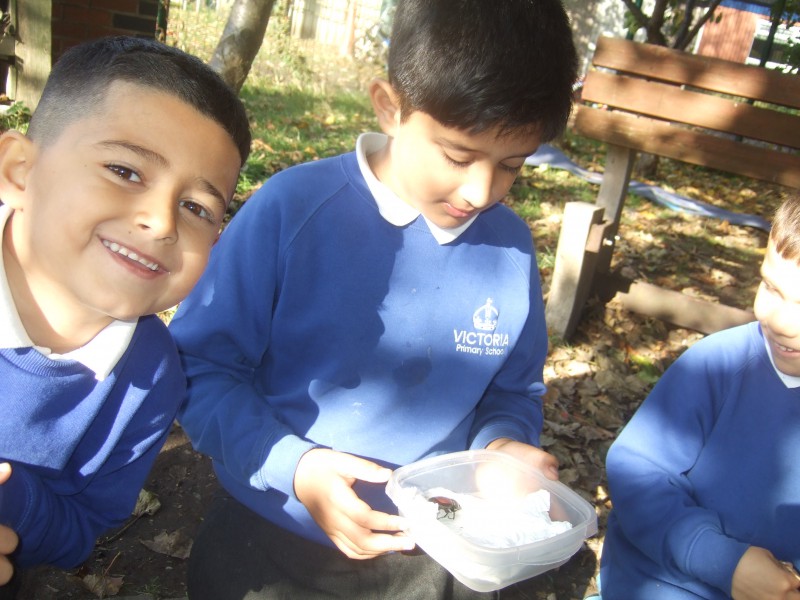 We compared the size of different beetles
__________________________________________________________________
More magnificent medicines from Year 4.
This time we used vinegar and bicarbonate of soda to make the solution fizz.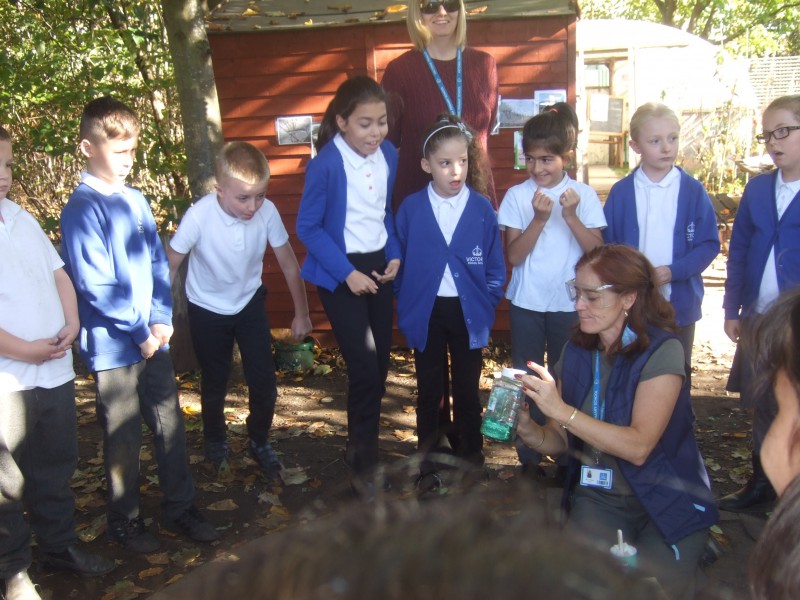 We added some food colouring and magic glitter.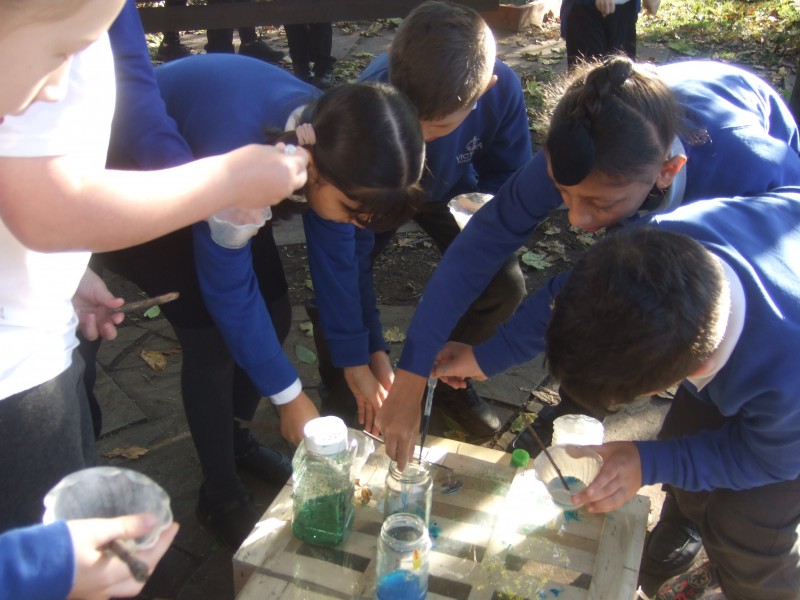 We have brand new Guinea Pig monitors this term.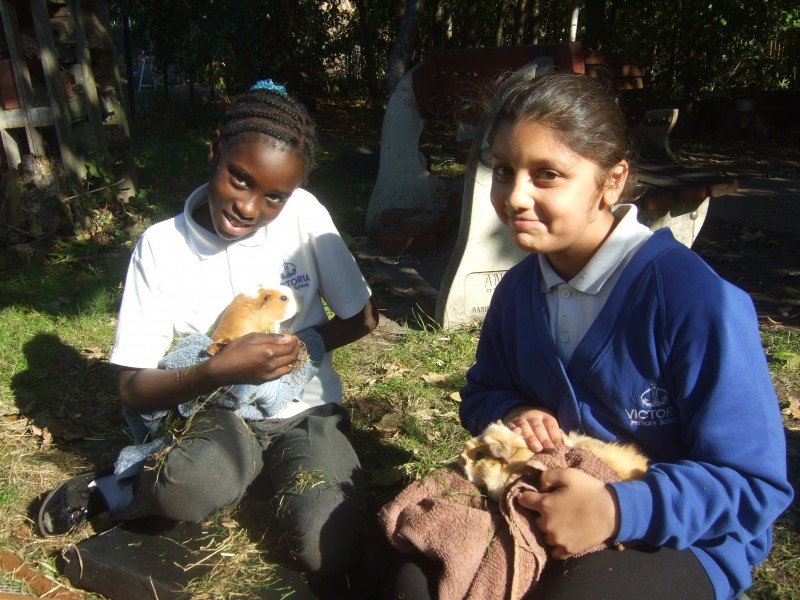 ​The Gardening Club is planting flowers and bulbs for the winter and spring display..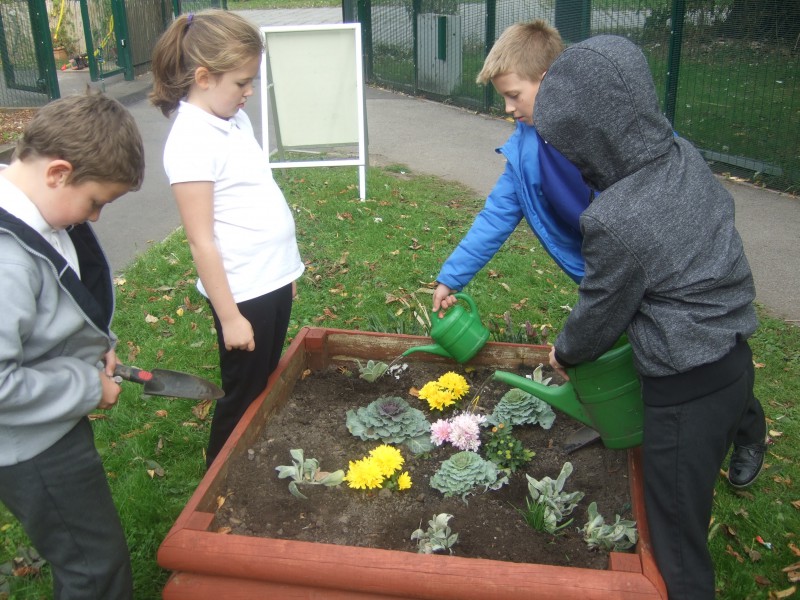 _____________________________________________________________
Reception class is going for a Bear Hunt.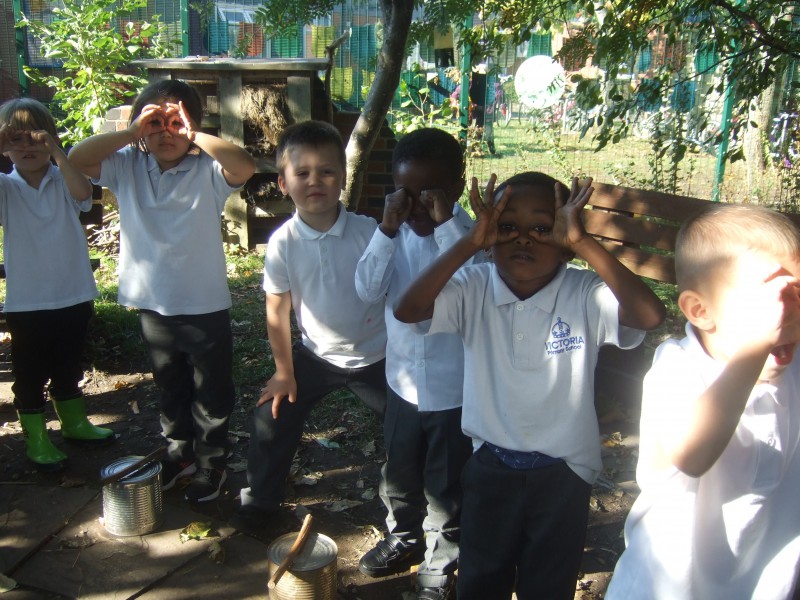 ​
We found 6 bears hiding in the woods.
____________________________________________________________________________
Outdoor art and maths. We used 10 of different natural materials to create our masterpieces.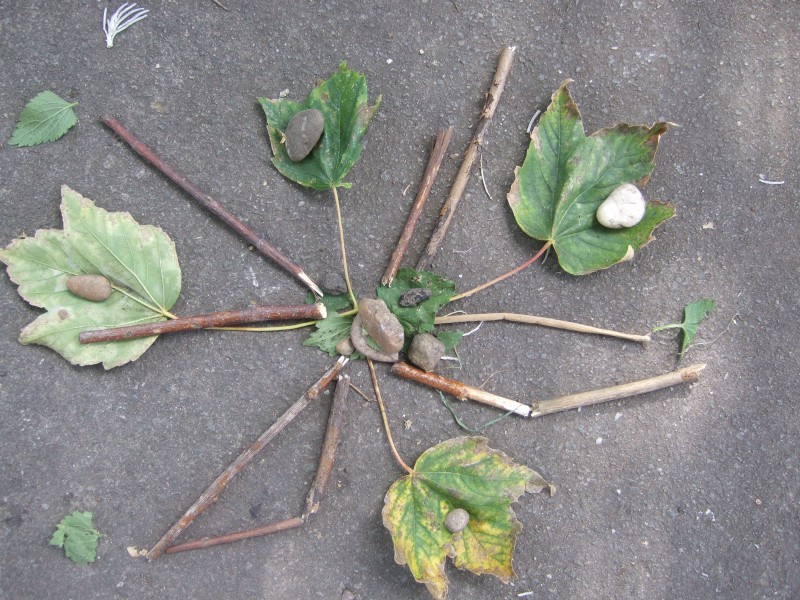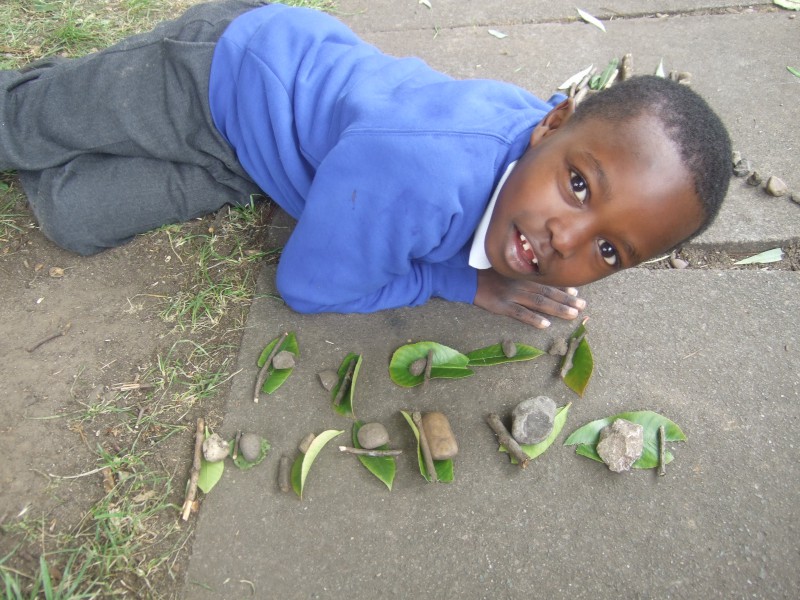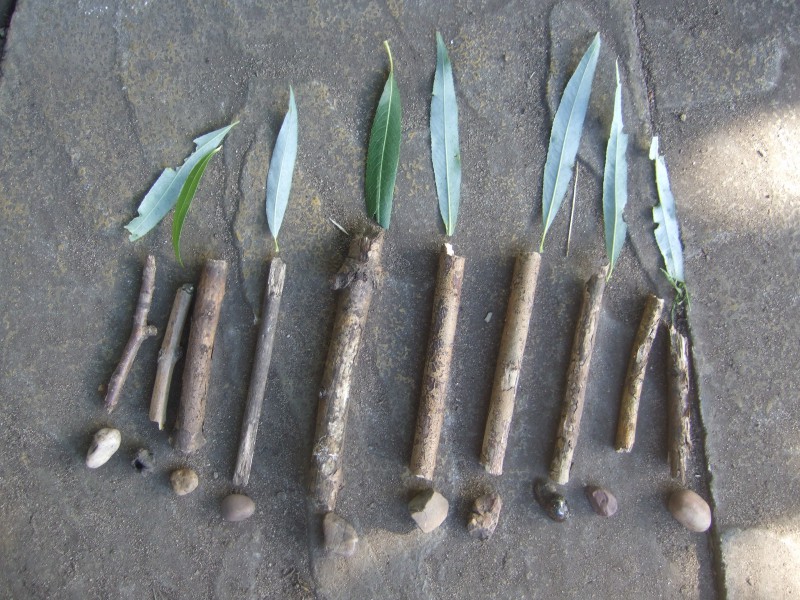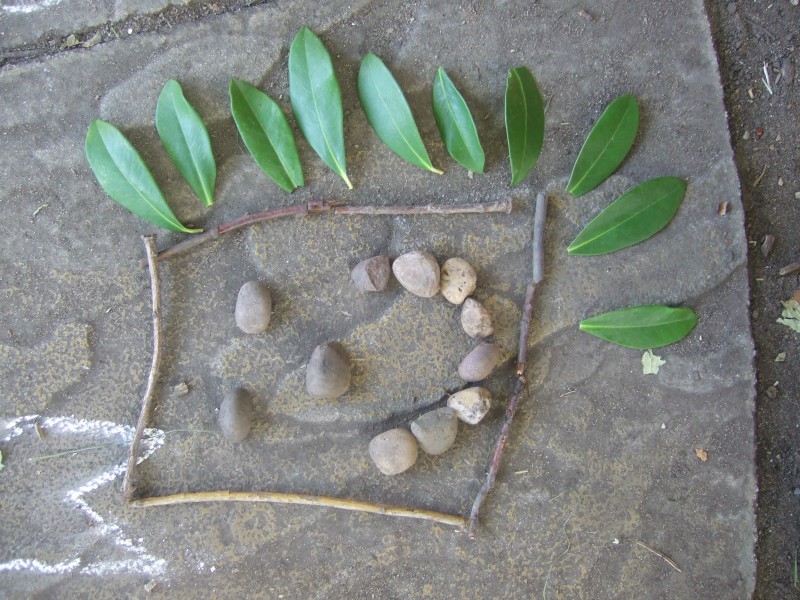 Unexpected addition to our art work!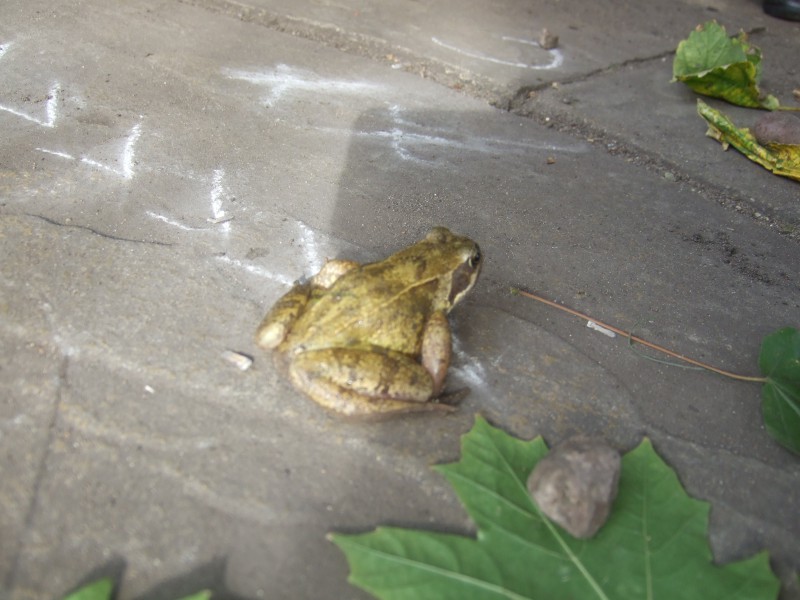 ___________________________________________________________________________
Year 1 - we are reinforcing our phonics. "G" is our sound today; "g" for guinea pigs.
The Gardening Club is getting ready for our Harvest Festival.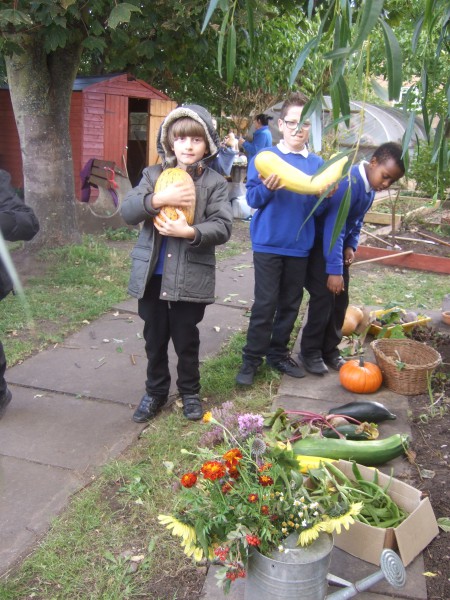 Mrs Bradford has lent the scarecrow her jacket. Will she ever get it back?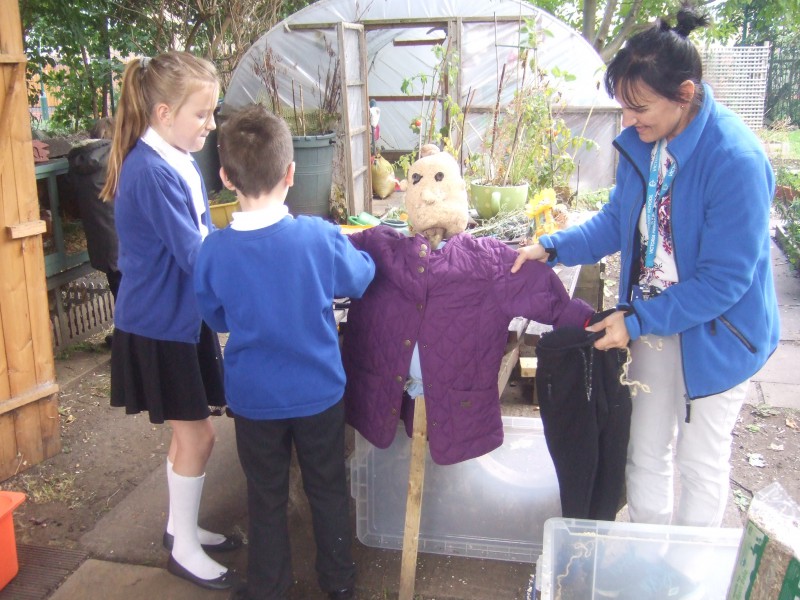 __________________________________________________________________
The Nursery children liked our Harvest display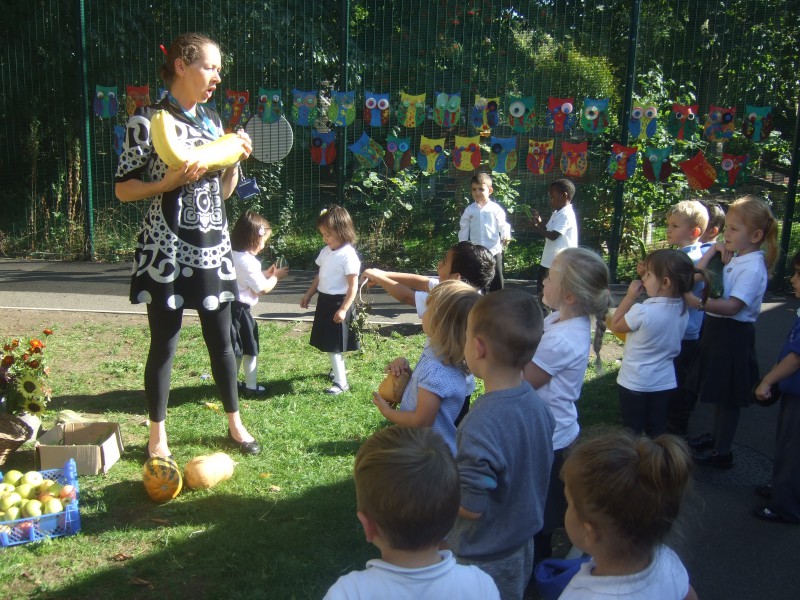 George could make his marvellous medicine and so can we.
Everyone's potion has magic powers!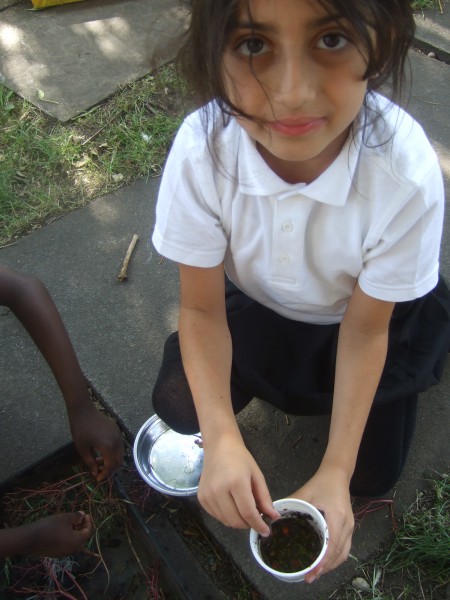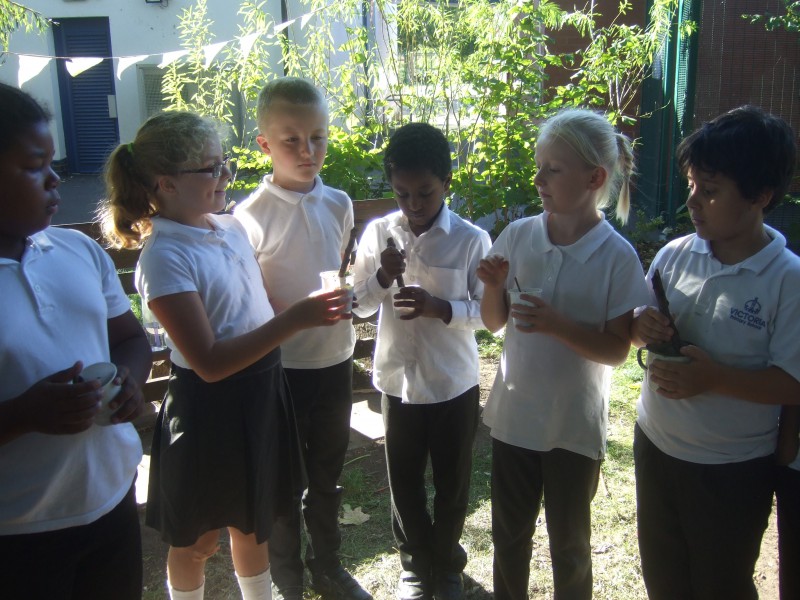 Year 4 - testing our "wind turbines".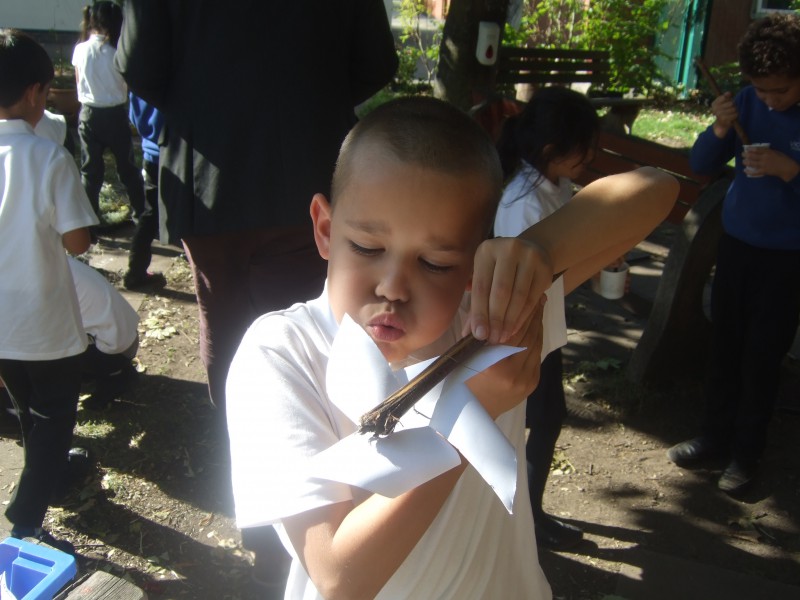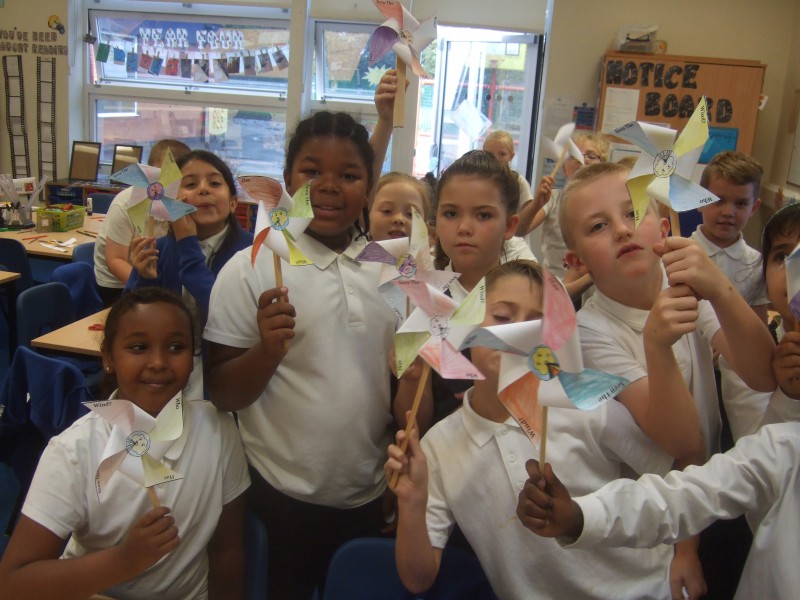 Year 1 - reinforcing phonics in Forest School "Guinea pigs giggling g,g,g"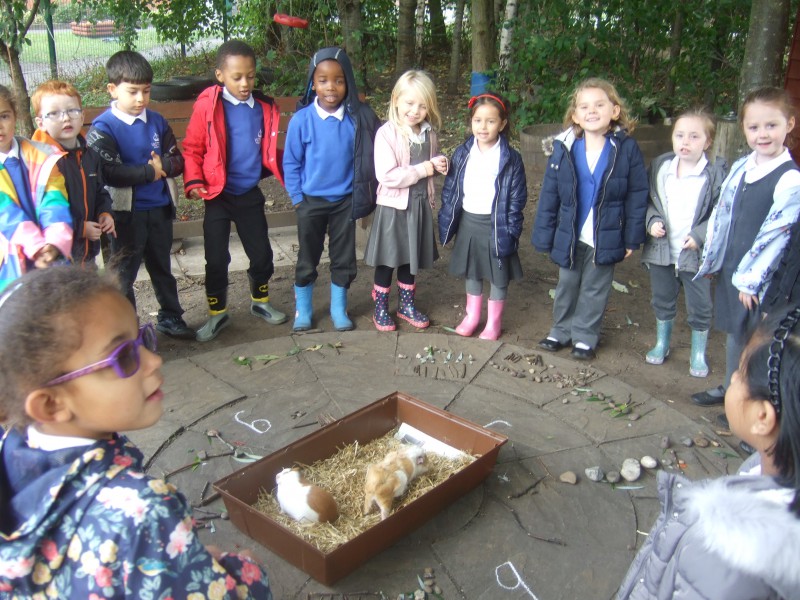 The community working day in our garden.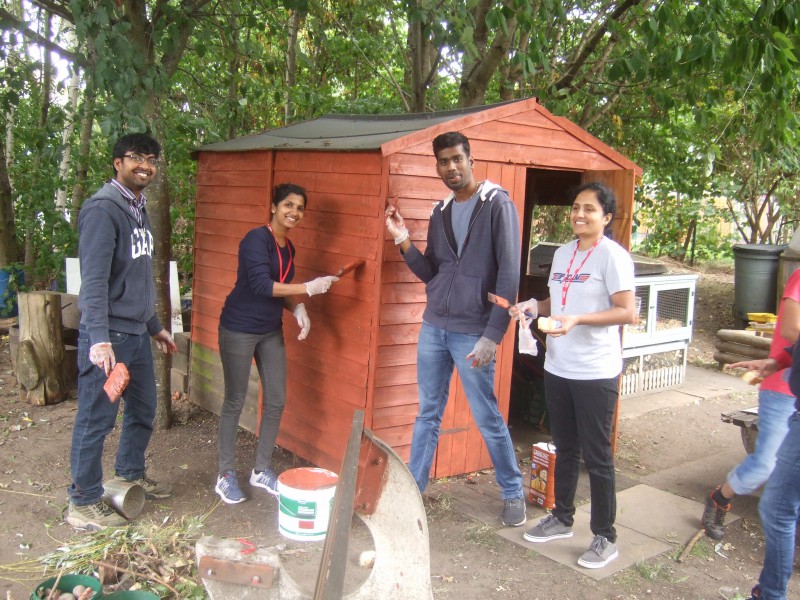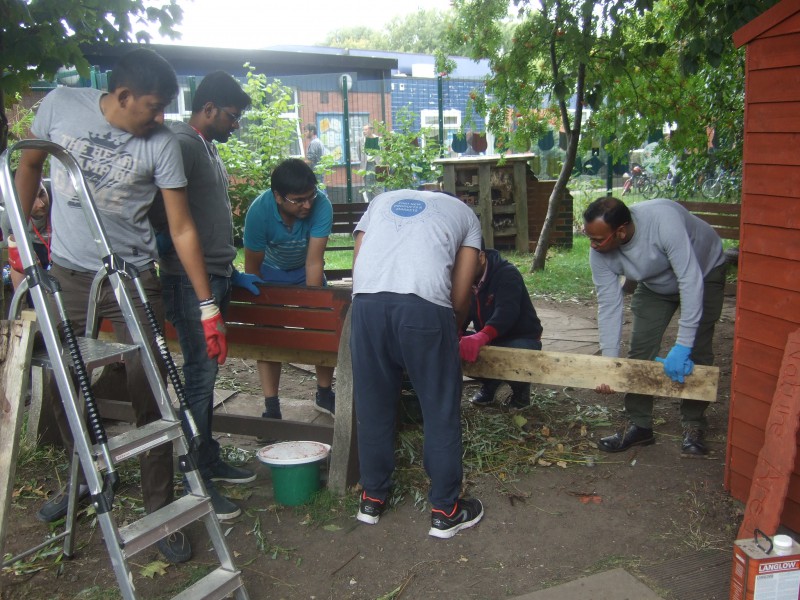 Wild art- we made shapes and patterns using natural materials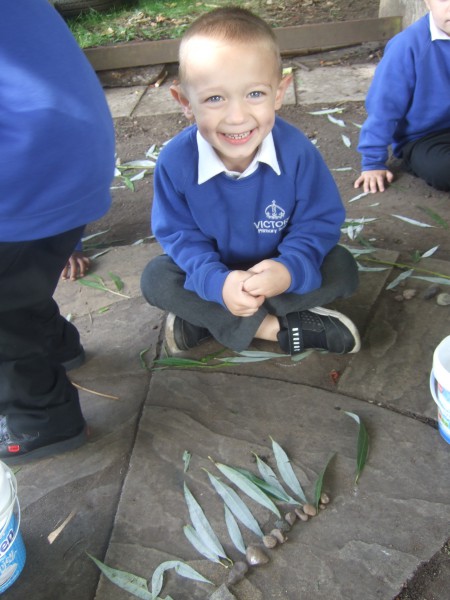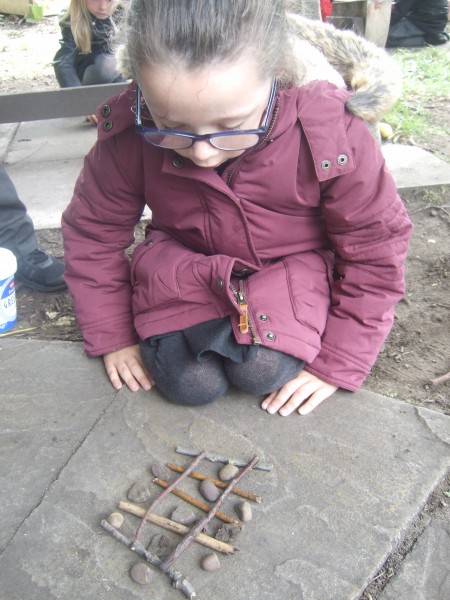 We made some streamers and tested them on a windy day.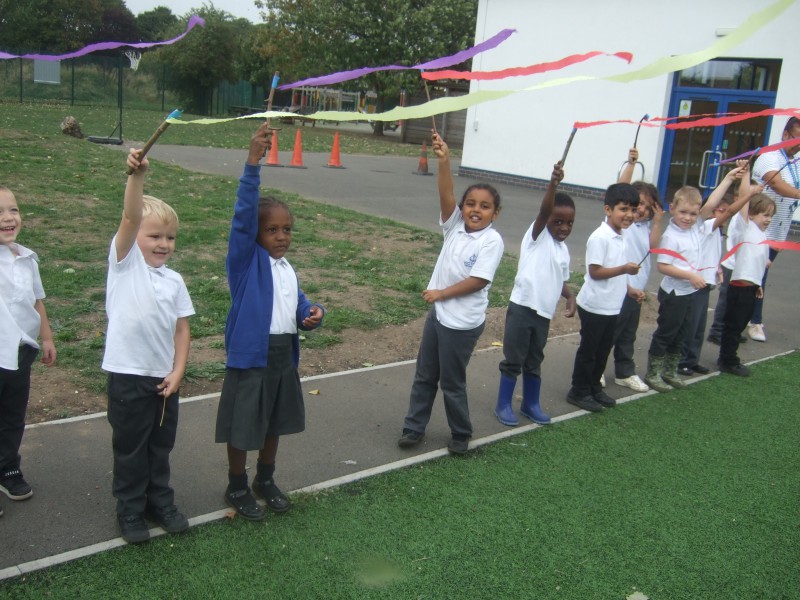 Reception Class is exploring the garden and forest

Who can strip the willow leaves first?
We made some leaf and stone patterns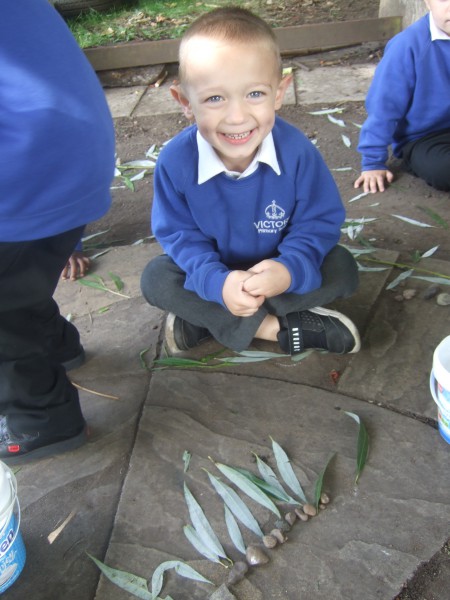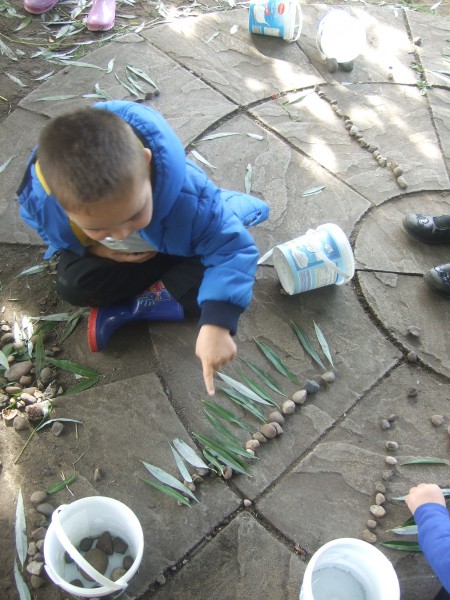 Summer Activities
Our annual WAFFLE PARTY was a big success. We made £589 !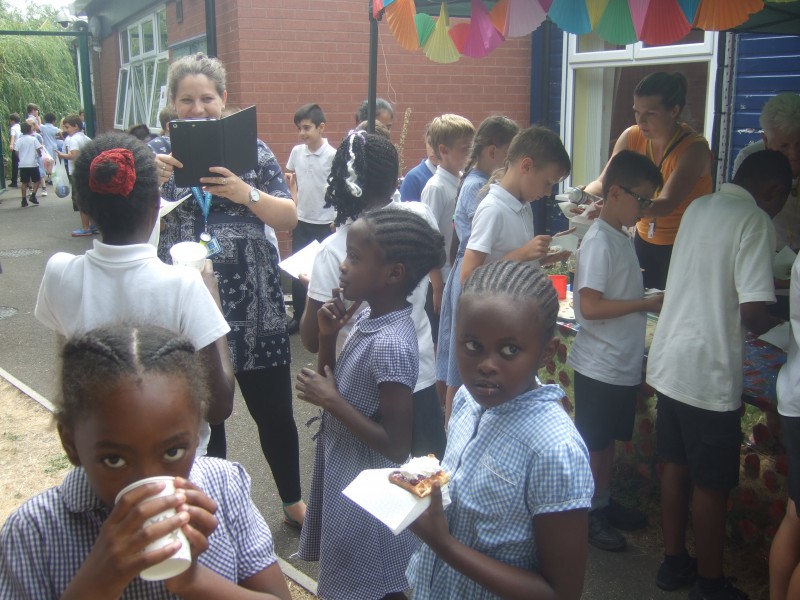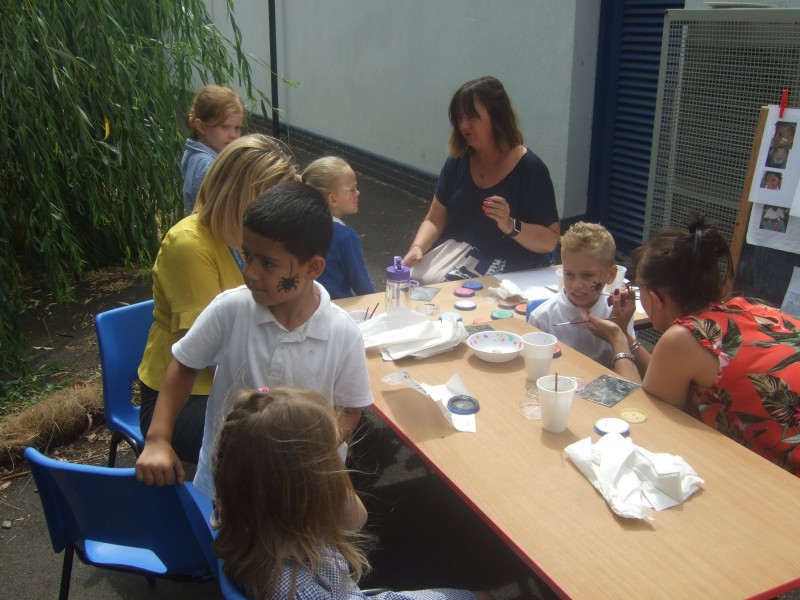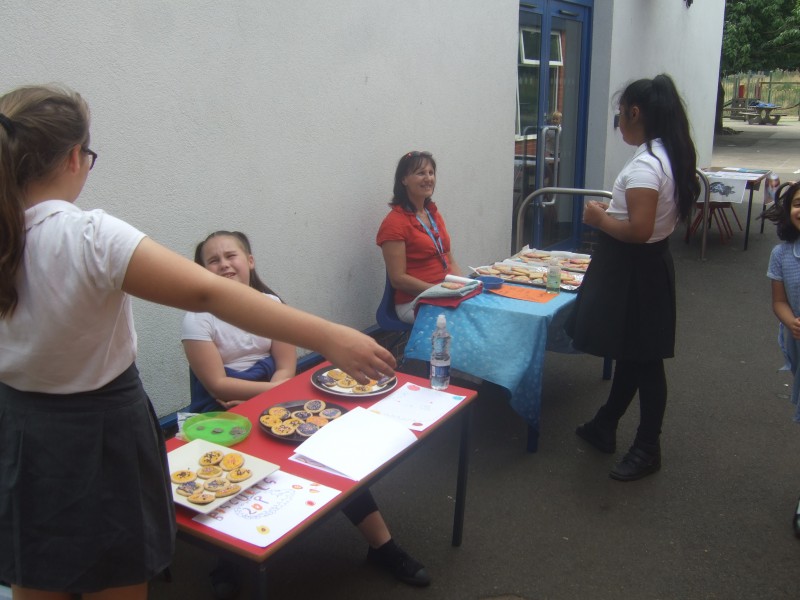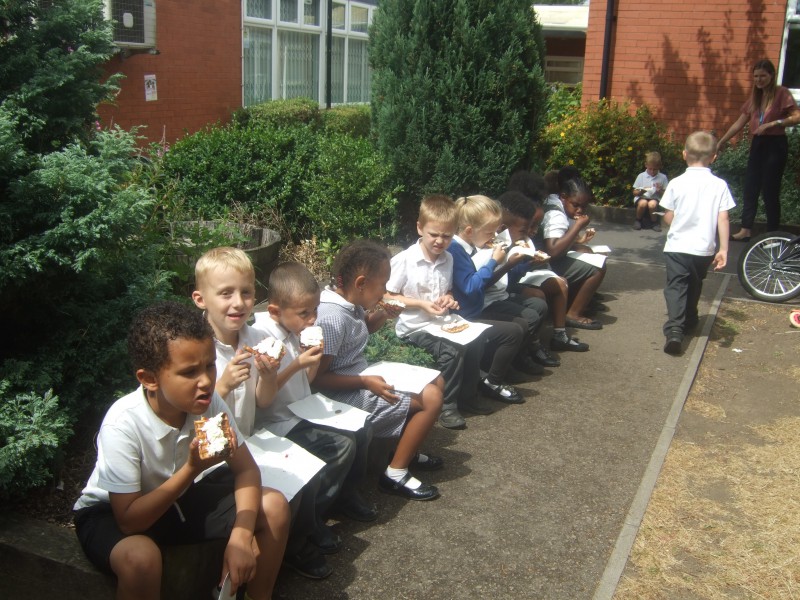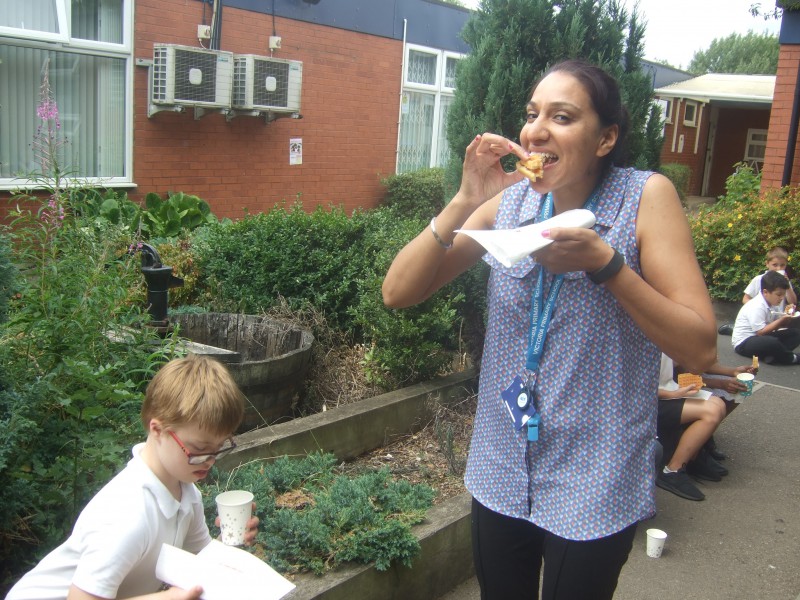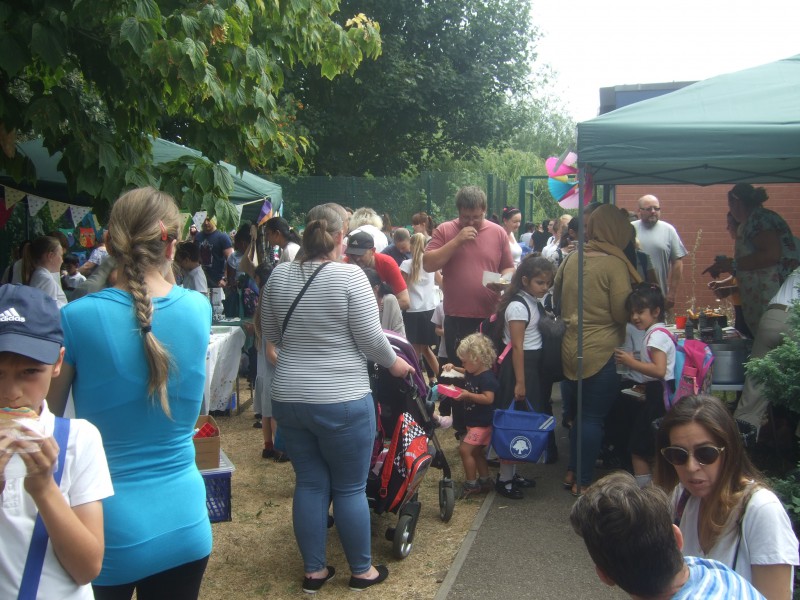 Thank you to all volunteers for their help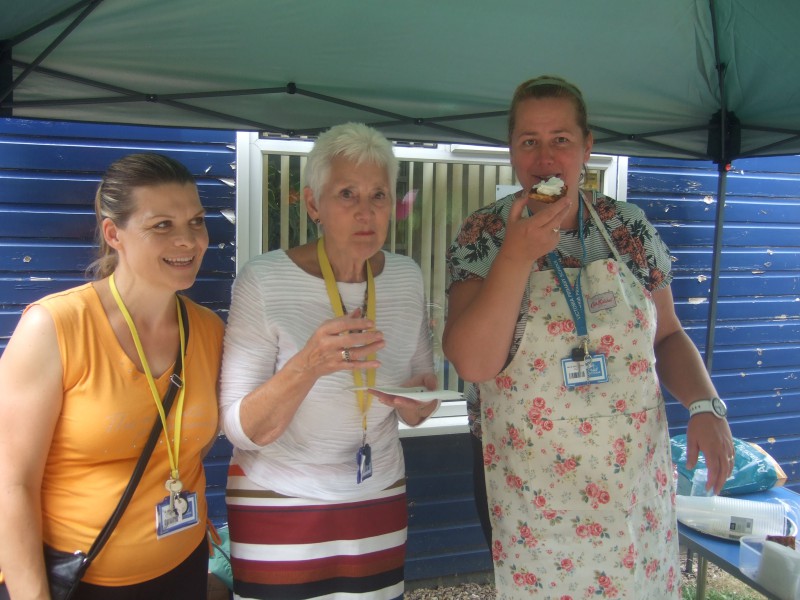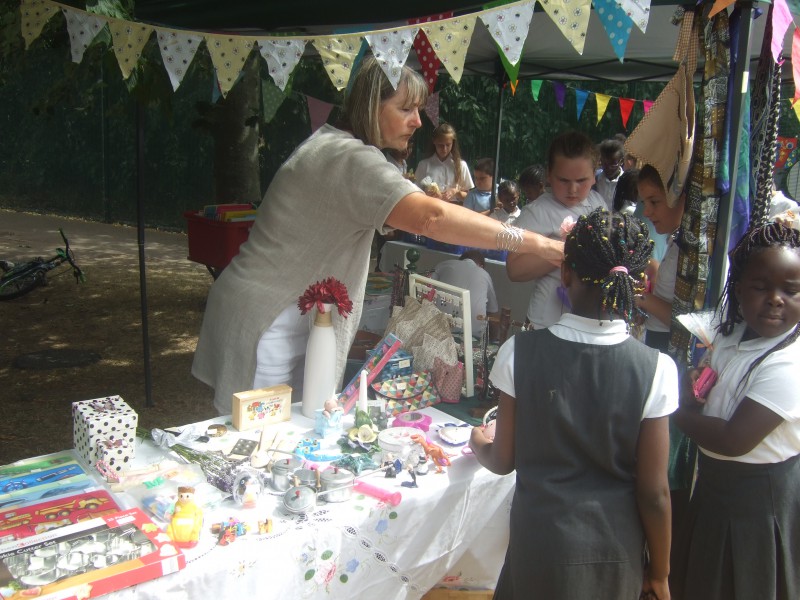 Even our local policemen heard about the Waffle Party and came to taste some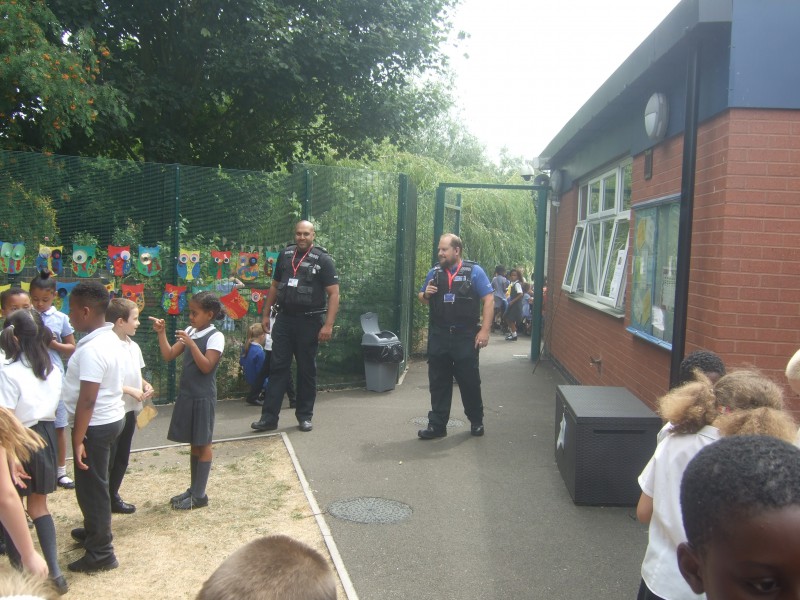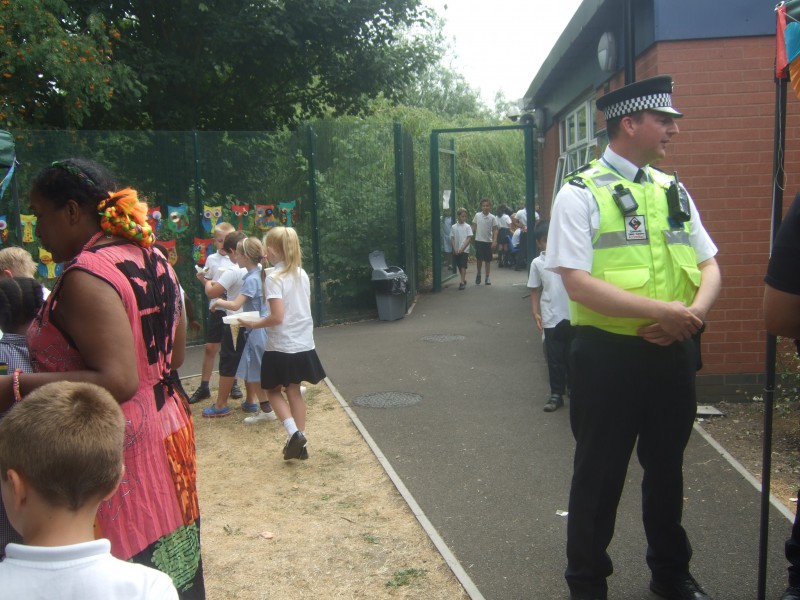 +++++++++++++++++++++++++++++++++++++++++++++++++++++++++++++++++++++++++++
Year 3 are learning about the Stone Age people.
We are making clay carving and painting like the ones found in caves.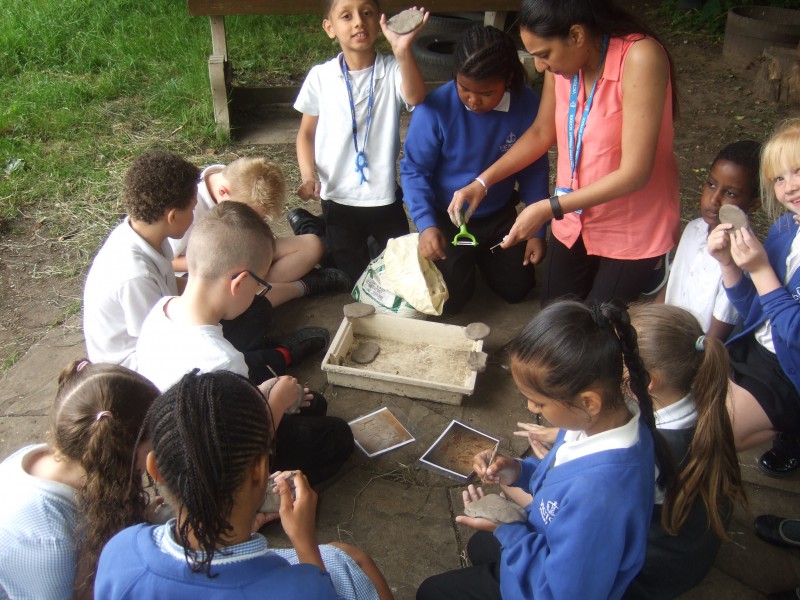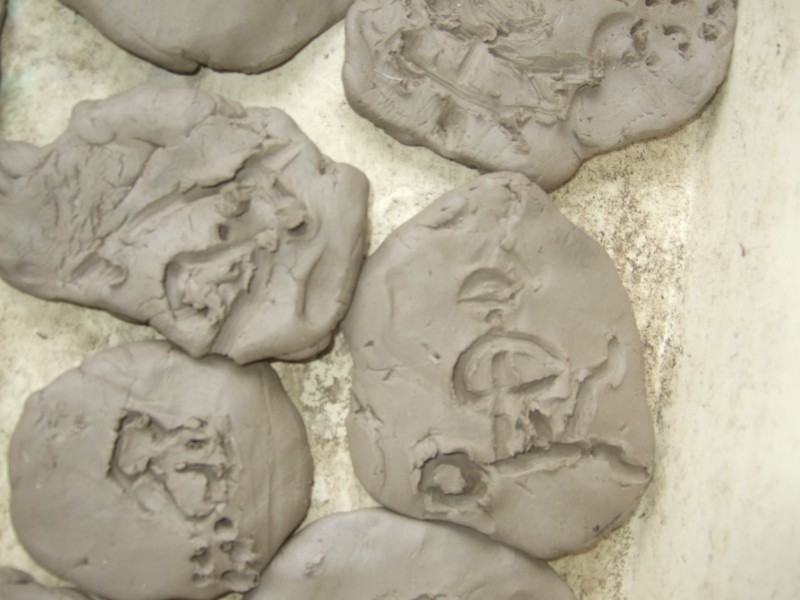 We were learning how the Stone Age people hunted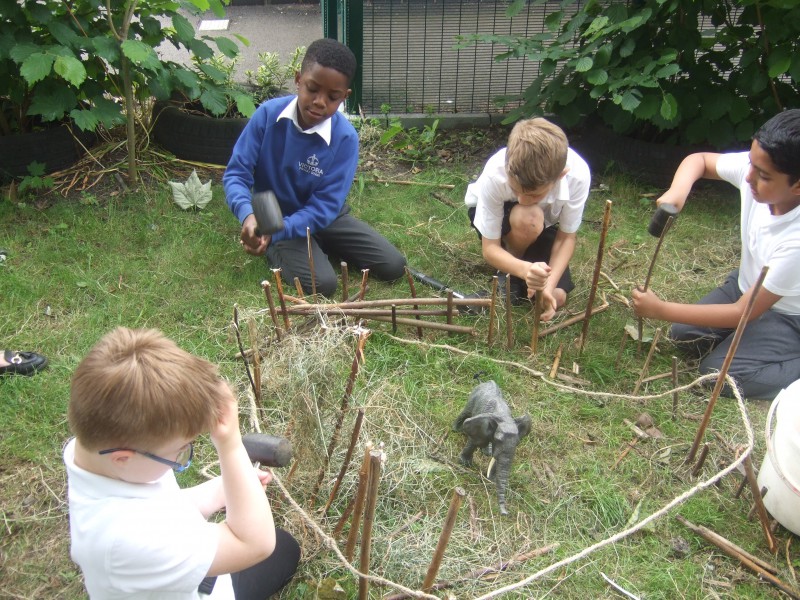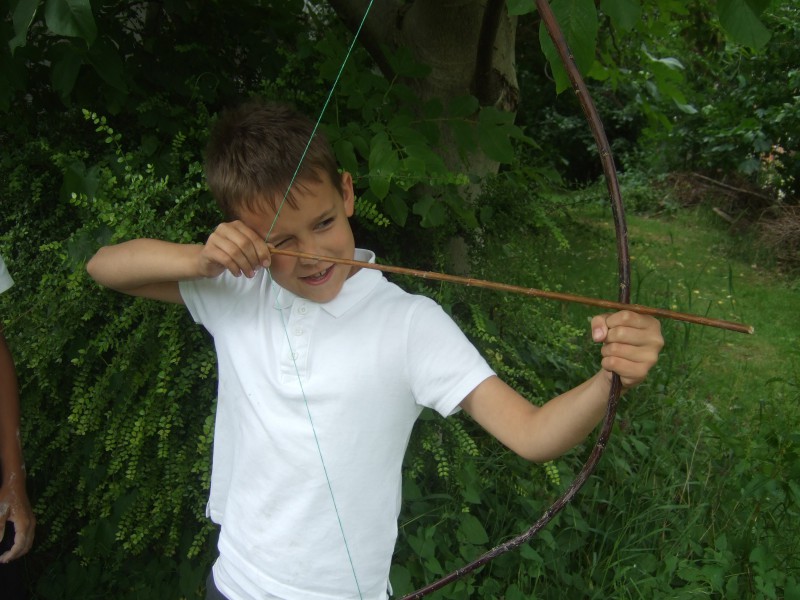 Year 2 We learned how to transport water and experimented with different material to check which ones can be carried by the water the fastest.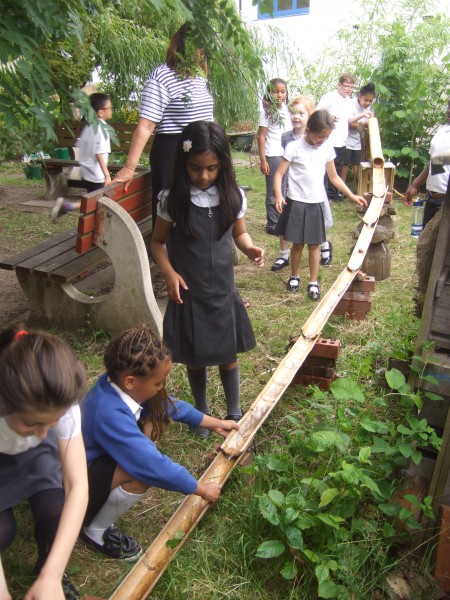 Reception Children are acting out the story of Percy the Park Keeper after we read it together.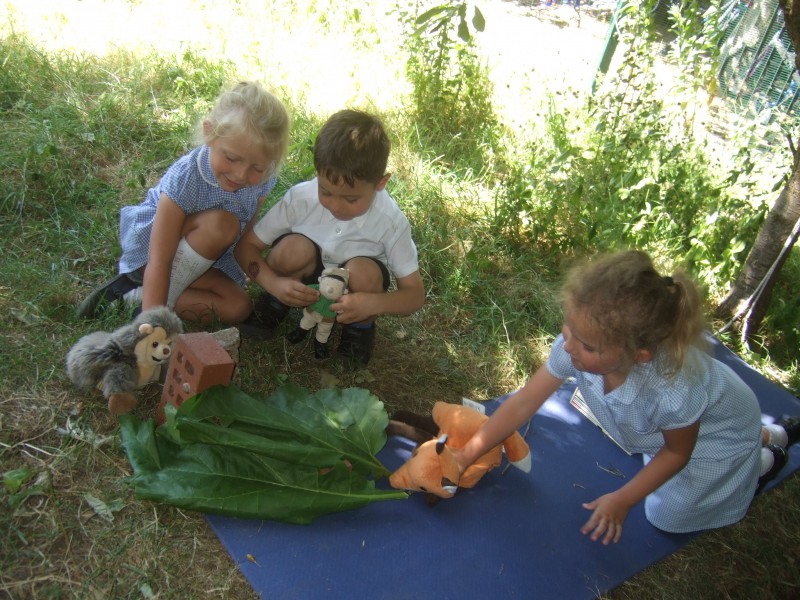 We set up a stall to sell some of the produce from our garden to our parents,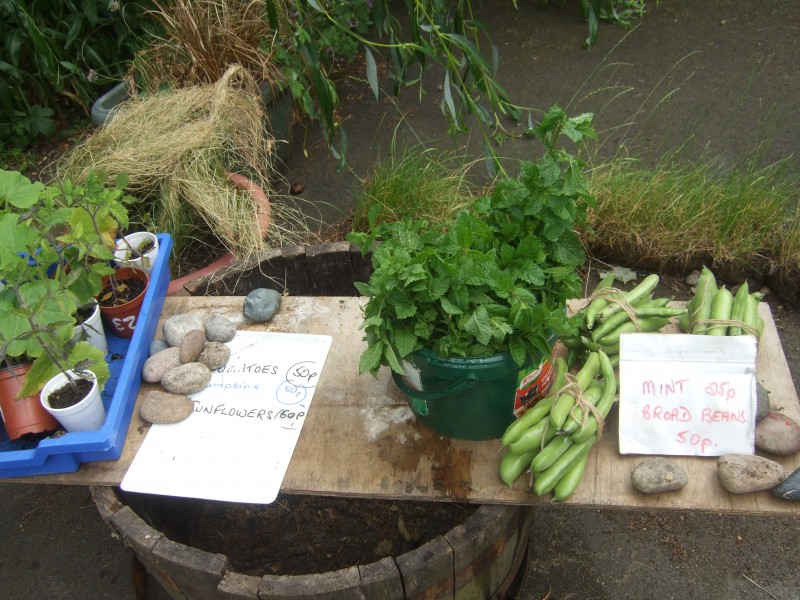 Look at our new fantastic garden beds!
A big thank you to Miss Mousley and her partner who have donated their time to take away the old planting beds and install the new ones.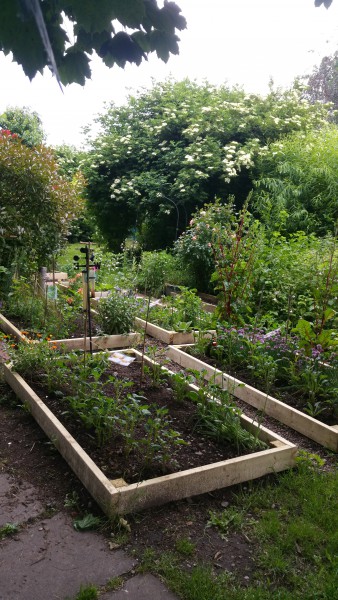 RSPB activities for KS1 and Early Years. We looked at different habitats and creatures living in our outdoor area.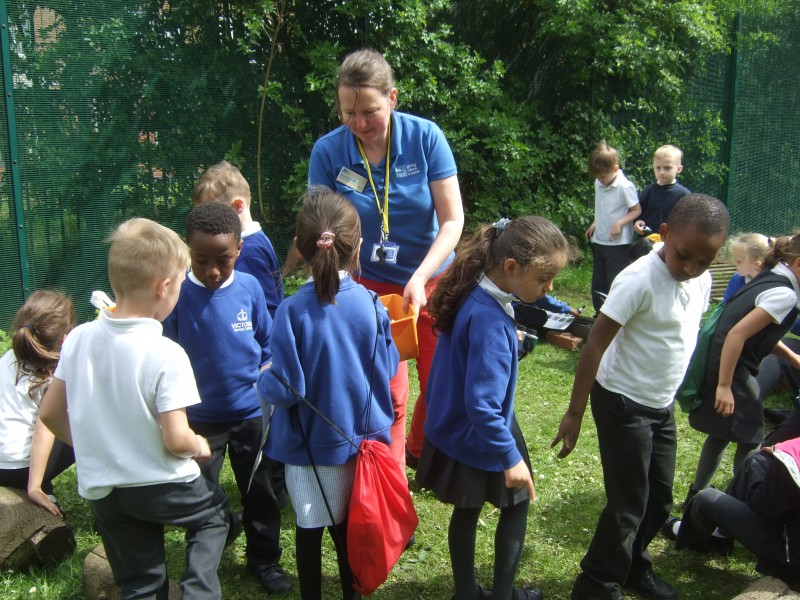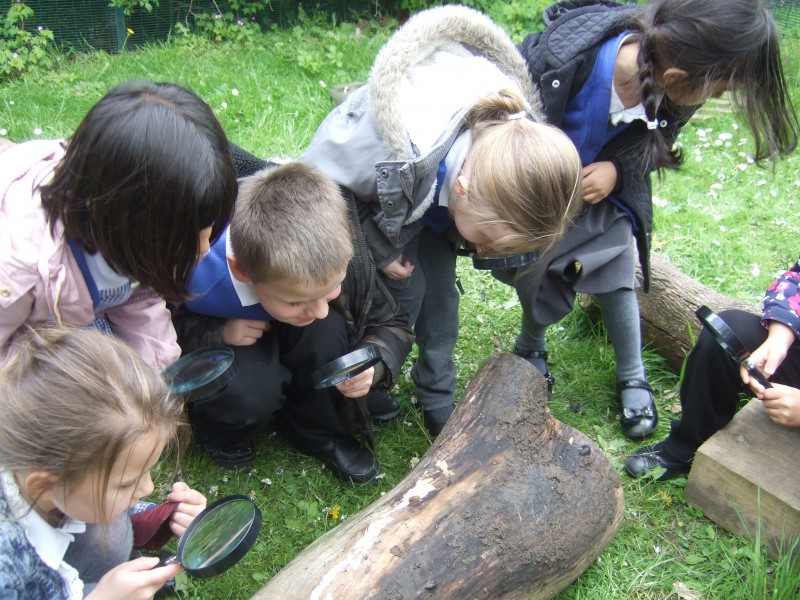 We are studying plants; their parts and functions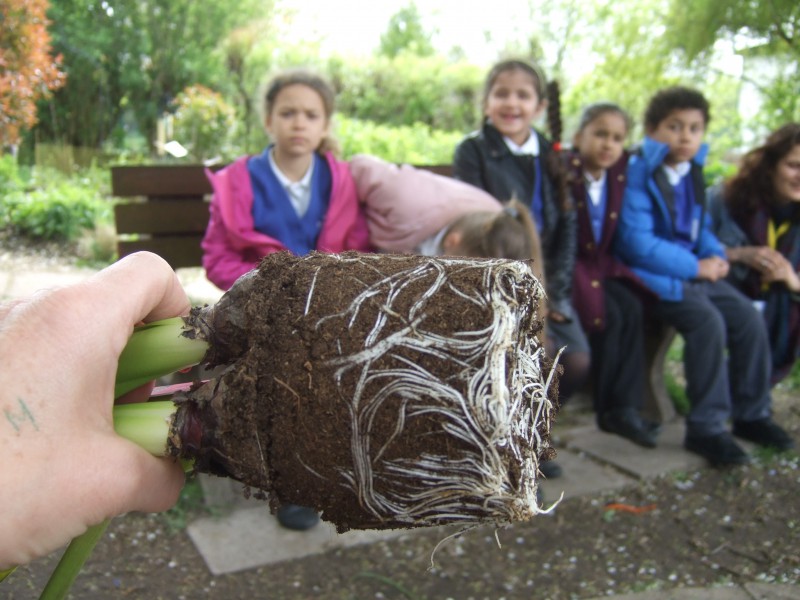 roots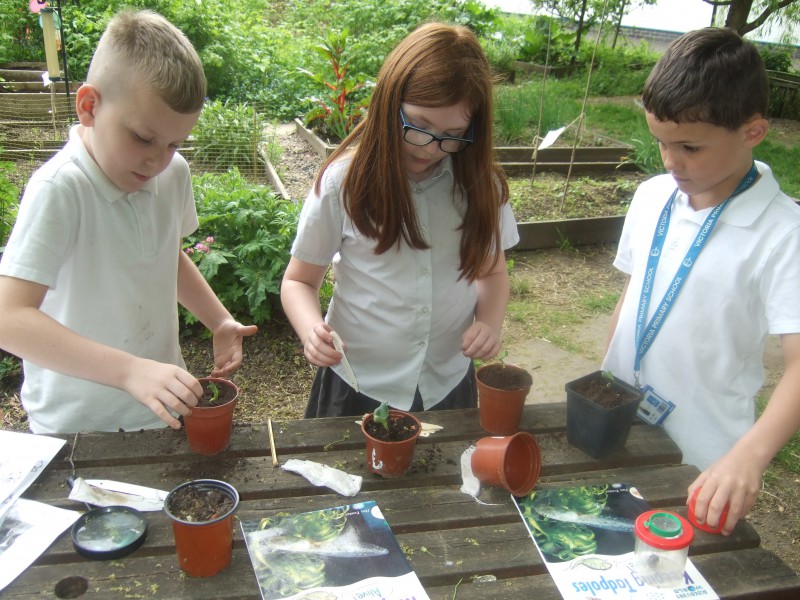 transplanting small plants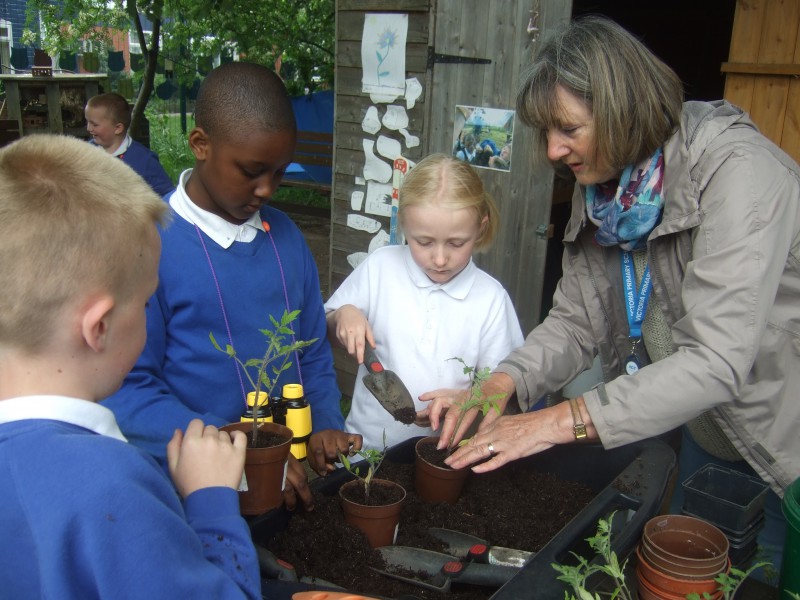 Transplanting tomatoes with our expert volunteer Krystyna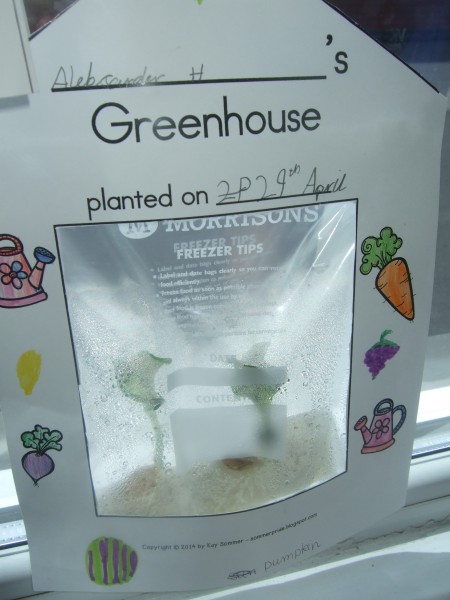 growing seeds in mini "greenhouses"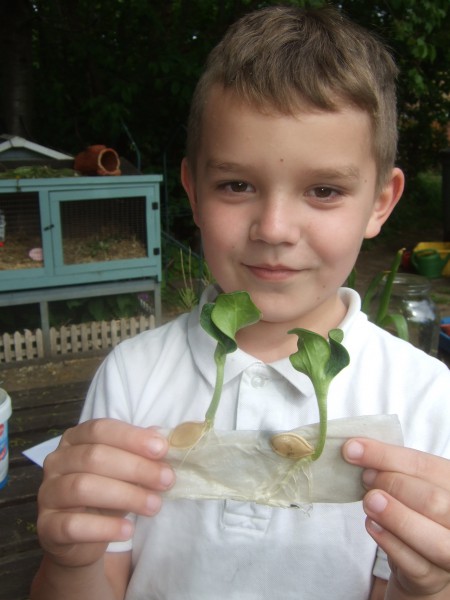 We can study closely all parts of this baby pumpkin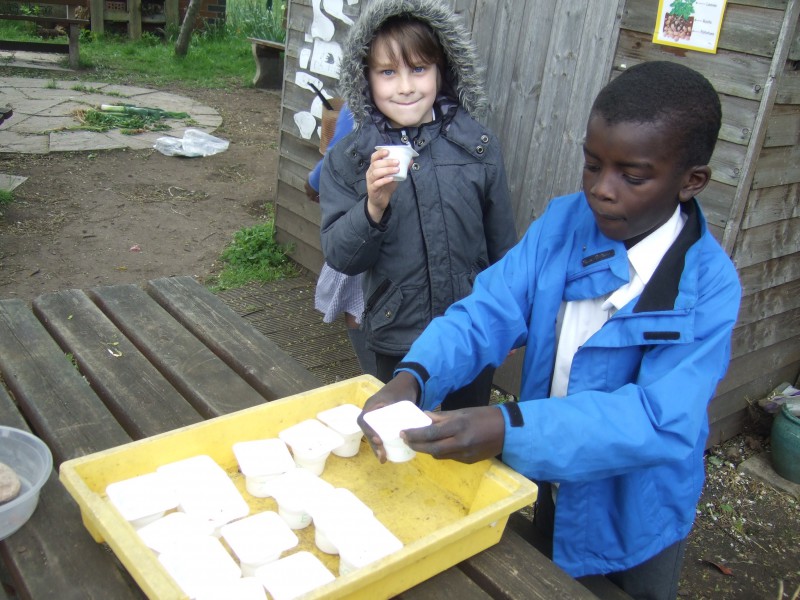 growing cress seeds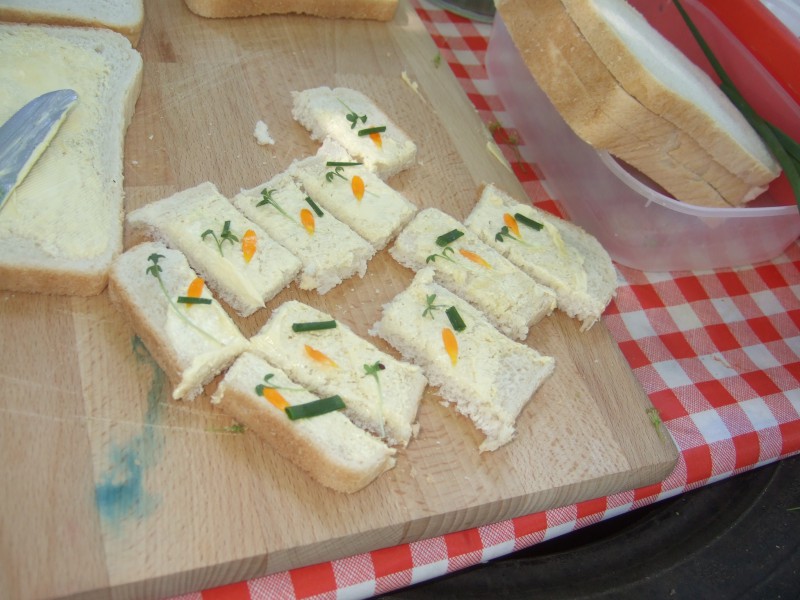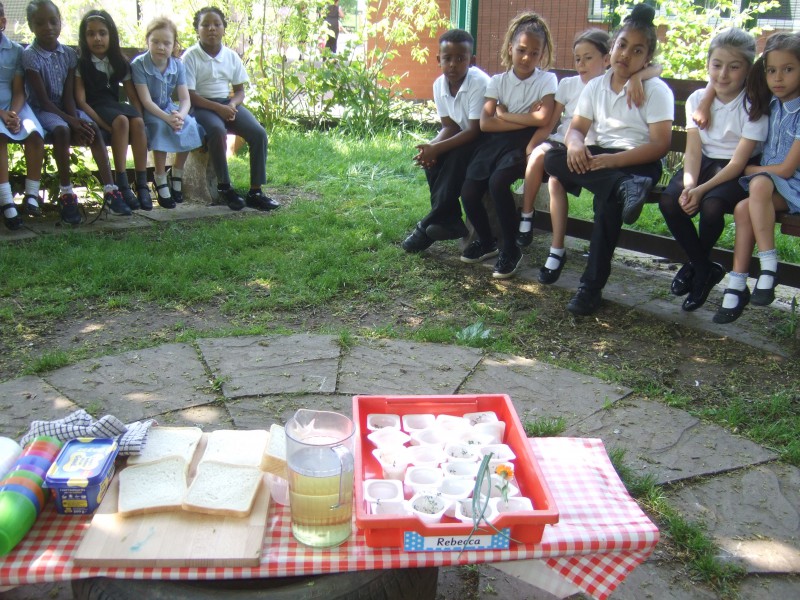 Edible plants: mint tea, chives and cress which we have grown
Harvesting rhubarb leaves ( we can eat only stems not leaves)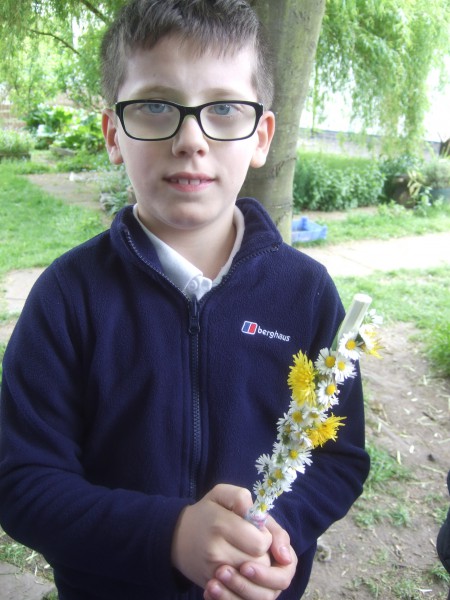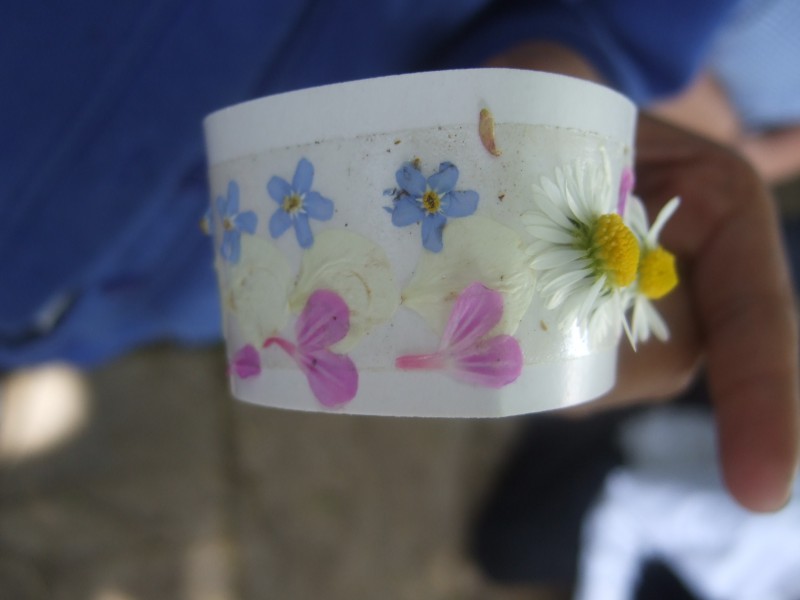 Using plants as decoration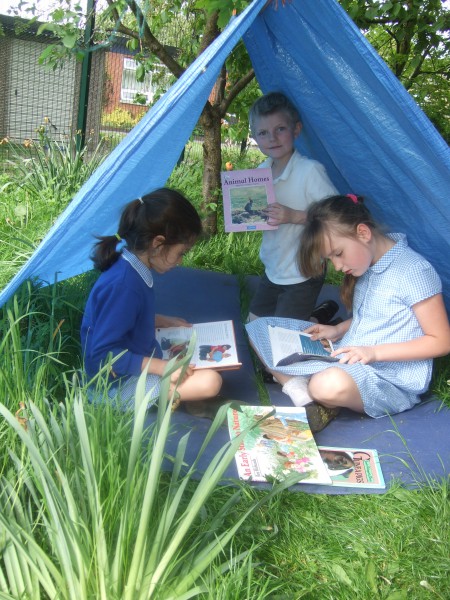 relaxing with a book
Out of school club in the garden
School Council popped in to Forest School for a cup of mint tea.
We also discussed activities we enjoy most and ideas we might have for our future lessons.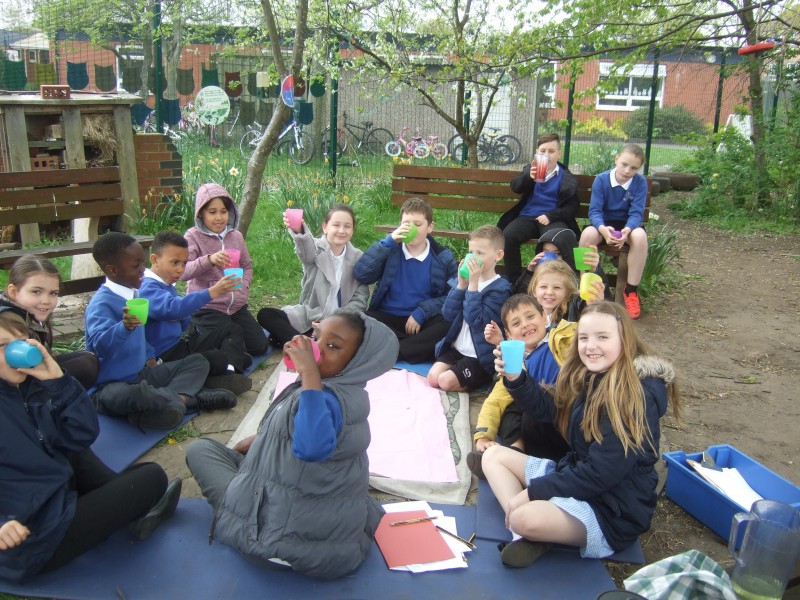 First warm day in the garden. The spring is on its way.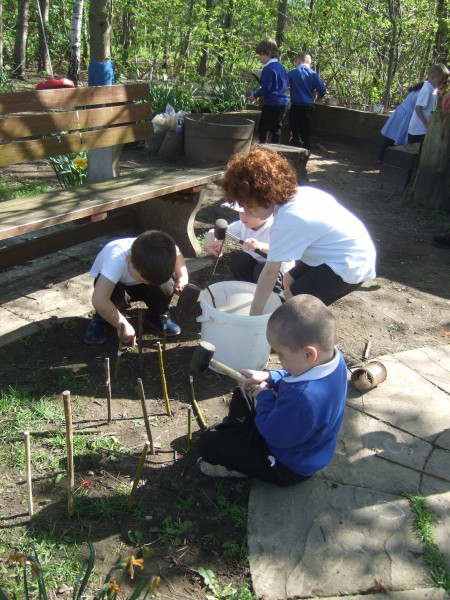 Teachers from different schools met in our school garden to learn new skills and exchange ideas.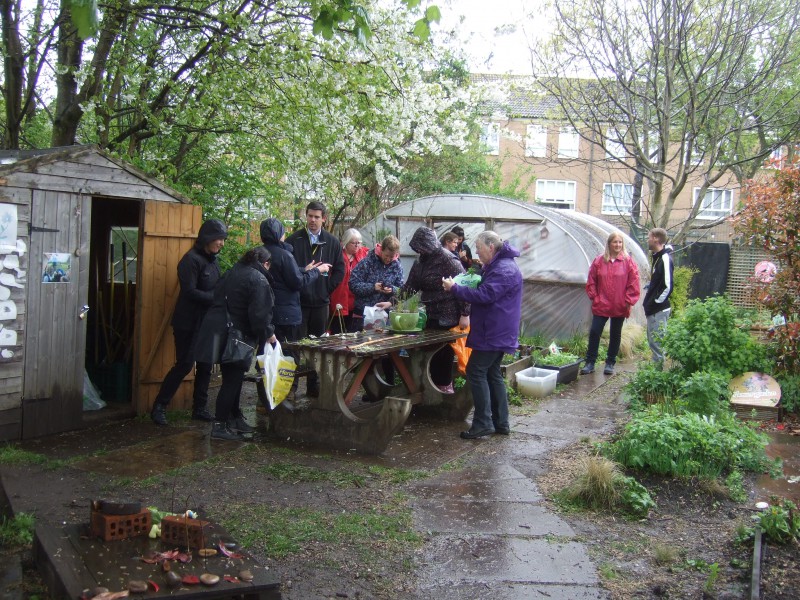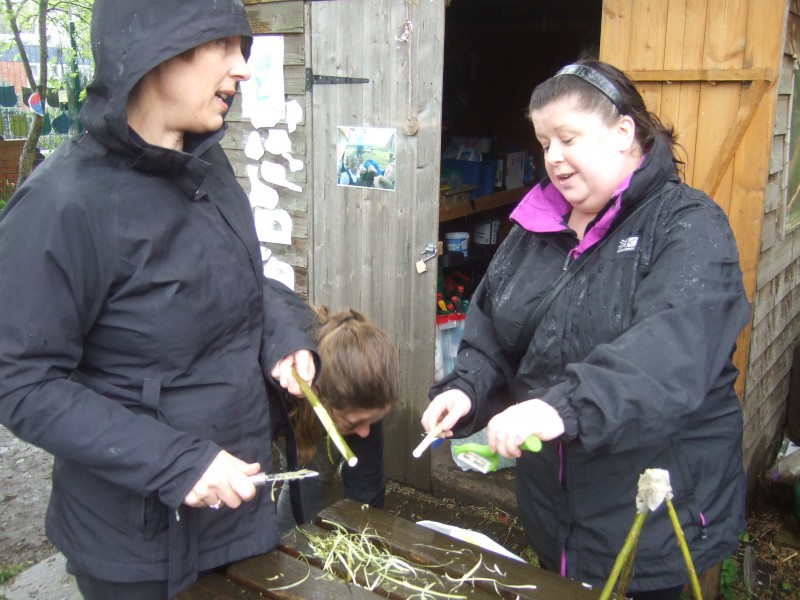 We have been learning about different kinds of birds and animals that lay eggs and build nests.
SPRING
We had a go at constructing nests ourselves.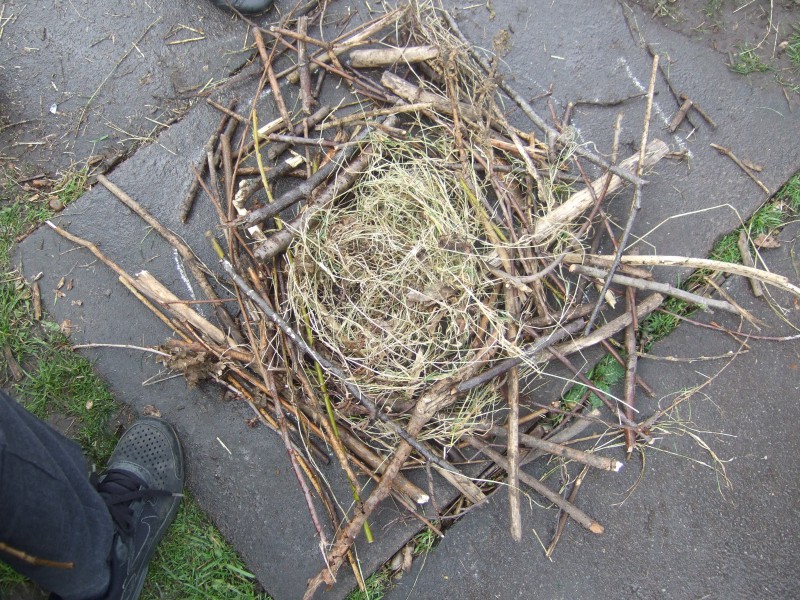 Then we worked in groups to find some eggs hidden in the garden to fill our nests.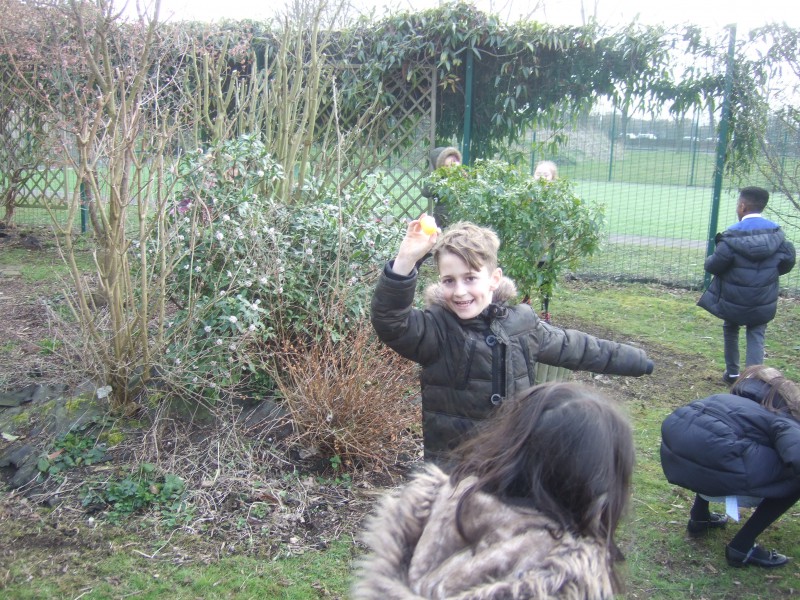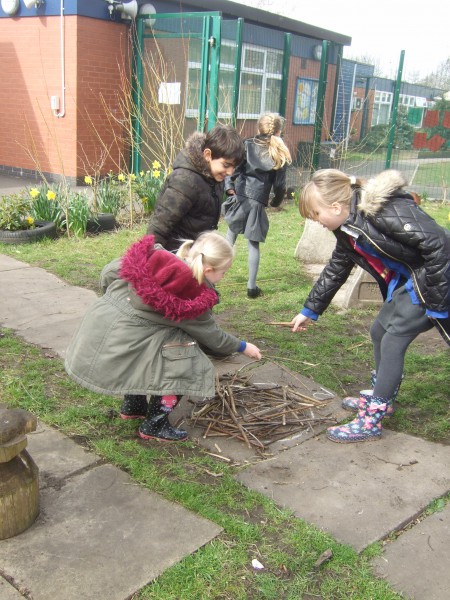 We counted the eggs. We needed to know if the other group was better than us!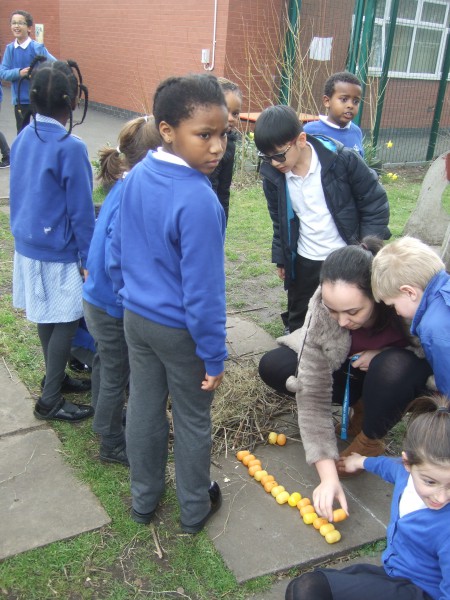 We were all winners as we all got a sweet treat at the end!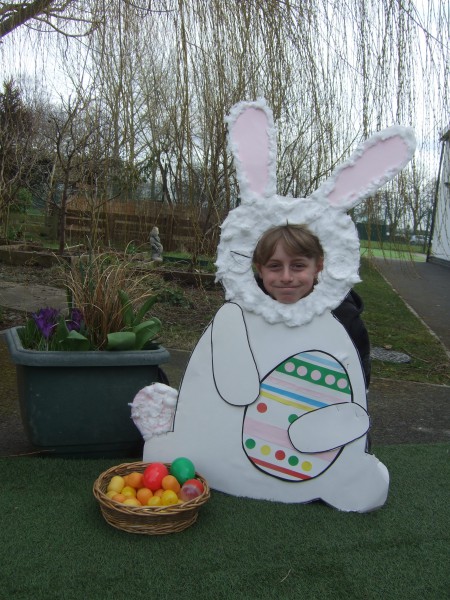 Before Easter you could have a photo taken and help us raise funds for the food for our guinea pigs. We made £8. Thank you for your donations!
___________________________________________________________________
SUPER WORMS
We are learning about the importance of earthworms for our environment.
We have studied the information about the worms habitat and life cycle.
We know what important role they play to keep our garden soil healthy and fertile.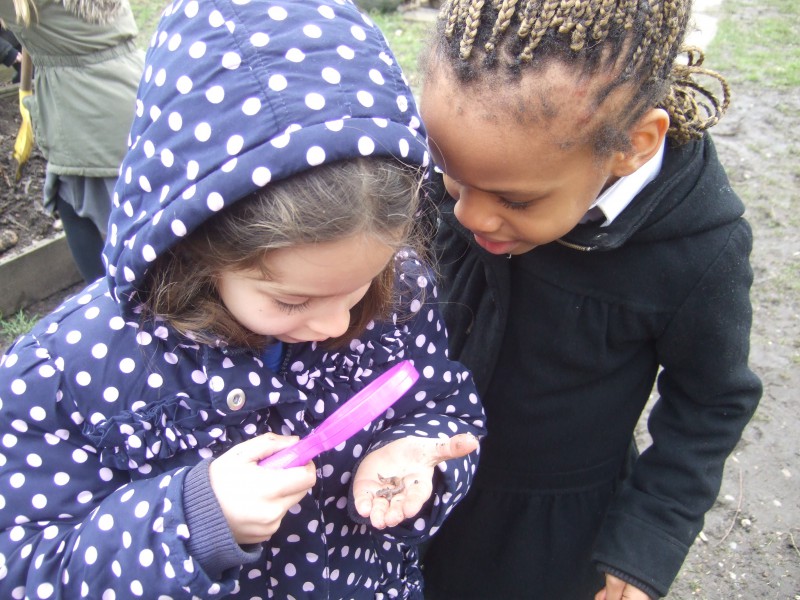 We found lots of worms in our soil. That proves how well we look after our environment.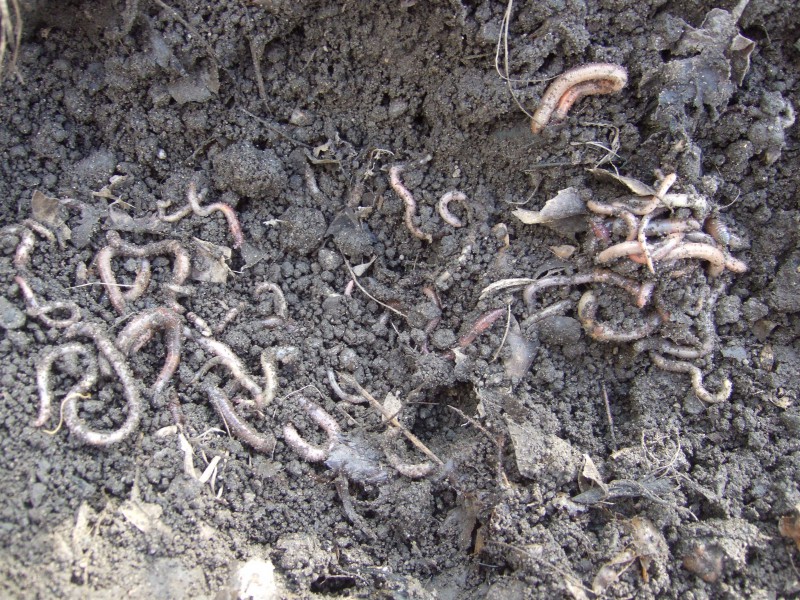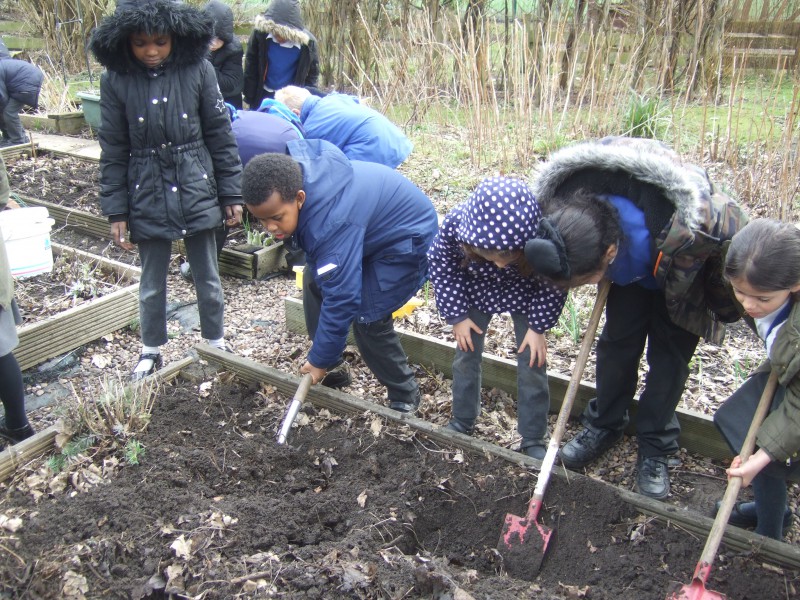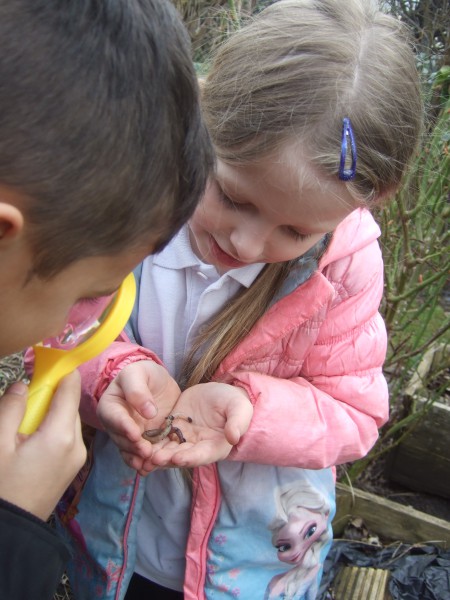 We measured some worms to check what was the average size of worm for our garden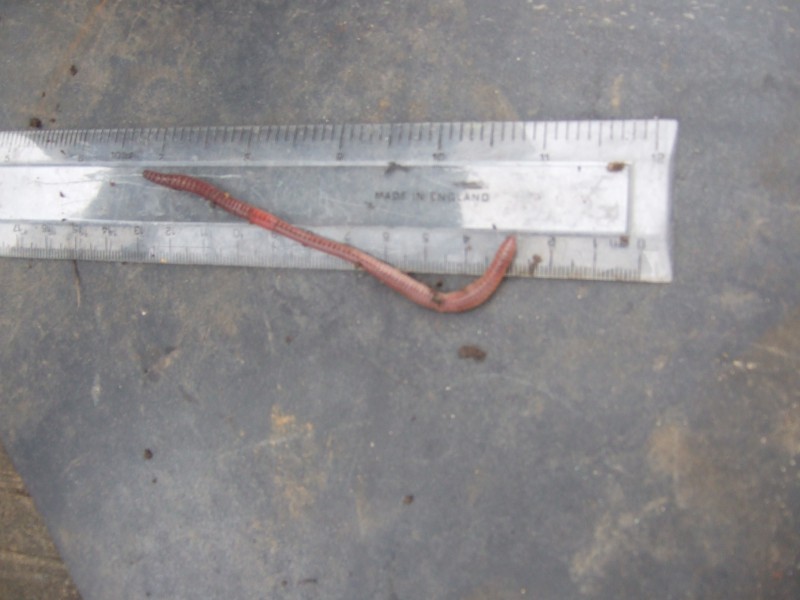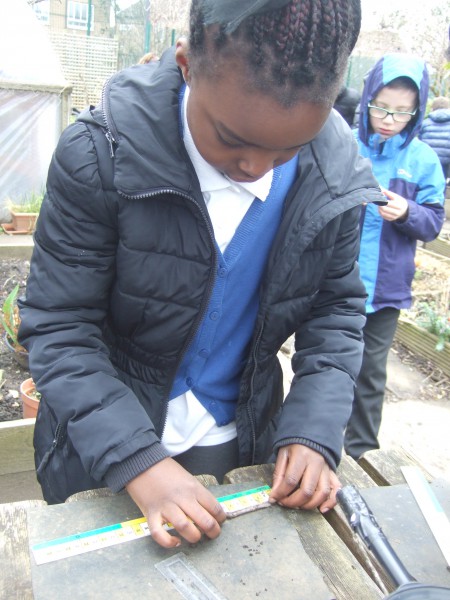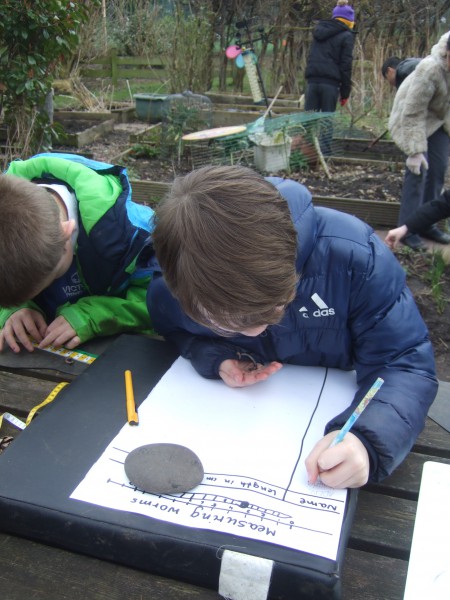 ________________________________________________________________________
Creativity and Cooperation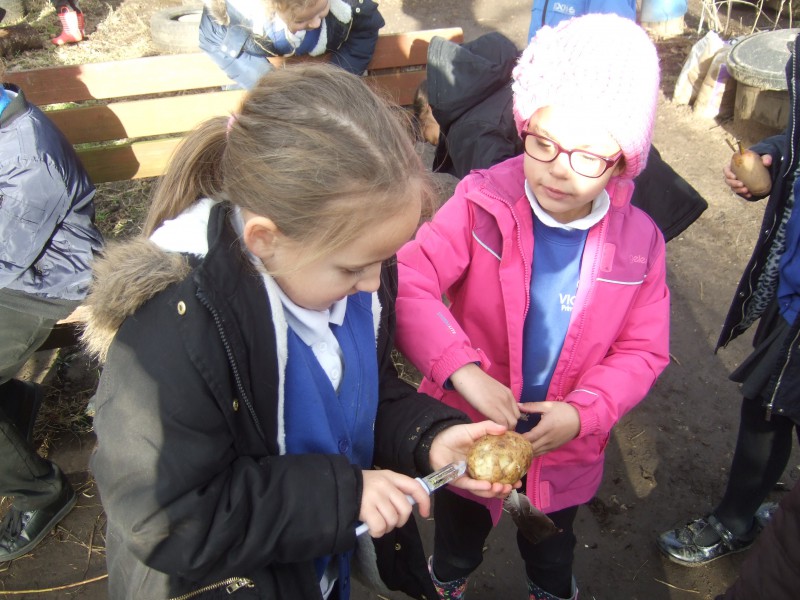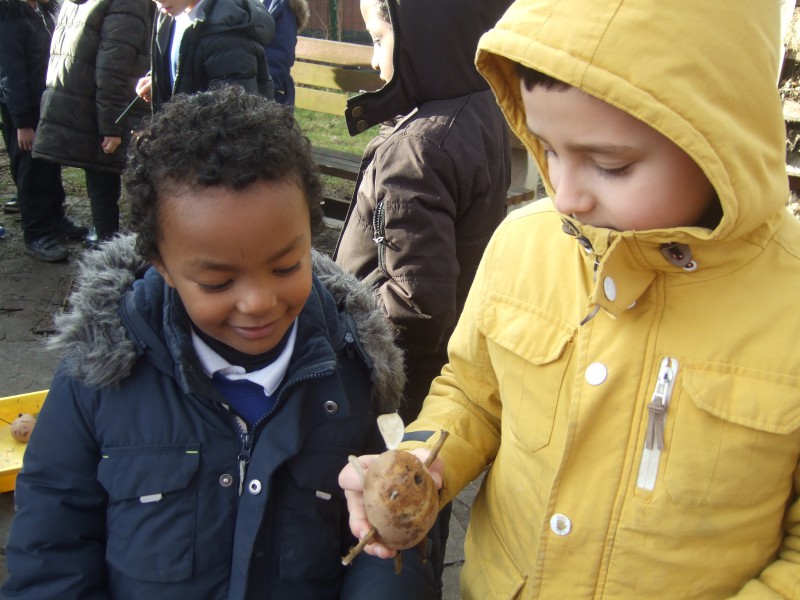 Reception and Year 3 working together to make a Bog Baby puppet using a range of natural materials.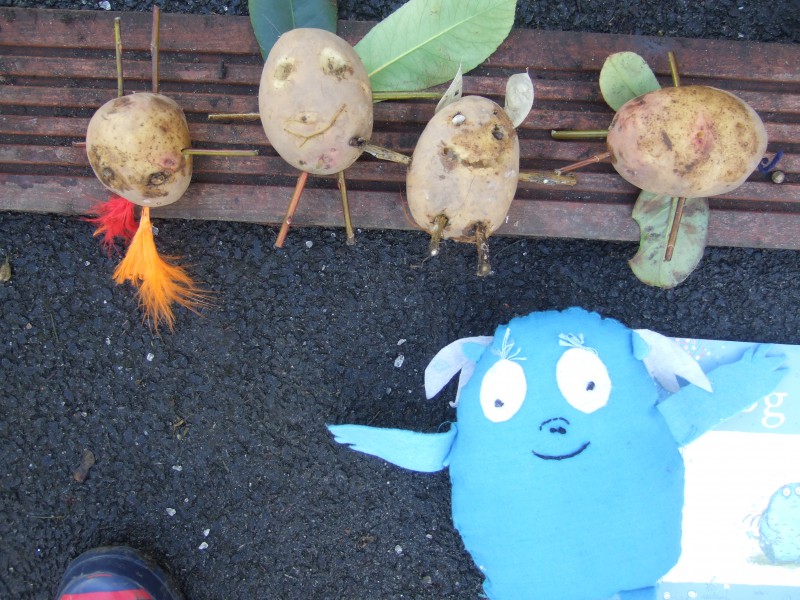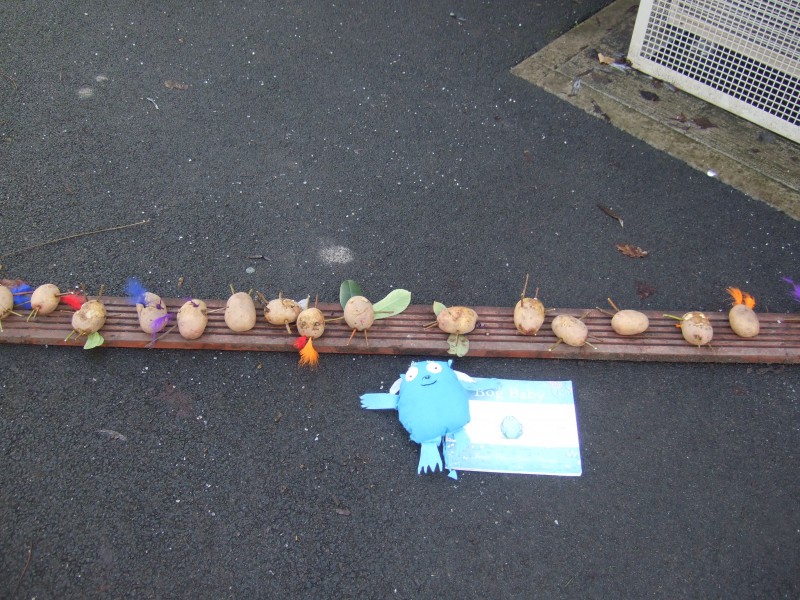 We created a whole "school" of Bog Babies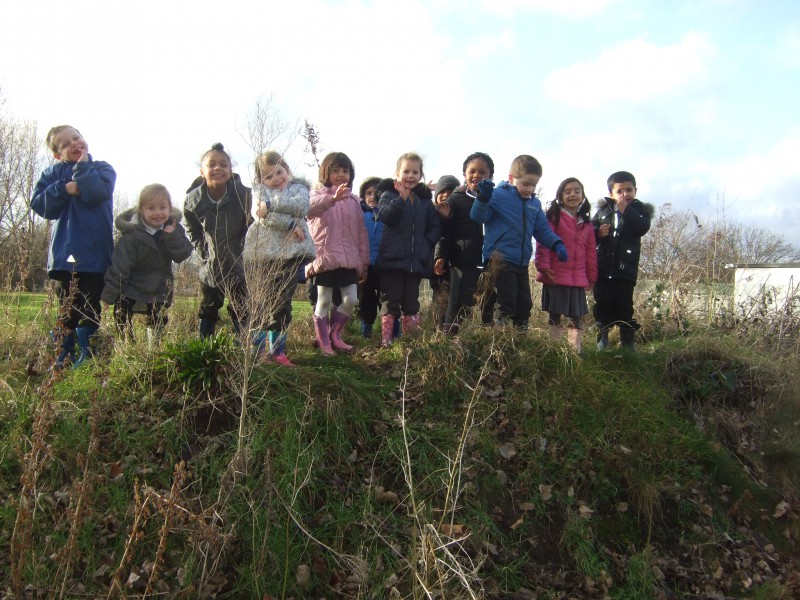 We climbed up the hill and we could all feel out of breath and our hearts beating much faster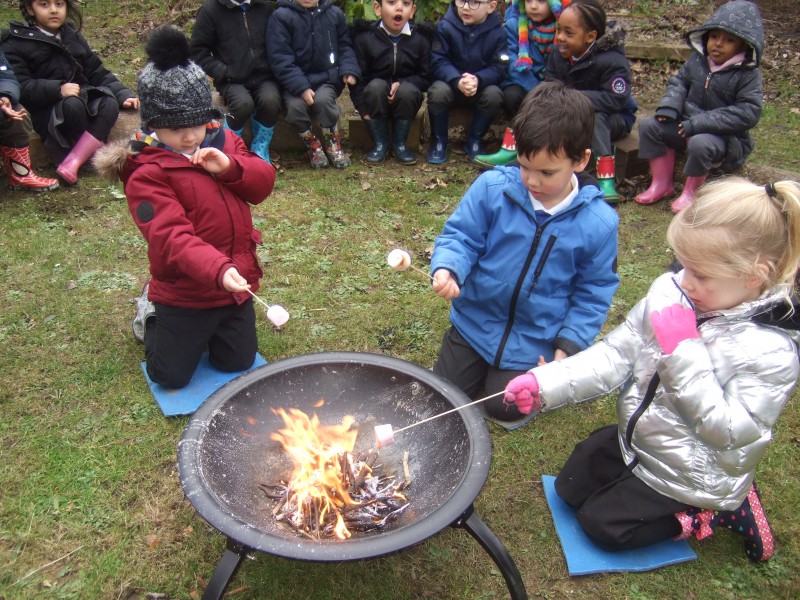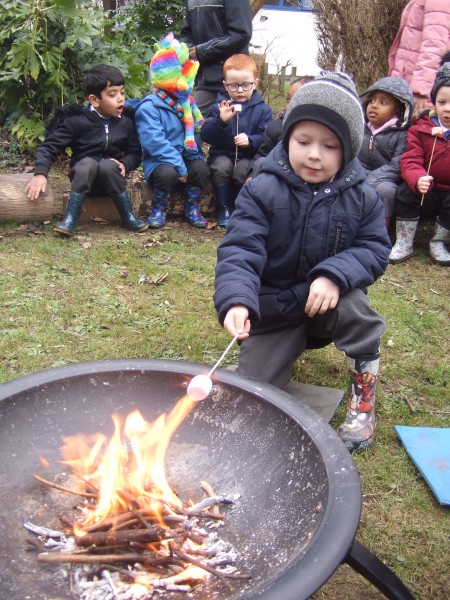 We were learning how to stay safe around the fire.
KS 2 outdoor activities
​​Trust and confidence building exercises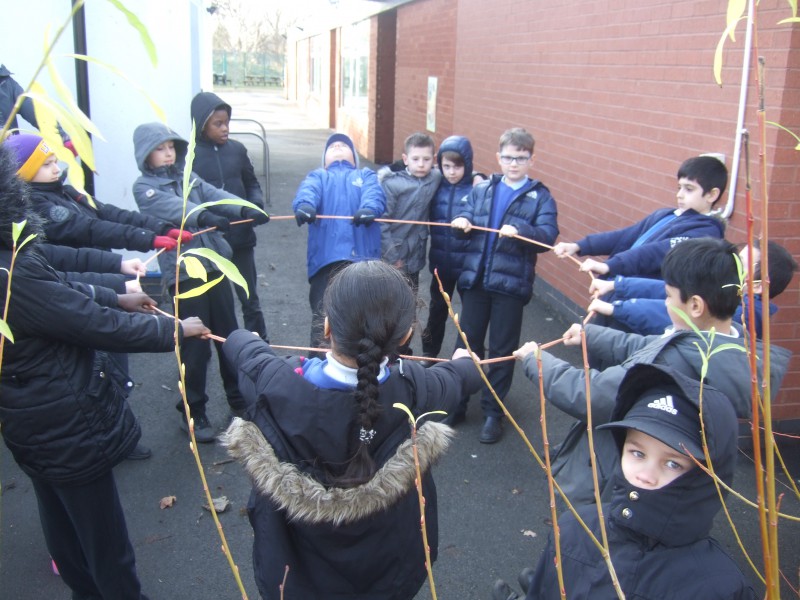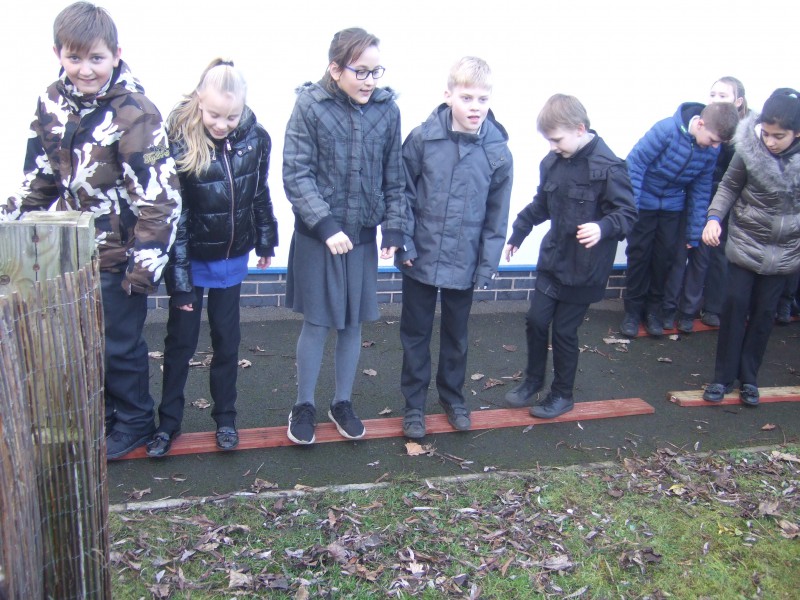 Year 2 were learning abut foods which come from the rain forest and compared them to foods which we grow in our school garden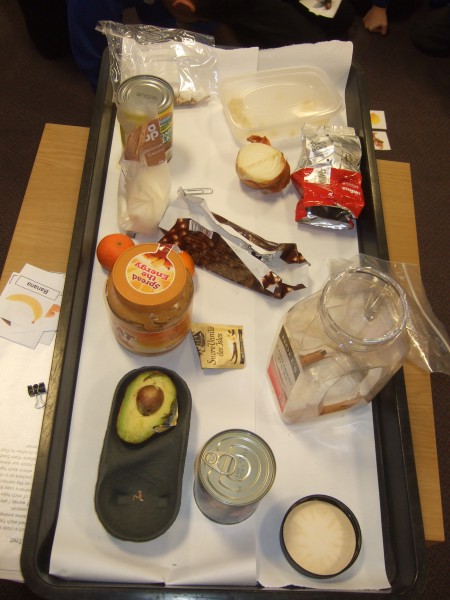 Celebrating Chinese New Year with the love story illustrated by the willow pattern on a plate.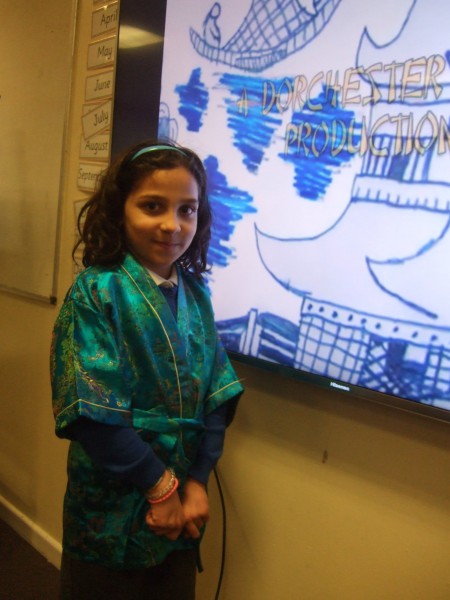 We found a willow tree in our garden.
Maybe there is a story to be found here too?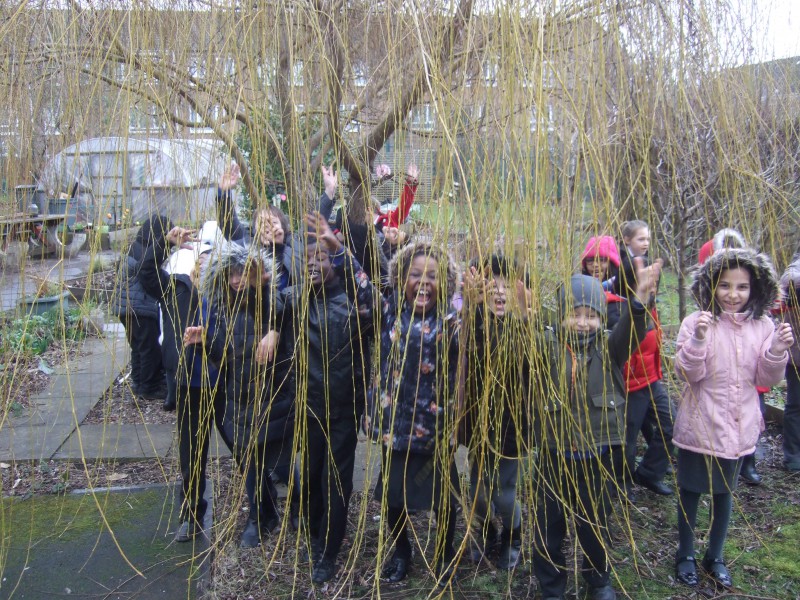 _____________________________________________________________________
Year 4 and 5 were making 2D shapes using willow branches.
The shapes will be used by the Nursery and Reception children during the Shape Hunt next week.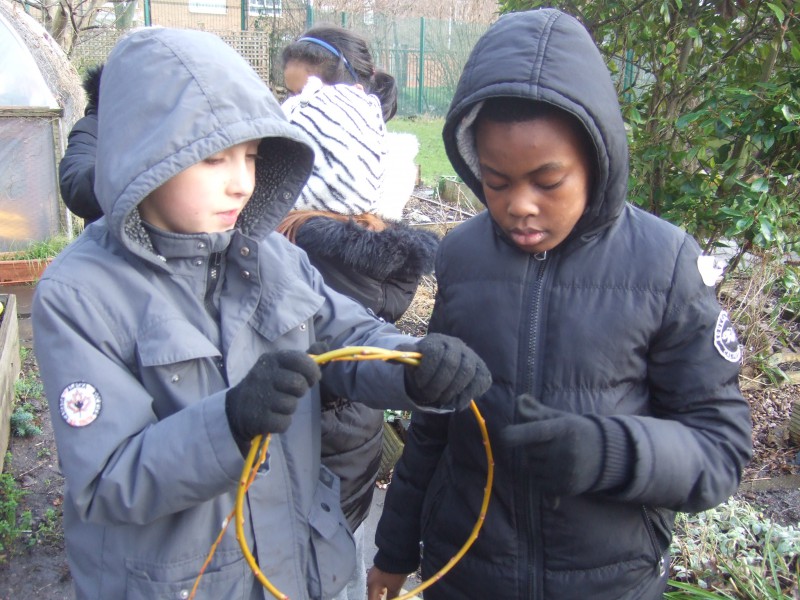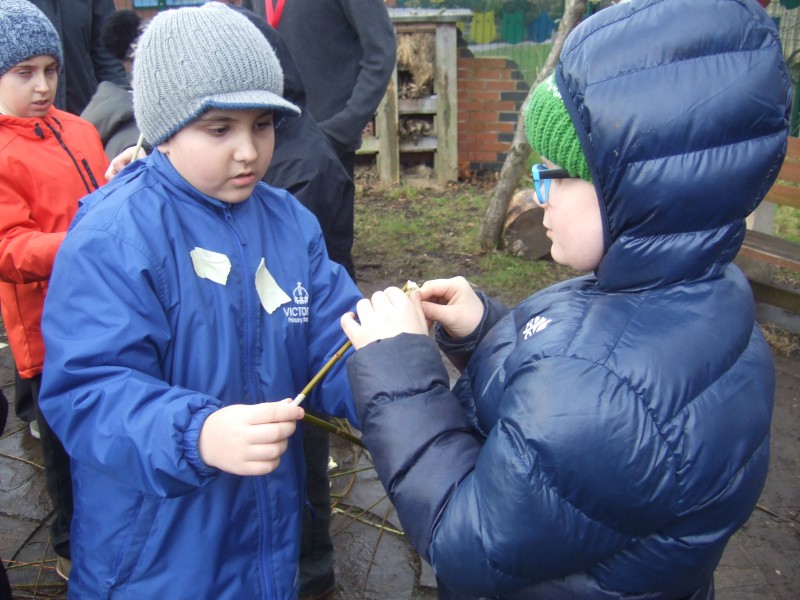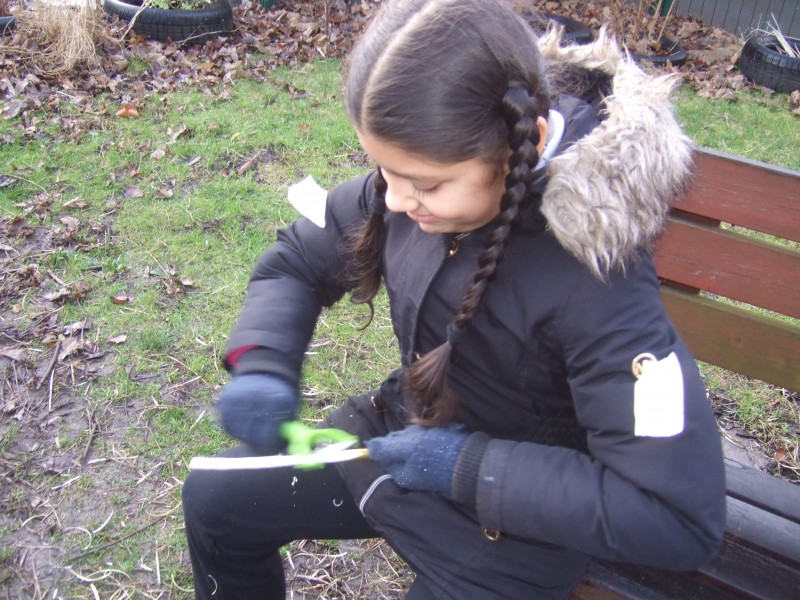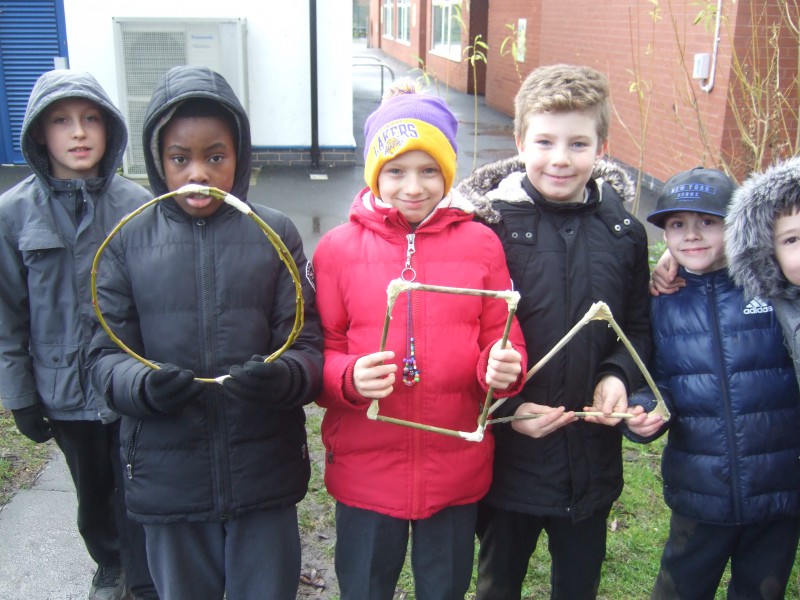 Reception classes were learning about the properties of ice.
We had to rescue some spiders trapped in ice.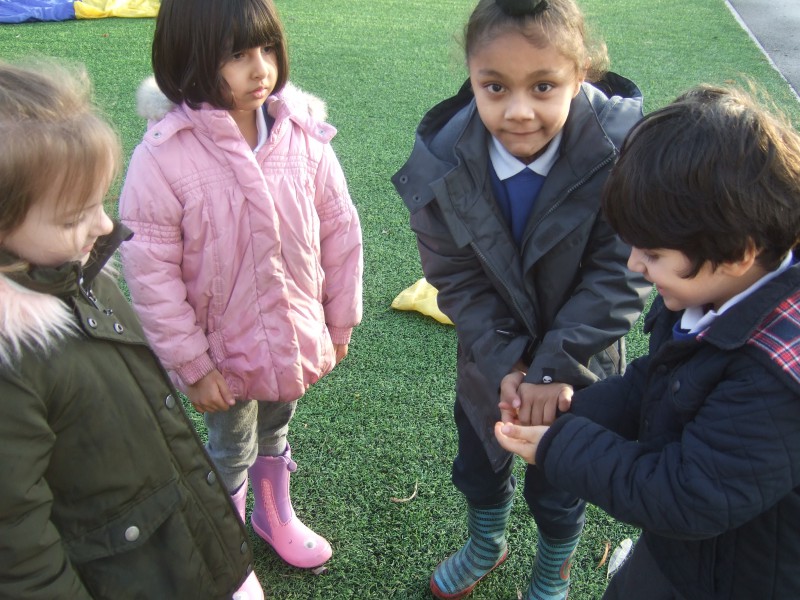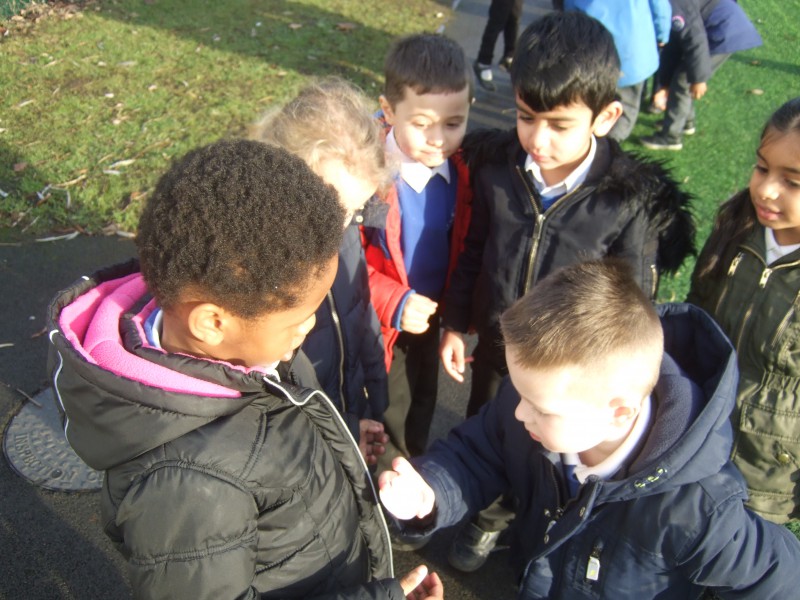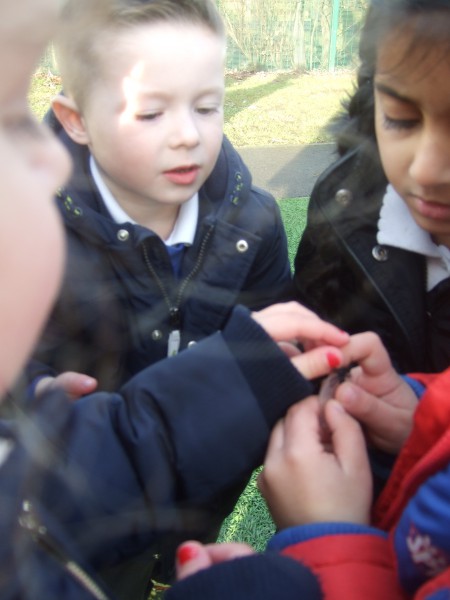 Year 2 were learning about the Great Fire of London.
In Forest School we were learning about the dangers and responsibilities when making a fire.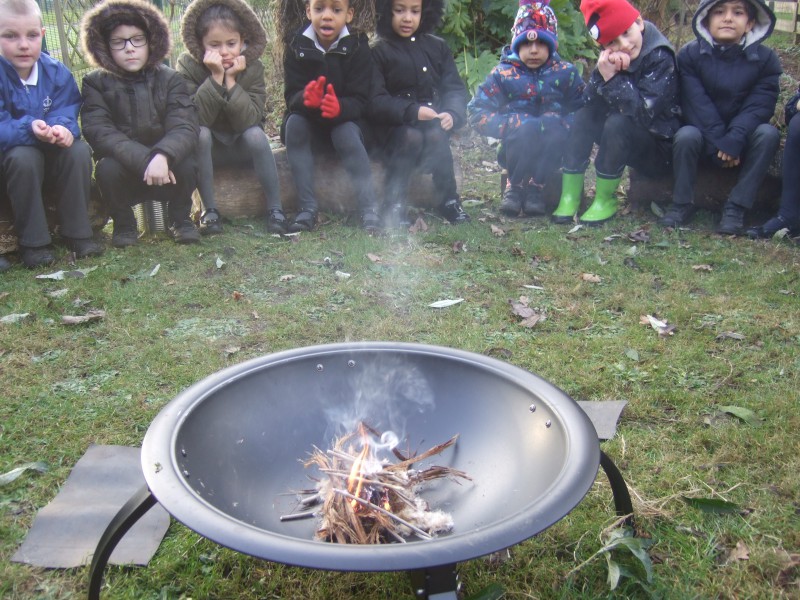 We also roasted some marshmallows. Yummy!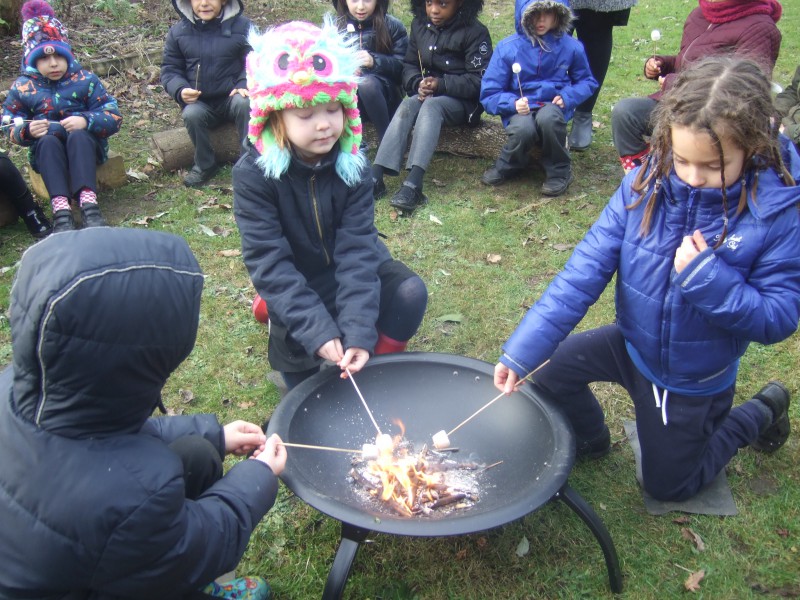 Autumn and Winter Activities
Year 2,3,4,5 and 6 took part in the RSPB outreach project. We were learning about our environment and how our school grounds can support wildlife.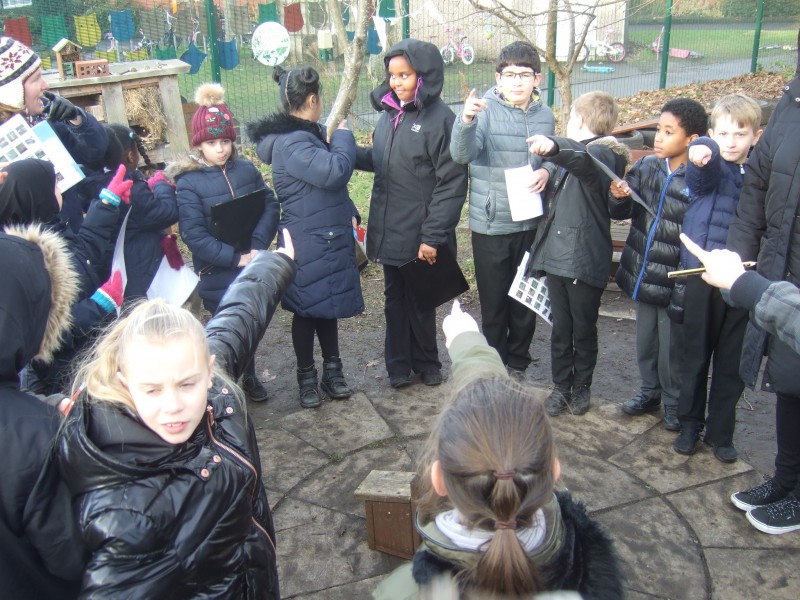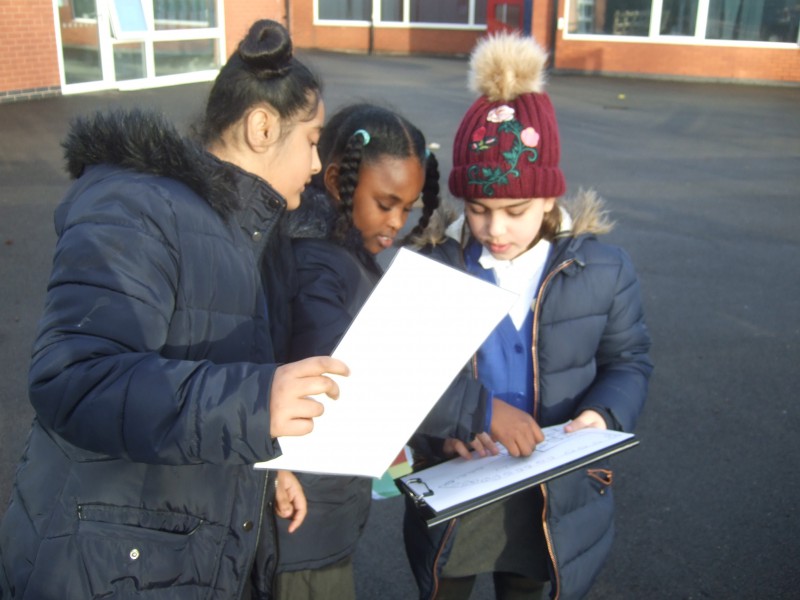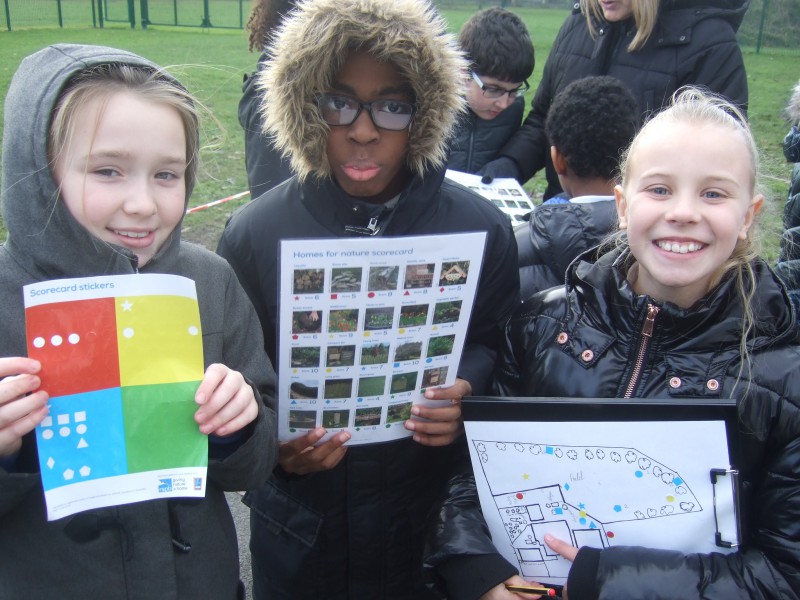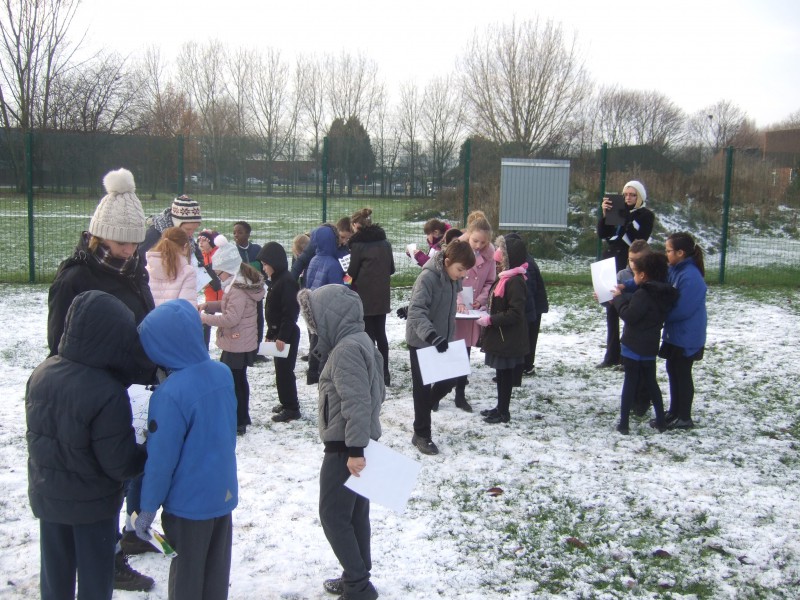 Making decorations for the school Christmas Fair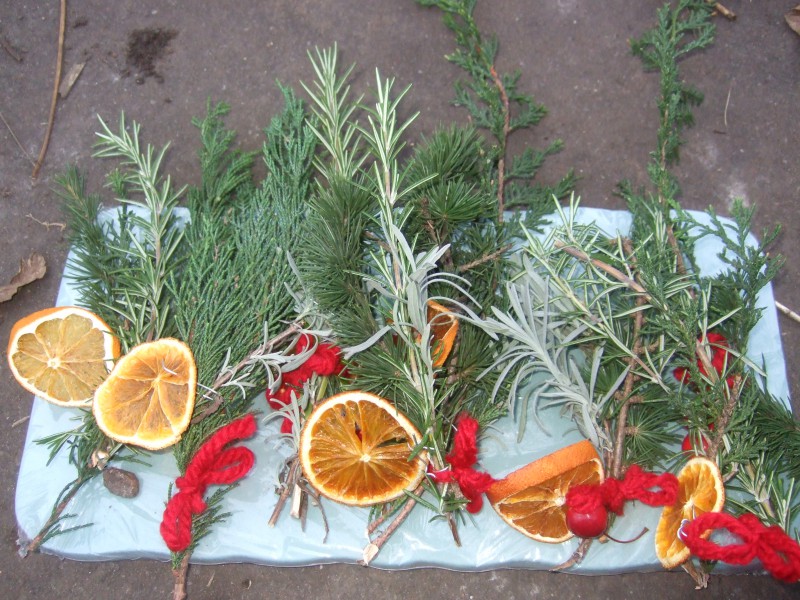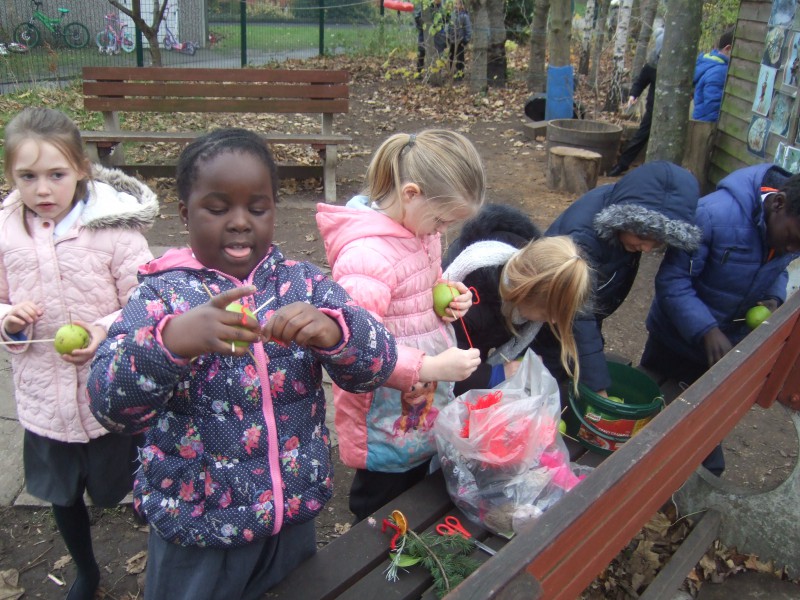 Team and trust building activities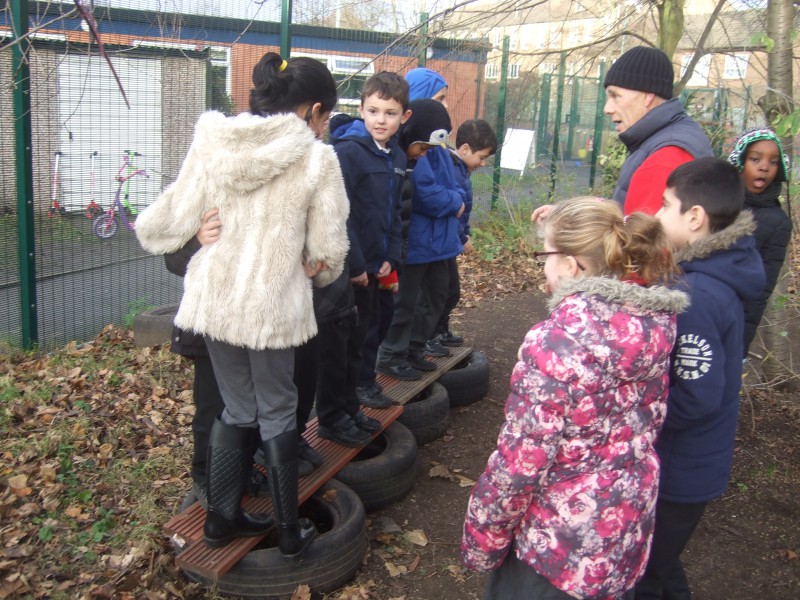 Making Christmas decorations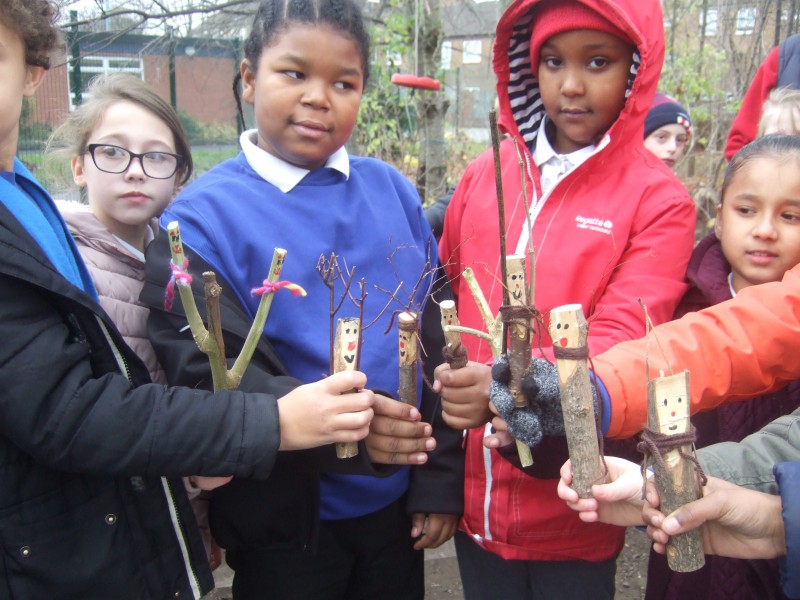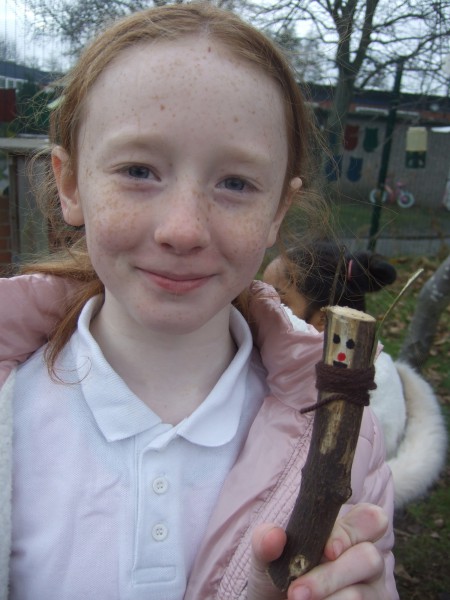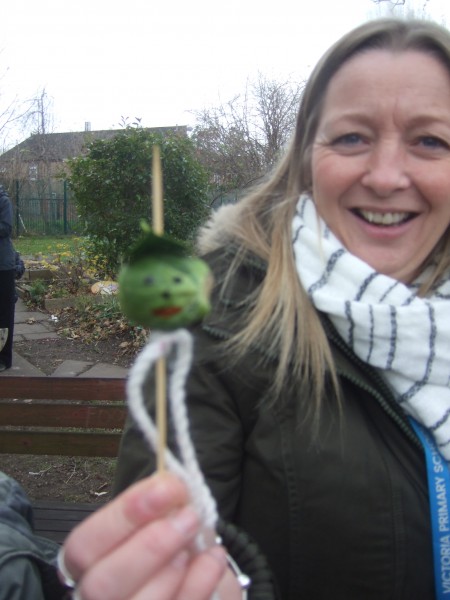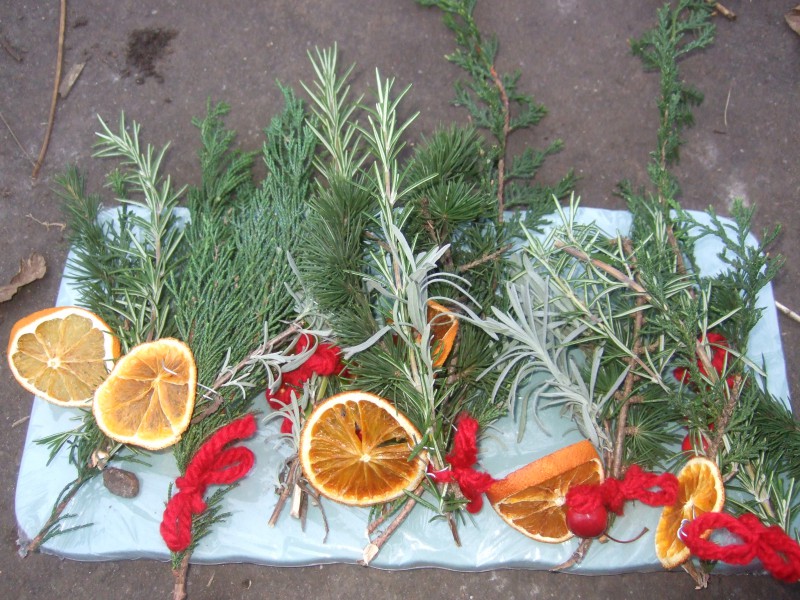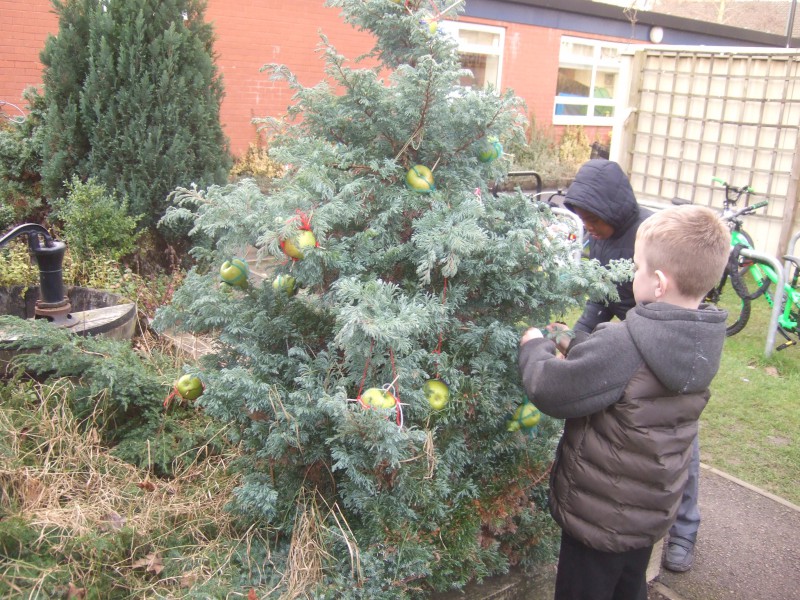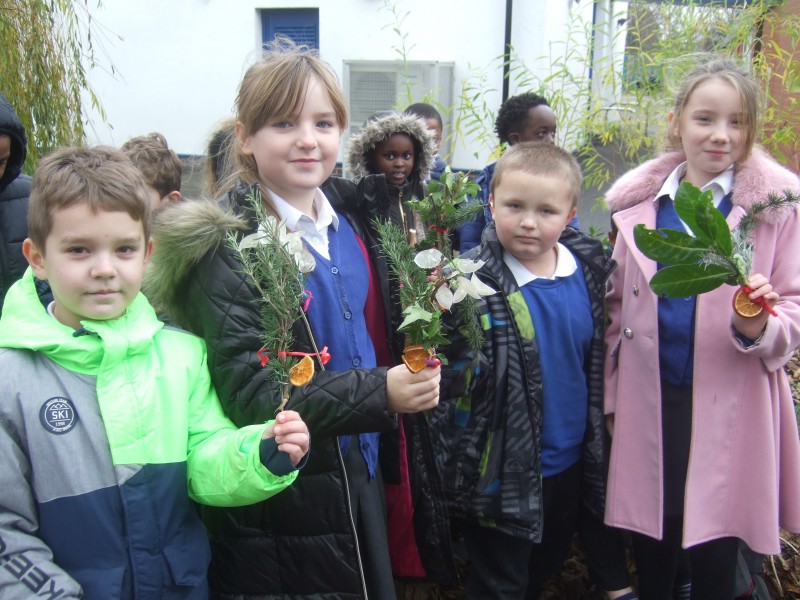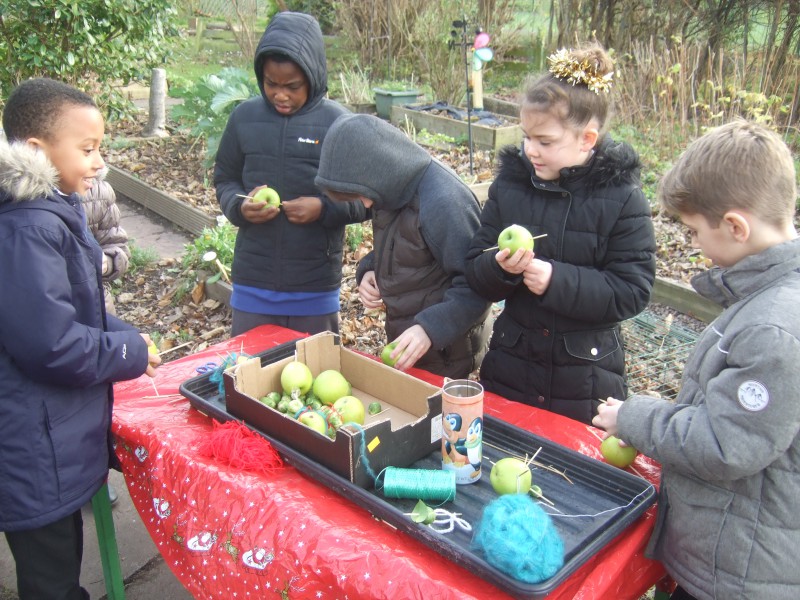 Studying snails with Nursery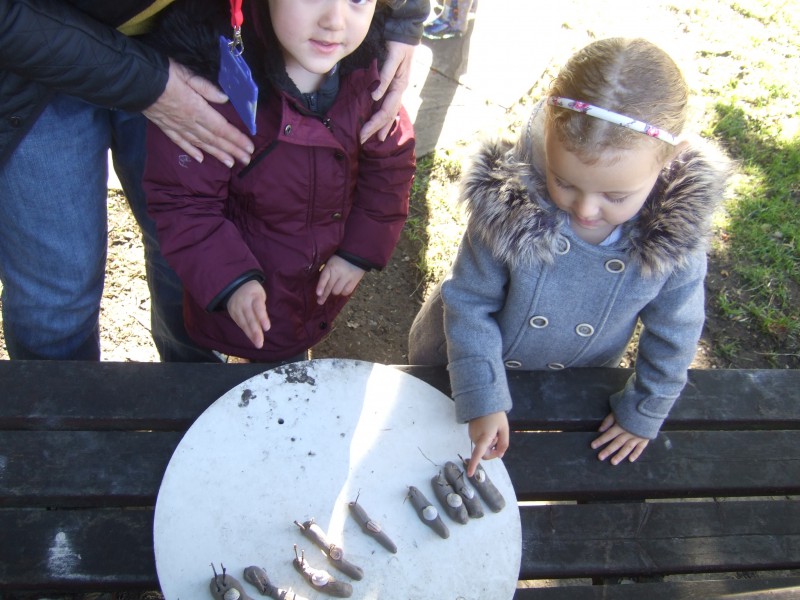 Forest School art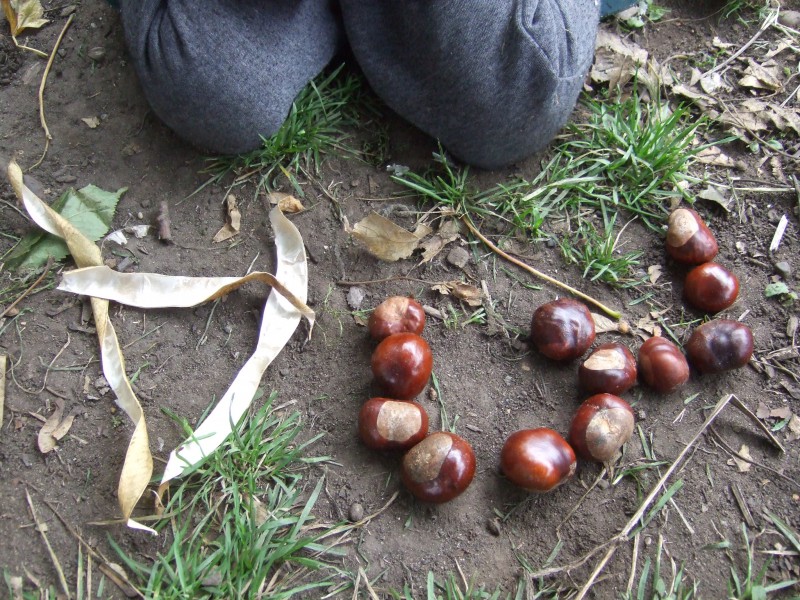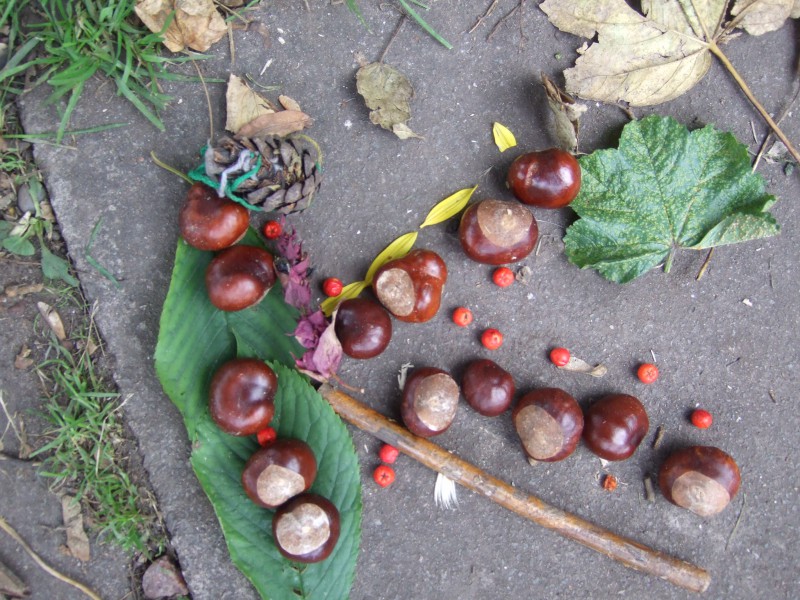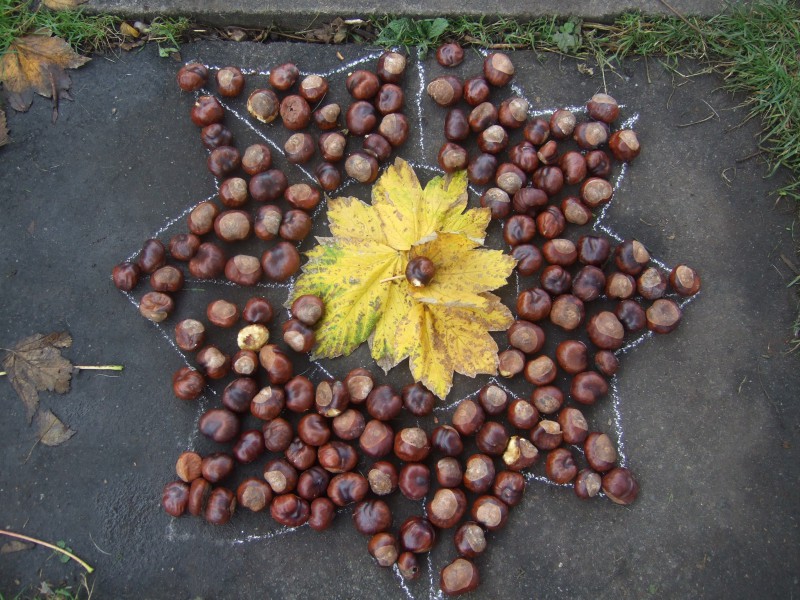 Year 3 and 4 activities.
We are learning to use tools; hammers, peelers and tent pegs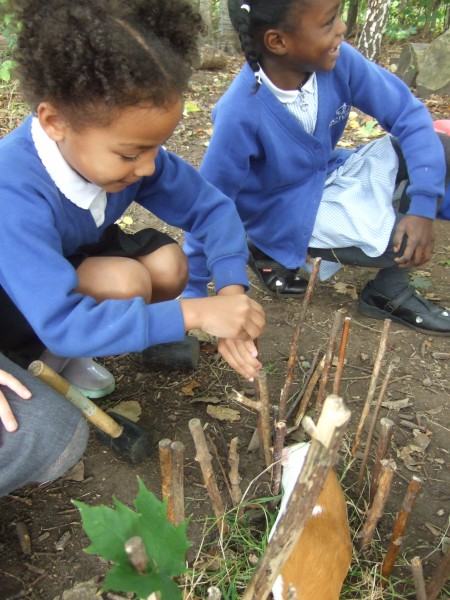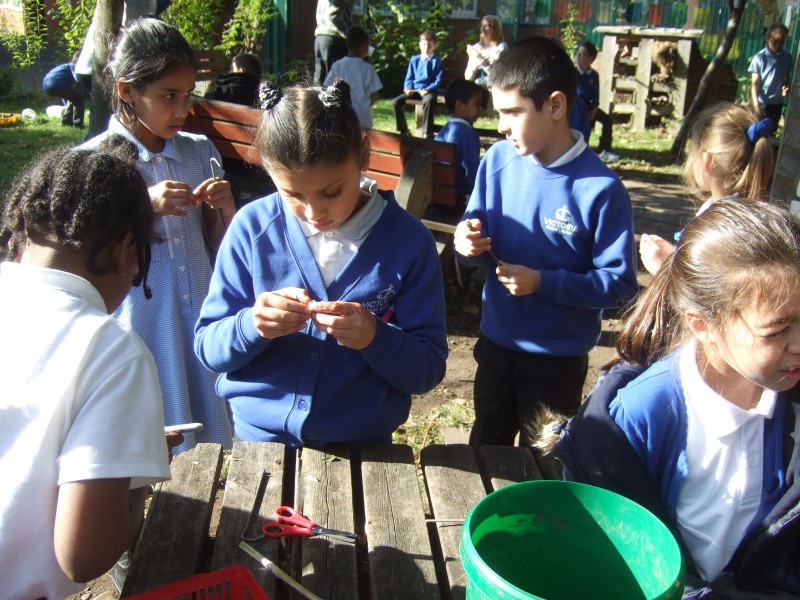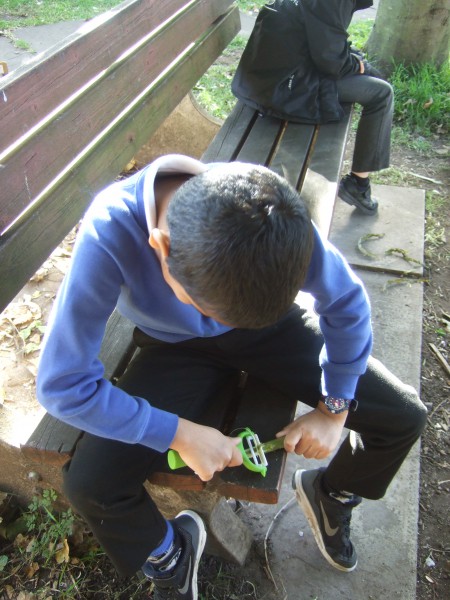 Nursery children.
Looking after guinea pigs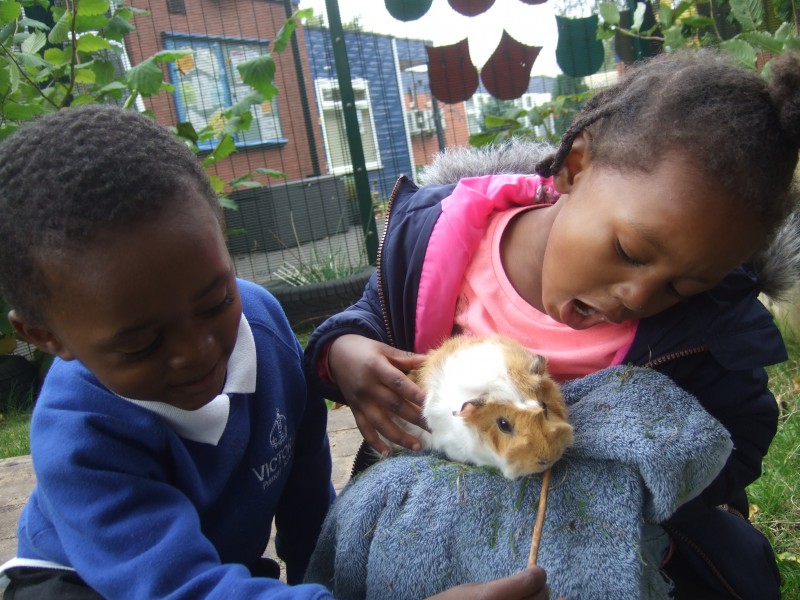 Harvesting carrots for carrot cake.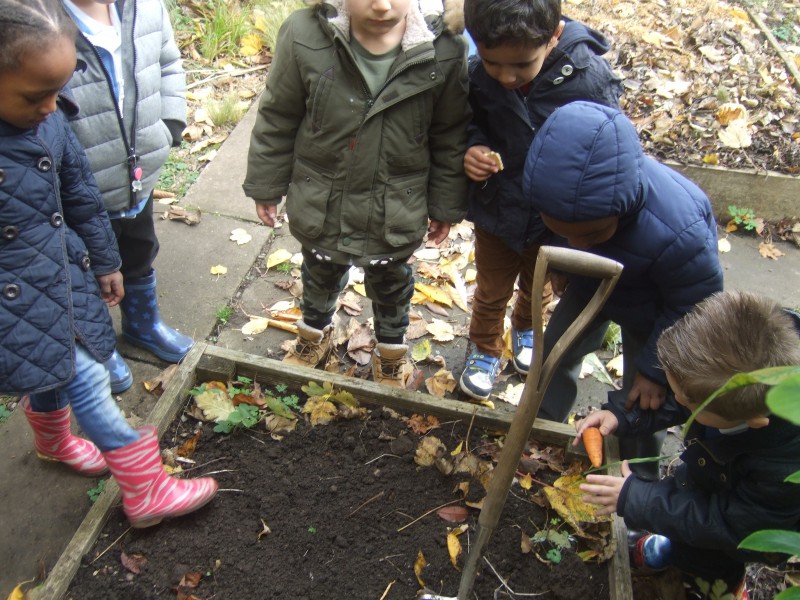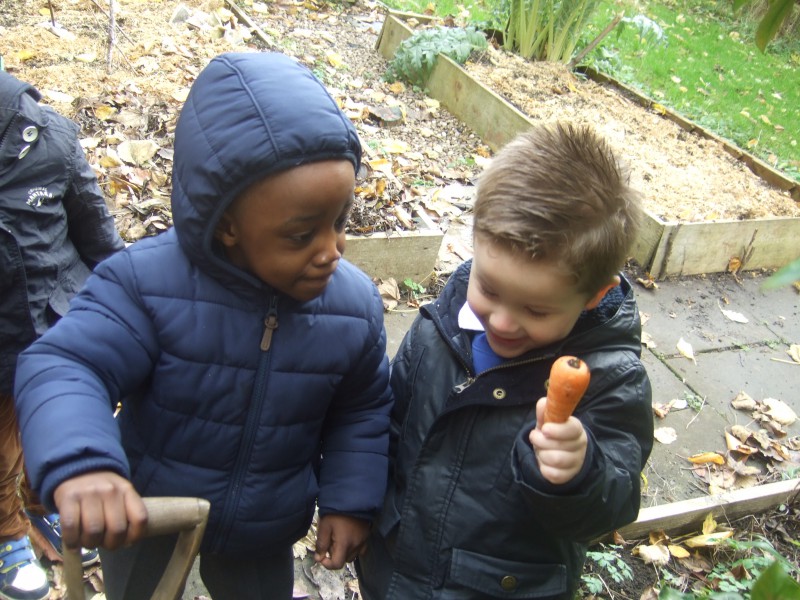 More Year 3 and 4 activities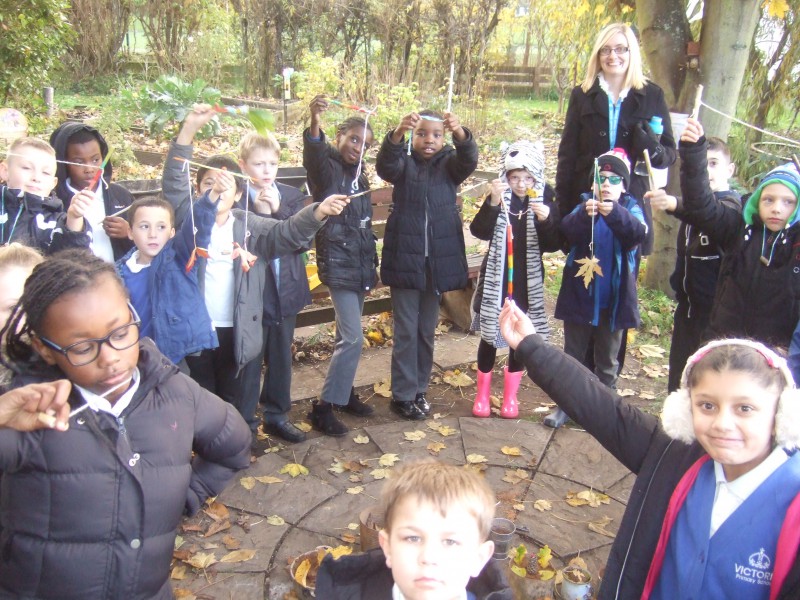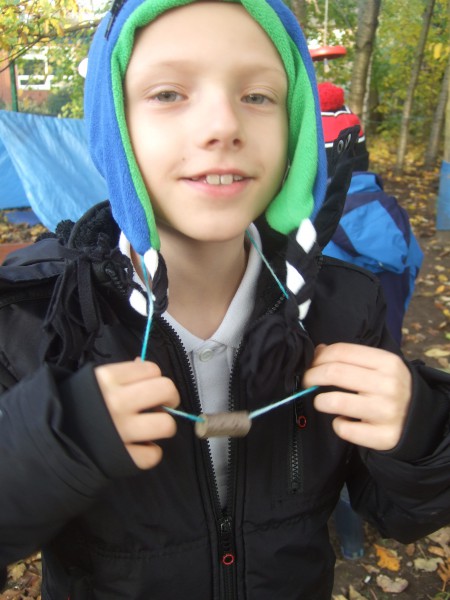 Reception Class -making Stickmen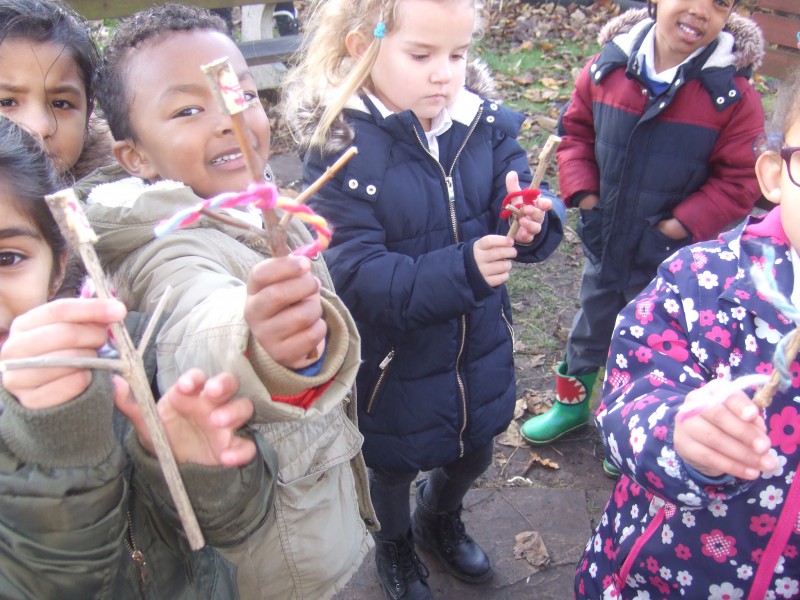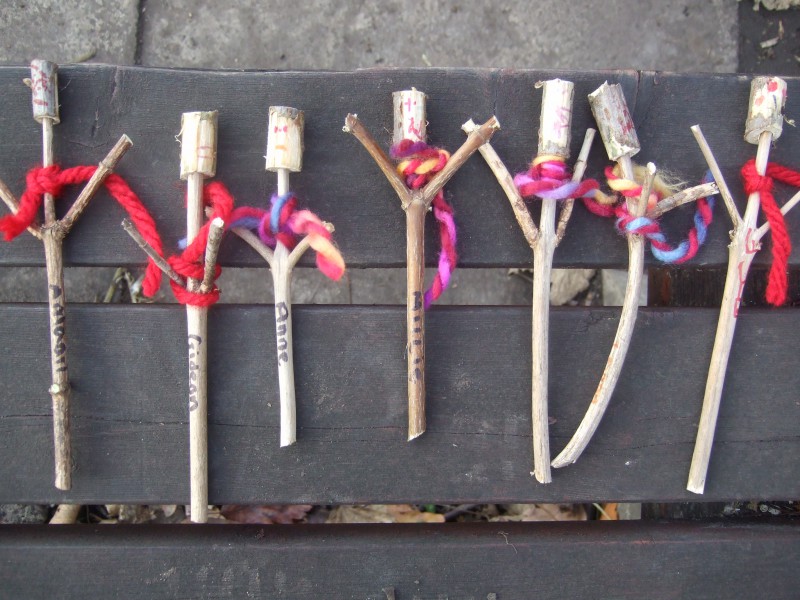 A small visitor. Can you spot it?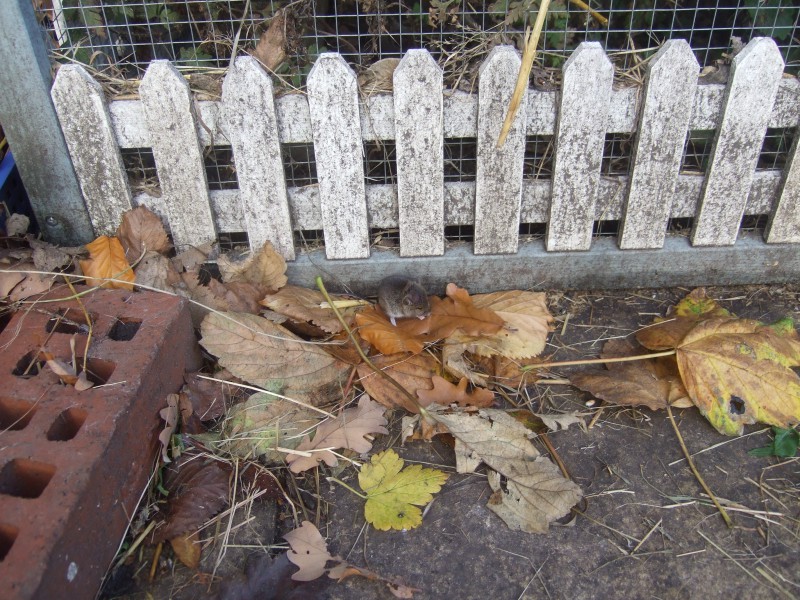 After School Forest Club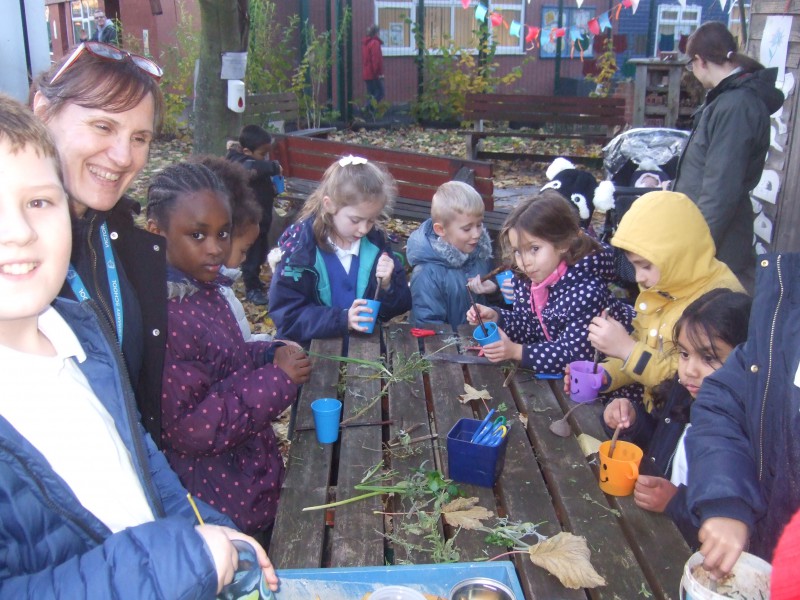 Year 2 - Learning about fire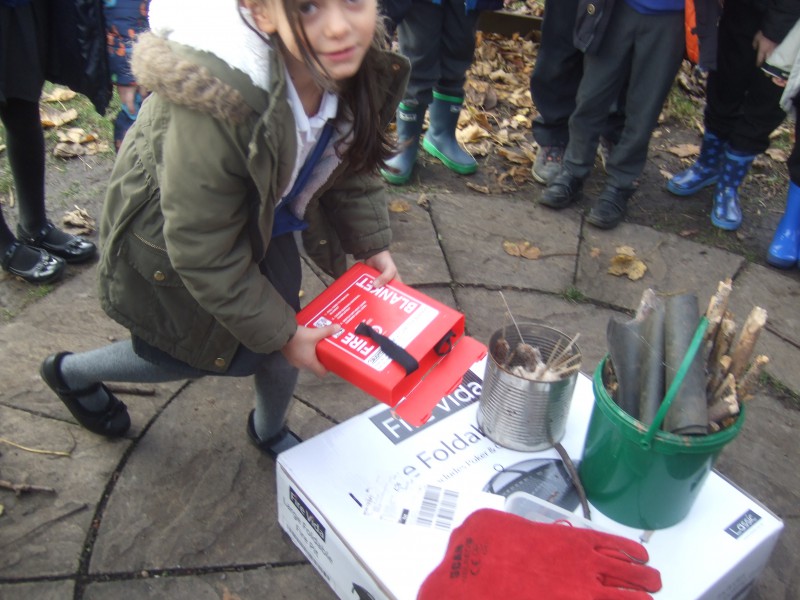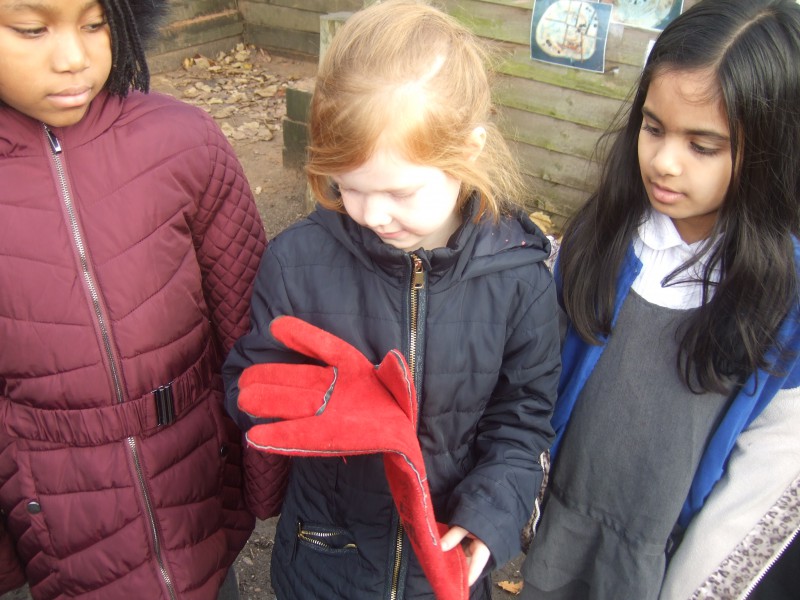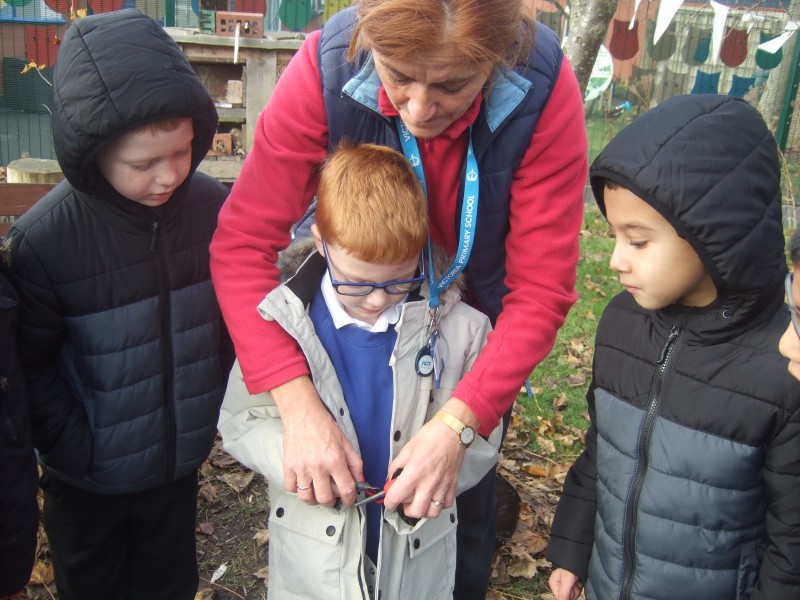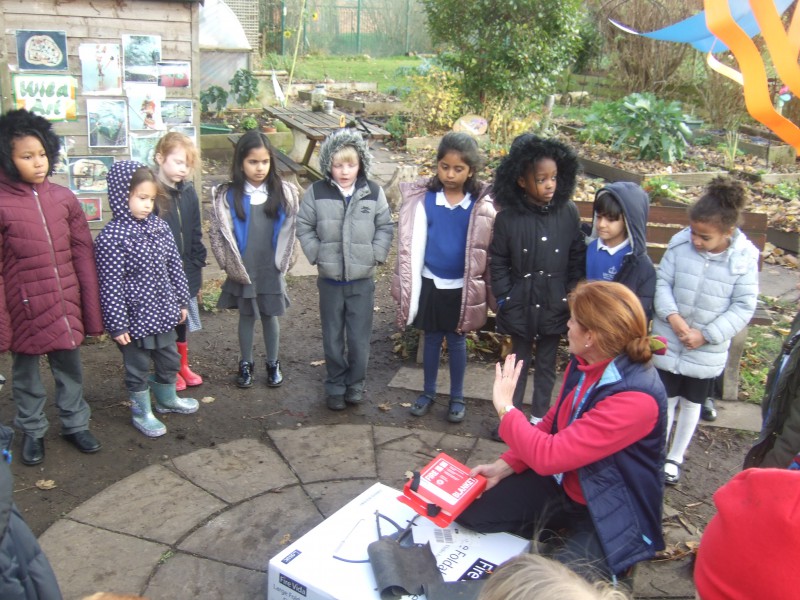 Selling Christmas Cards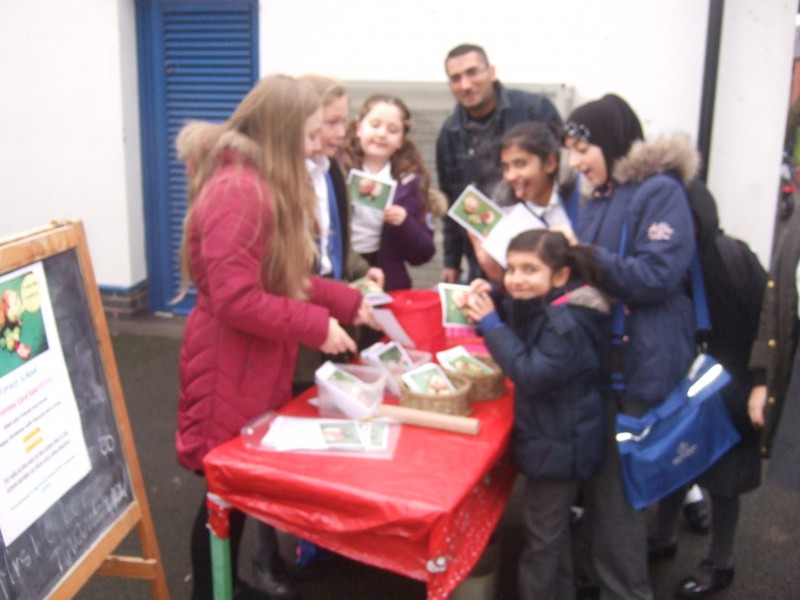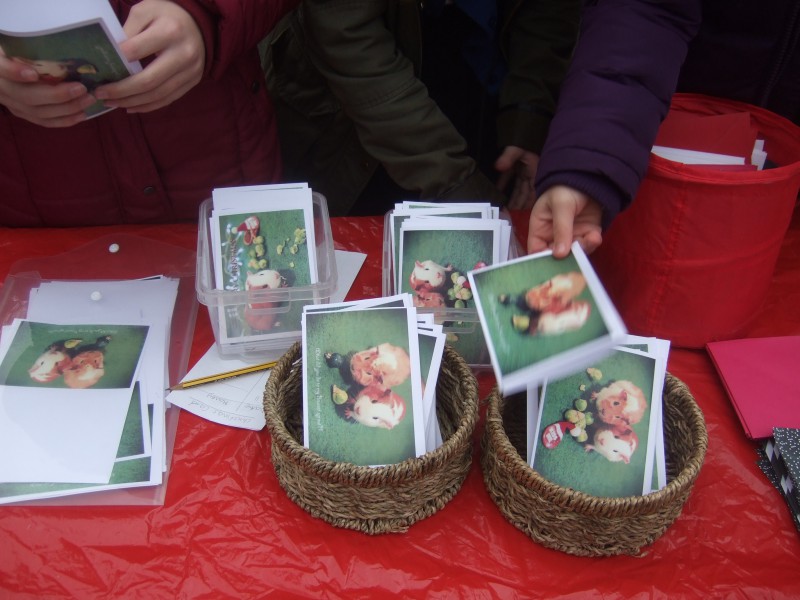 Lunch time Guinea Pigs monitors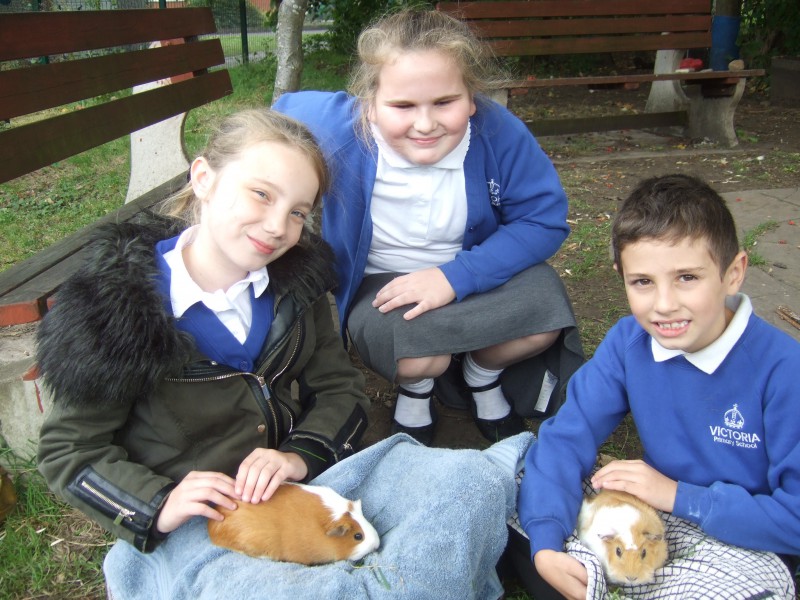 NURSERY IN THE FOREST SCHOOL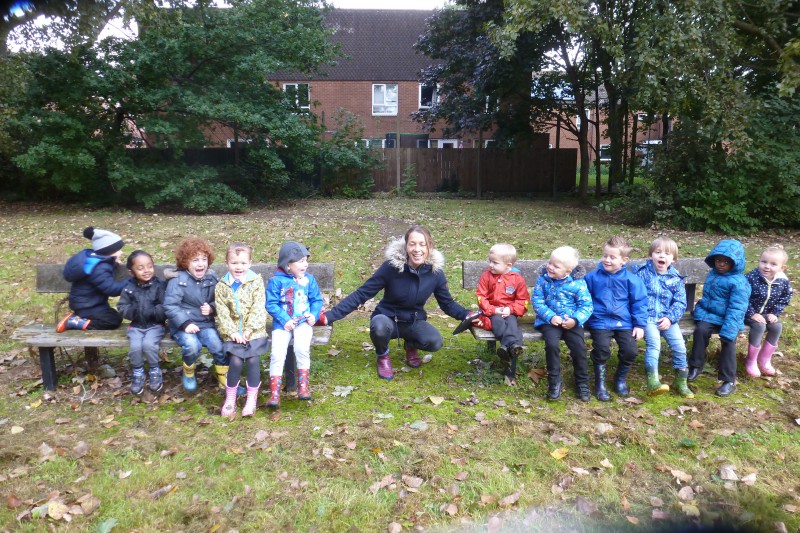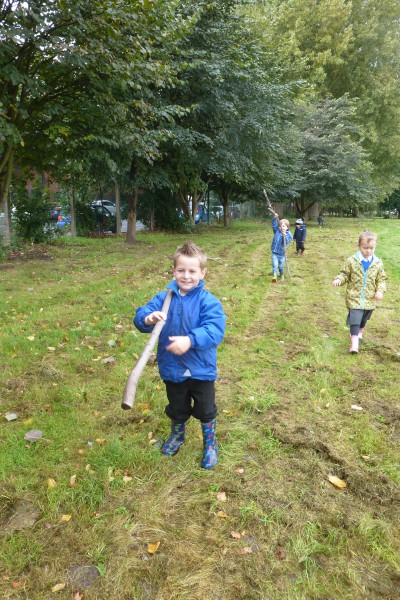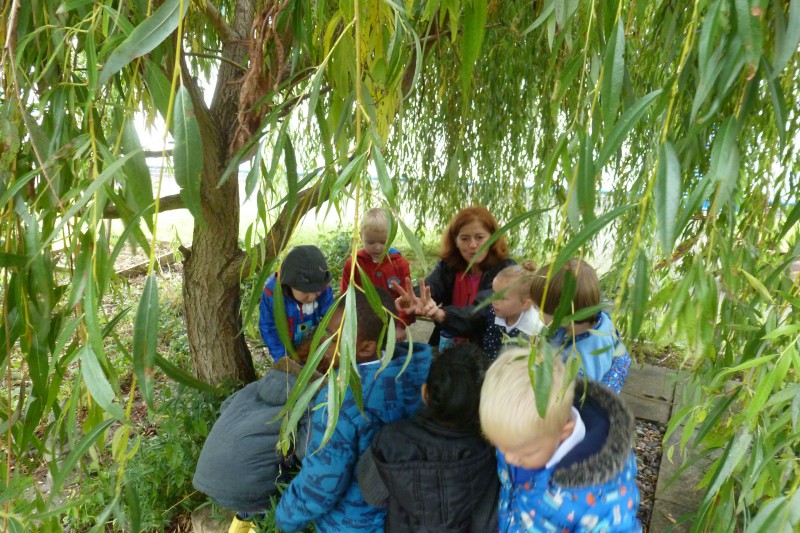 RECEPTION
Reception went on a bear hunt!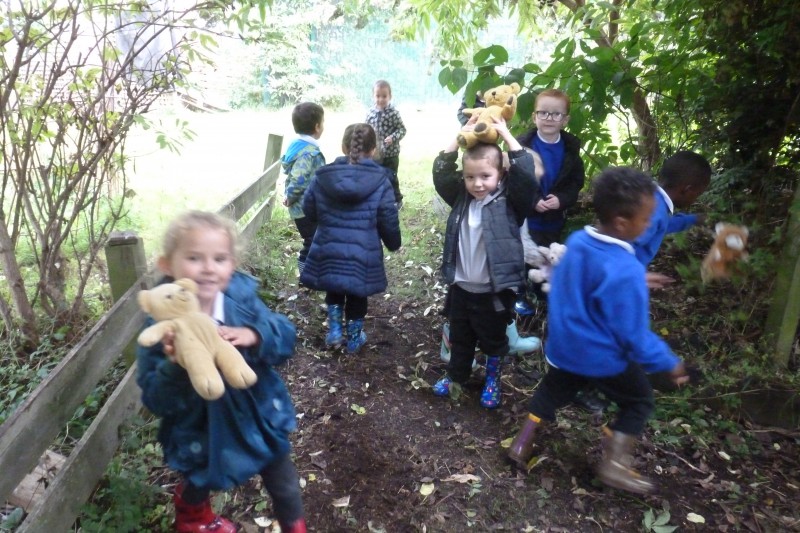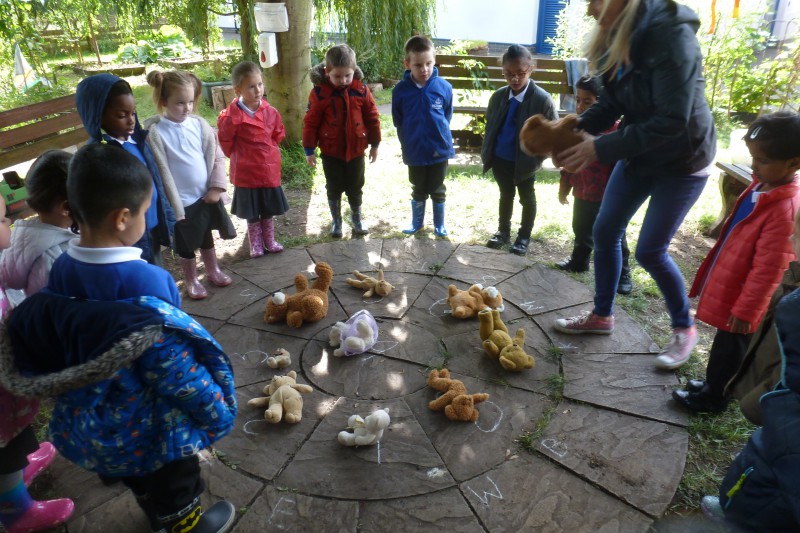 We use different tools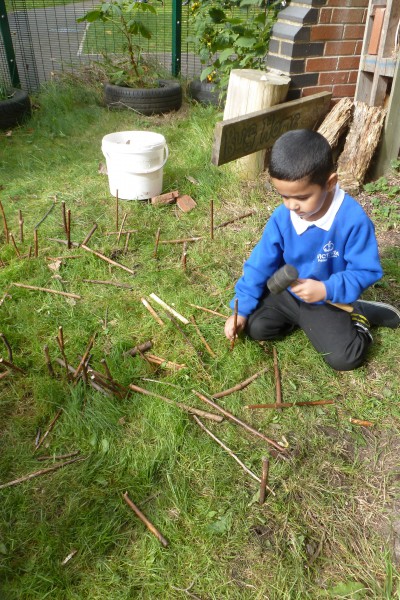 Our guinea pigs are very friendly and cuddly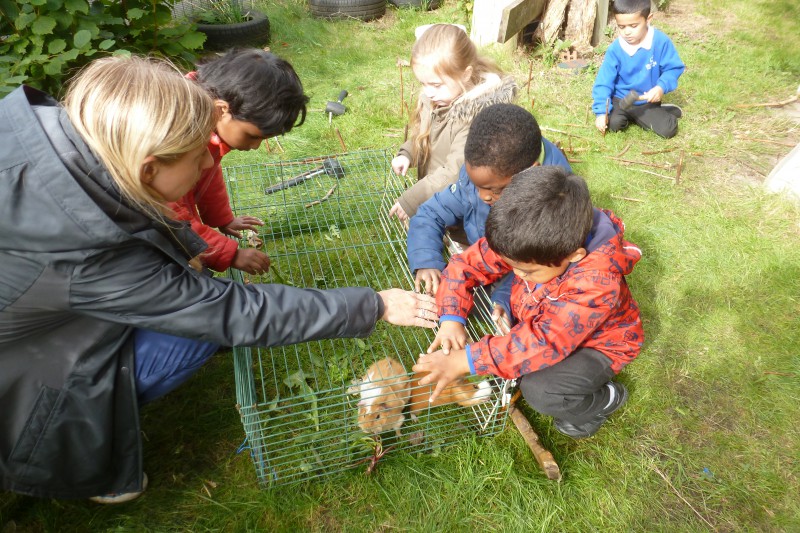 Team work is dream work!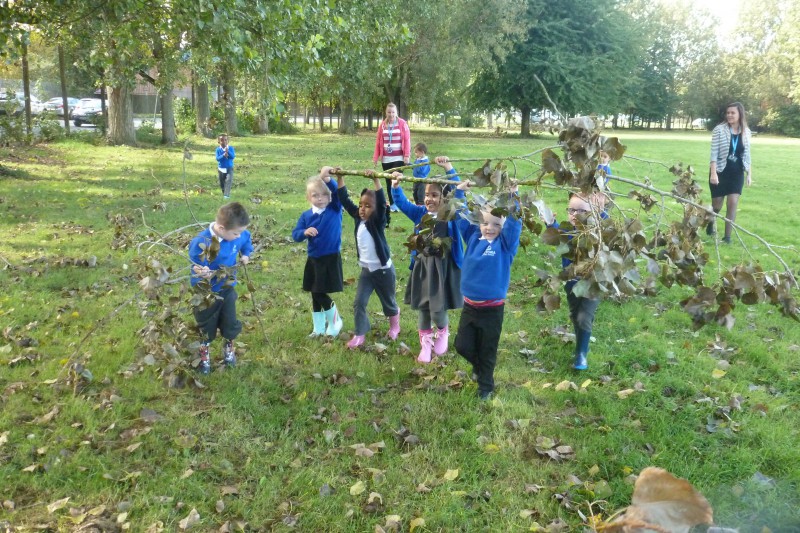 Who can reach higher?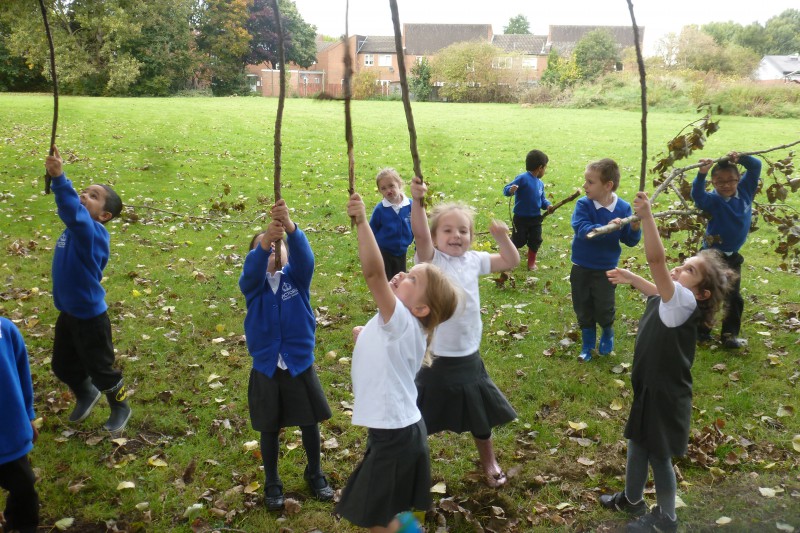 Our hearts were beating fast after a run down the field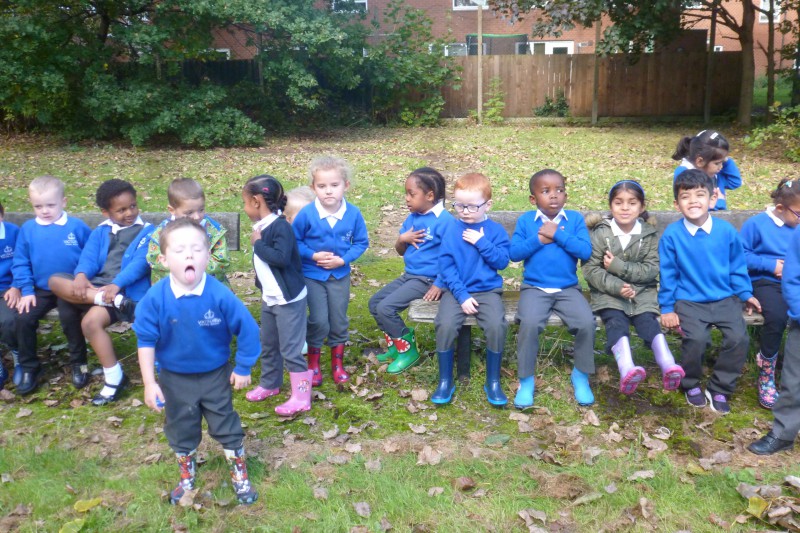 YEAR 2
We are learning about different animals and habitats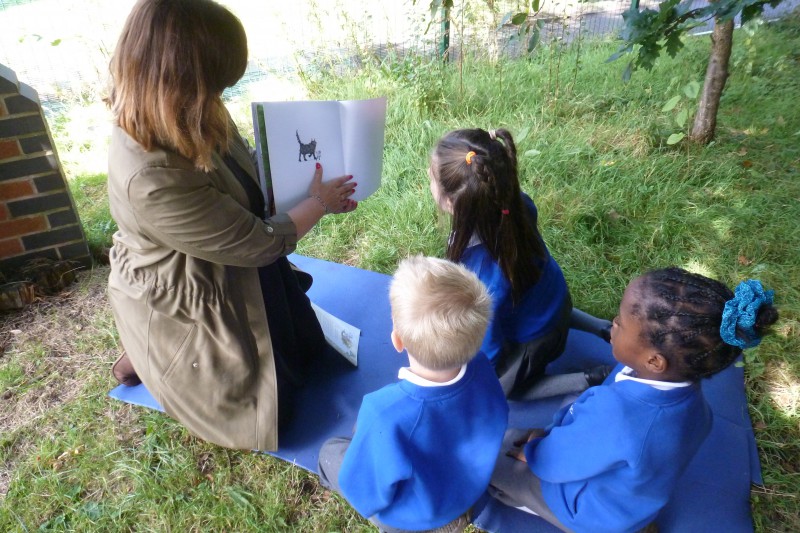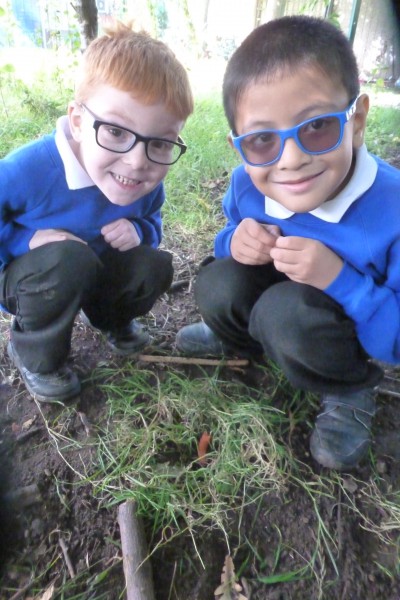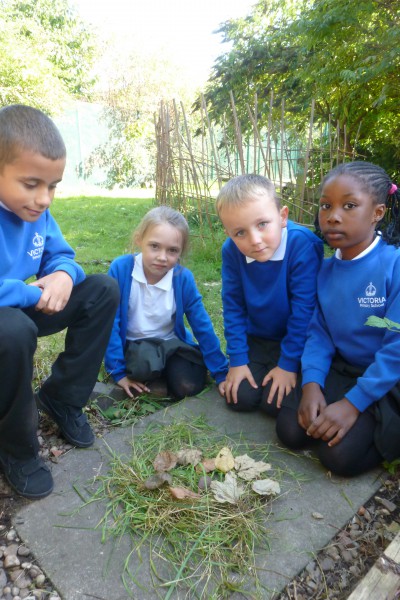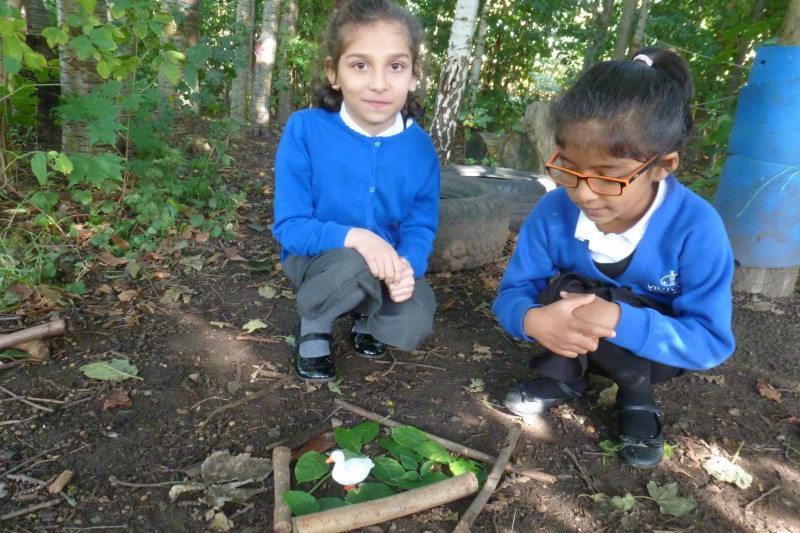 YEAR 3/4
Learning new skills- whittling the willow sticks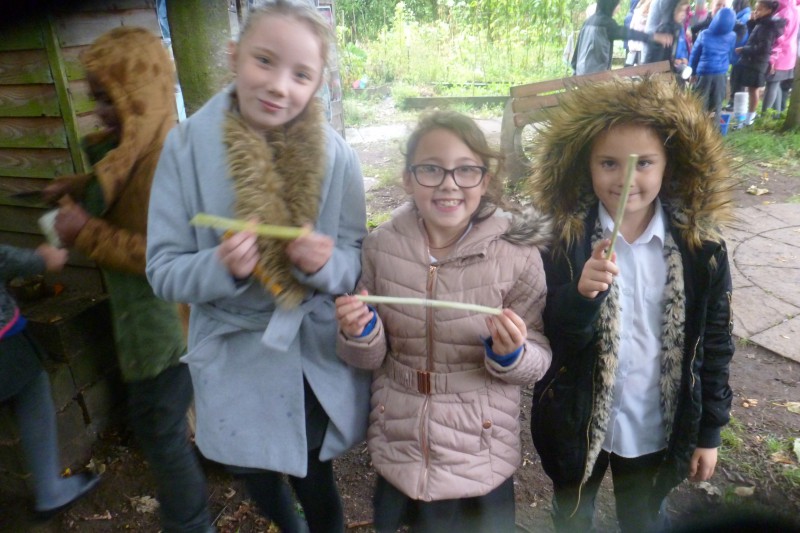 Using mallets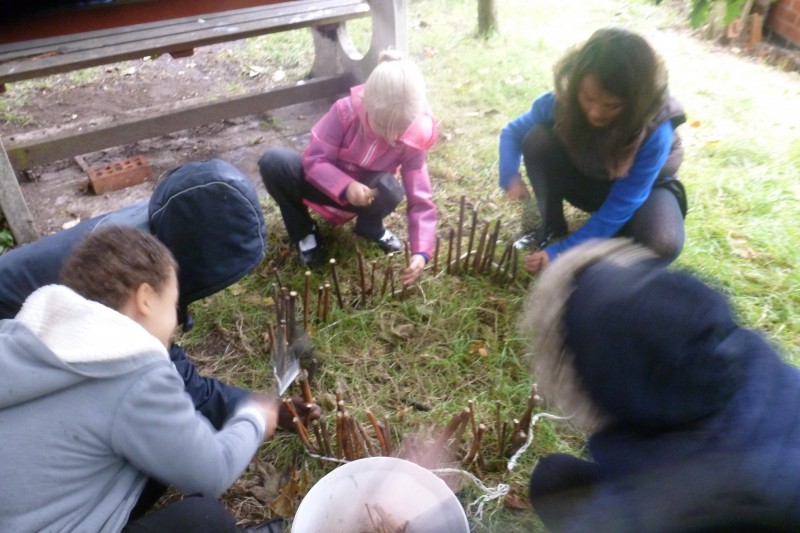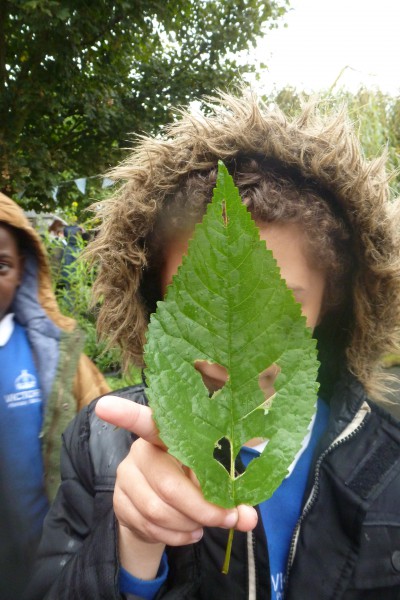 Preparing our Harvest Festival display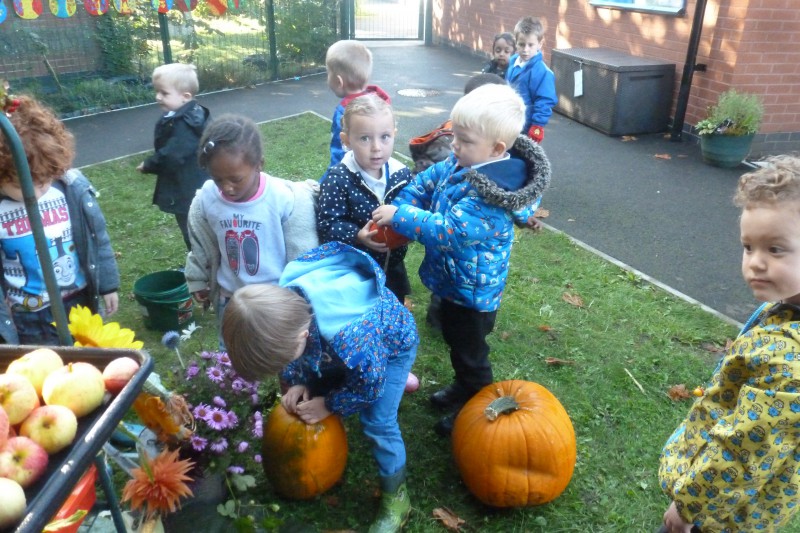 Highlights 2016/2017
Harvesting Tomatoes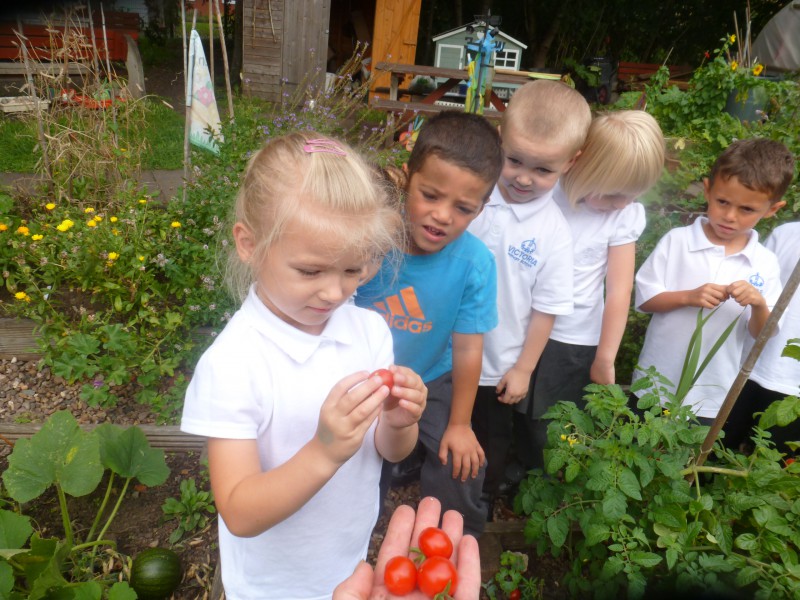 Our New Guinea Pigs- Munchy and Candy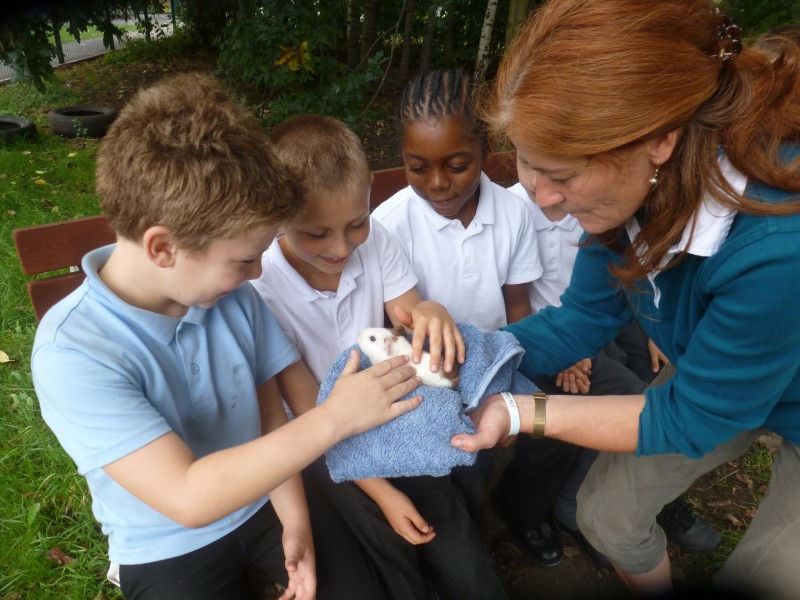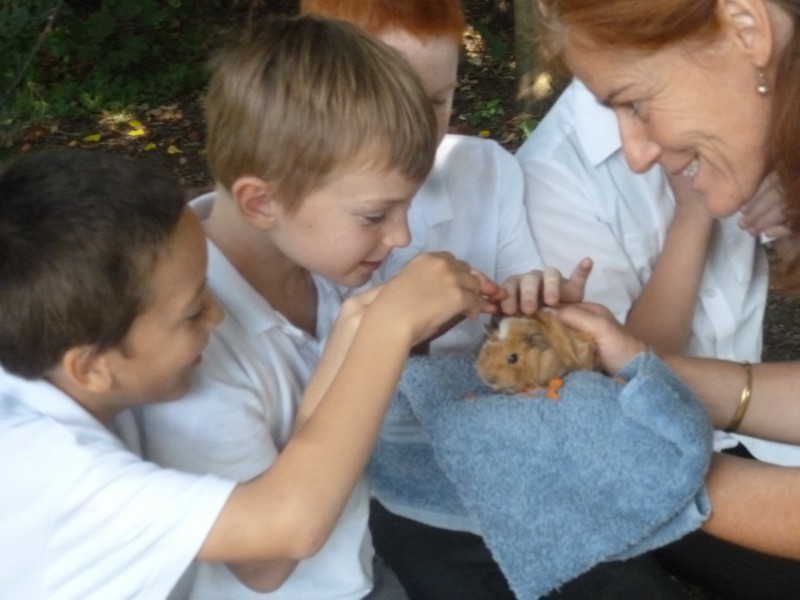 Learning About Local Heroes- Archery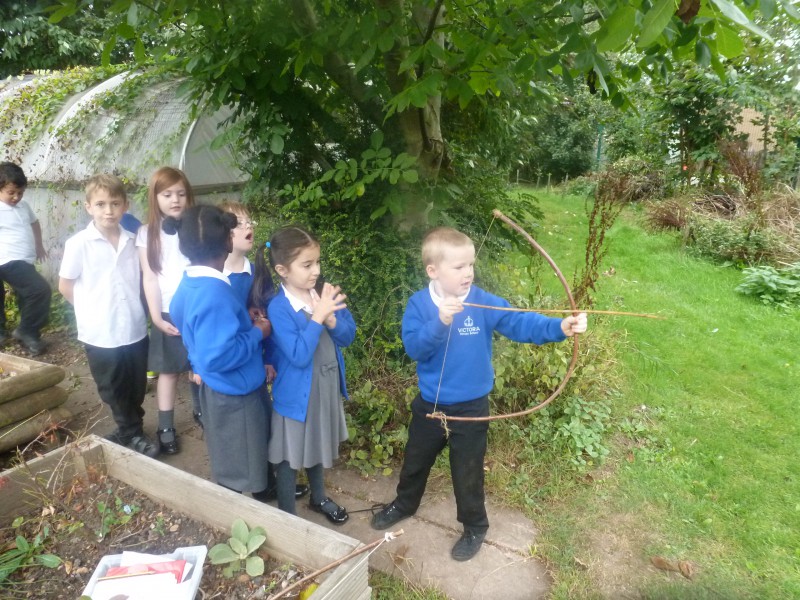 Story Time In The Garden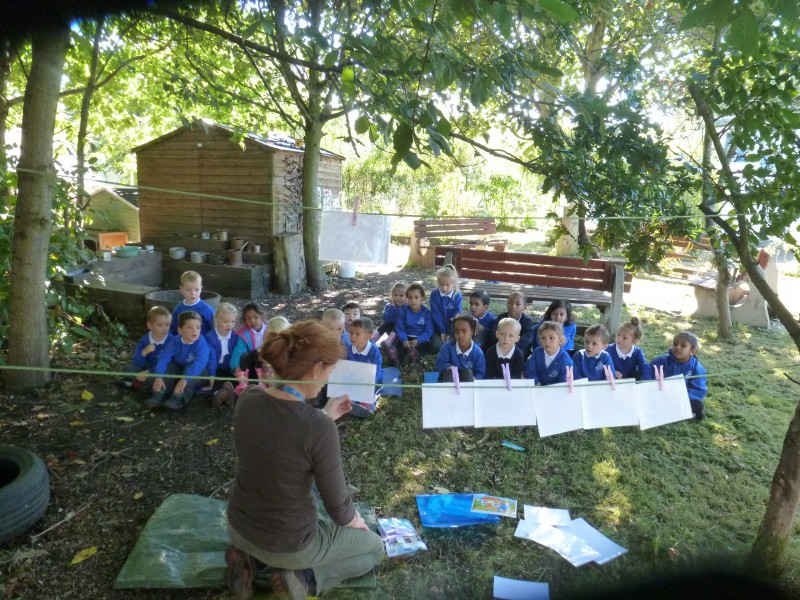 Clay Modeling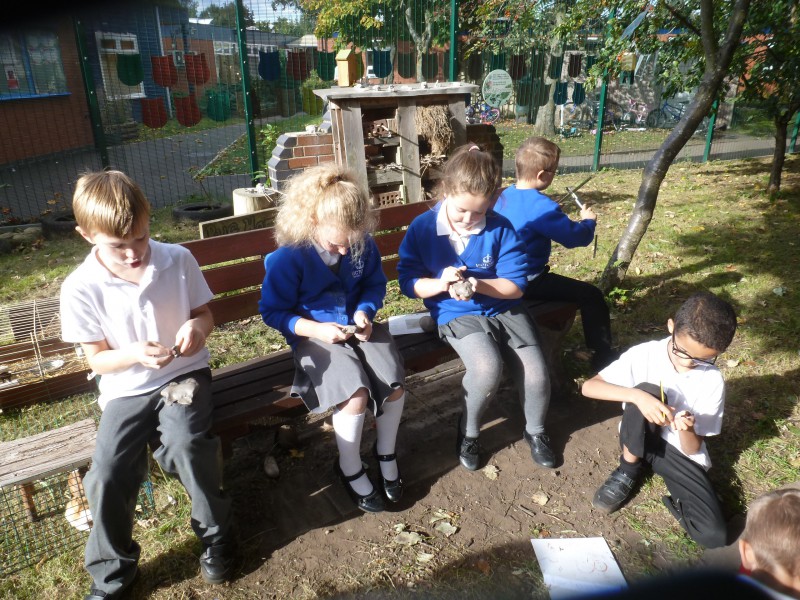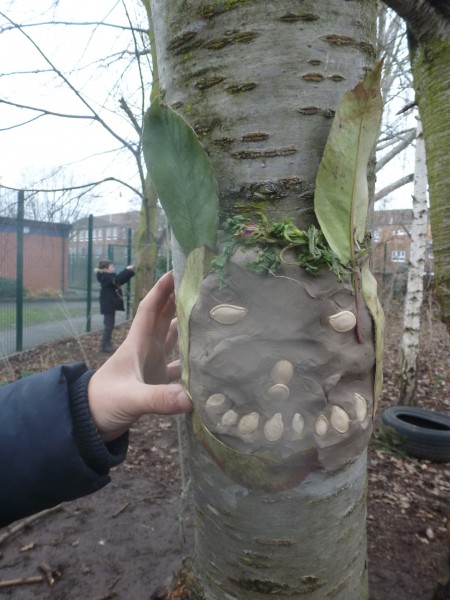 Harvesting Autumn Vegetables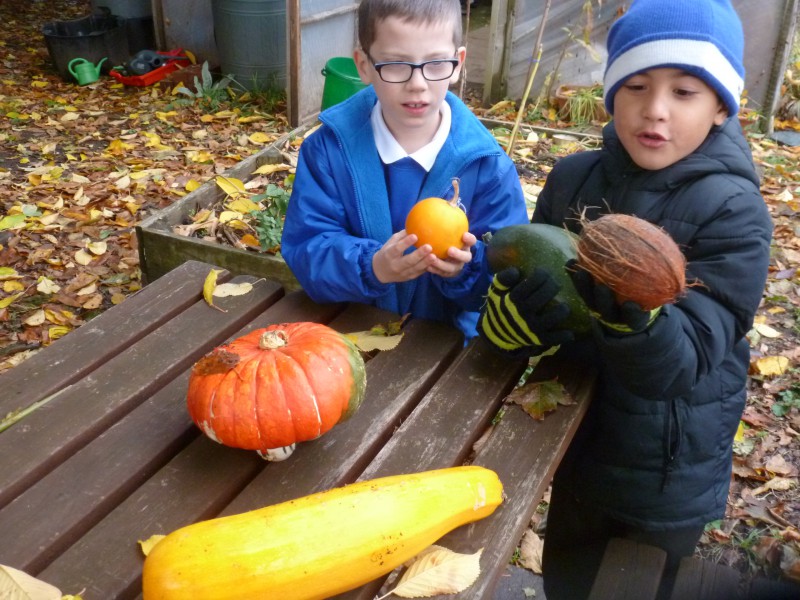 Using Tools To Whittle Wood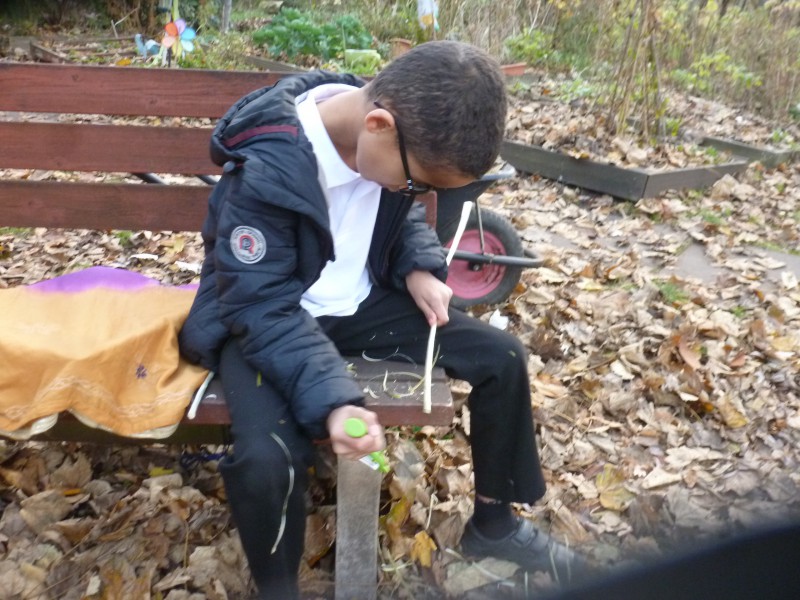 Christmas in the Garden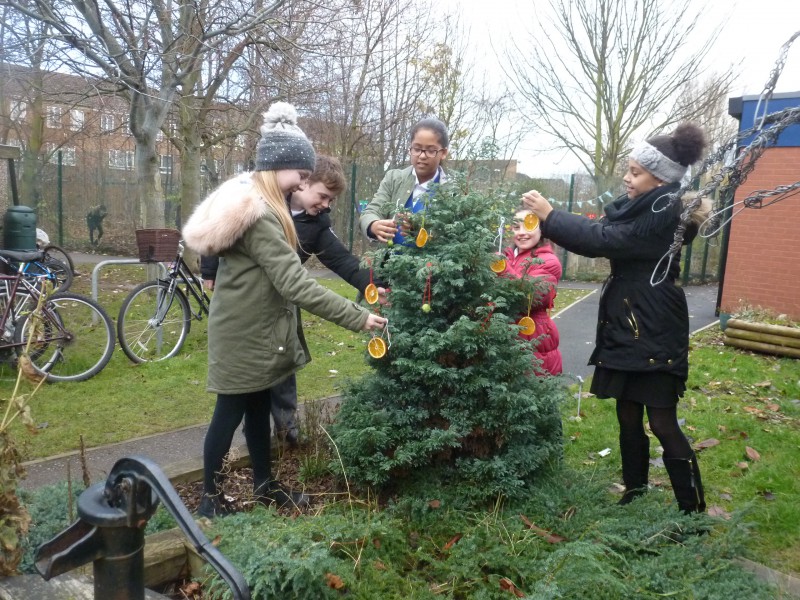 Easter Fundraising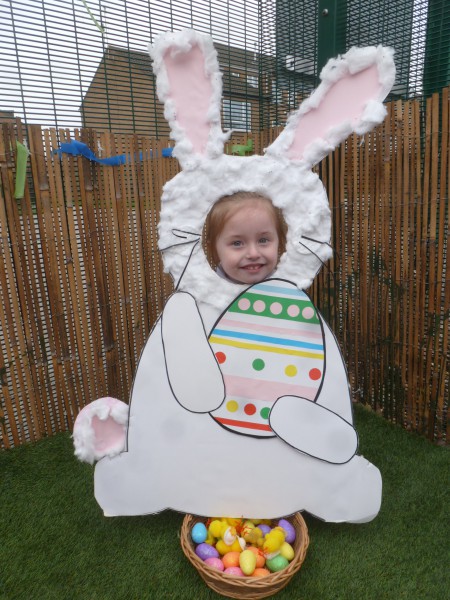 Spring in the Garden- Planting Potatoes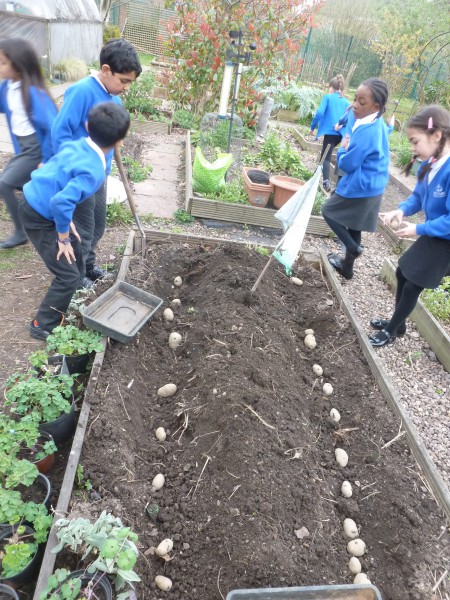 Outdoor Art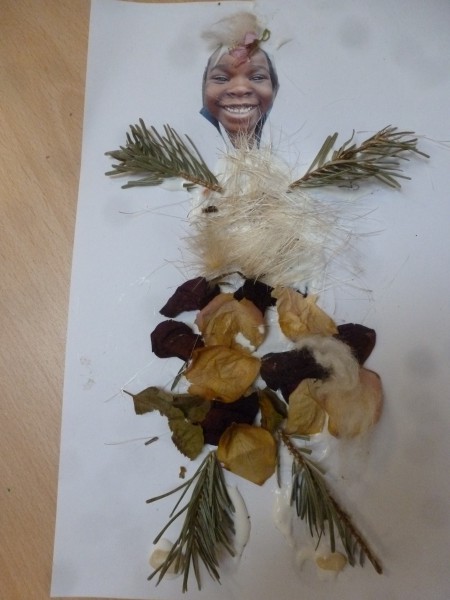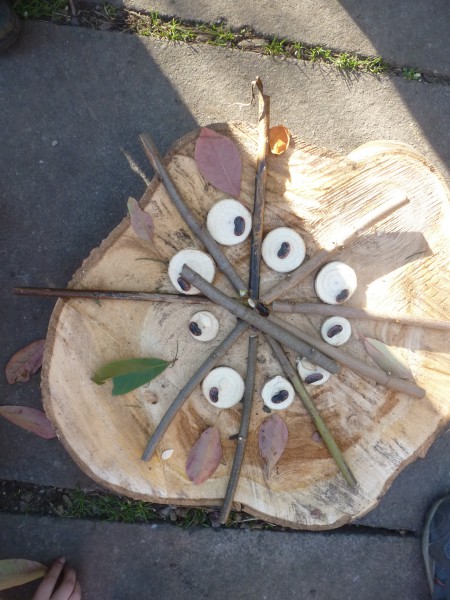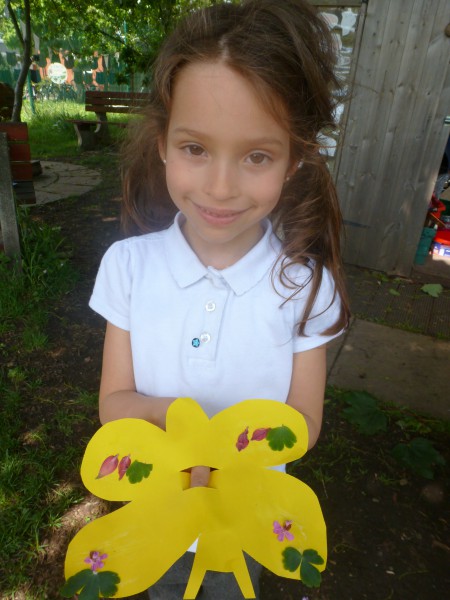 Learning About Minibeasts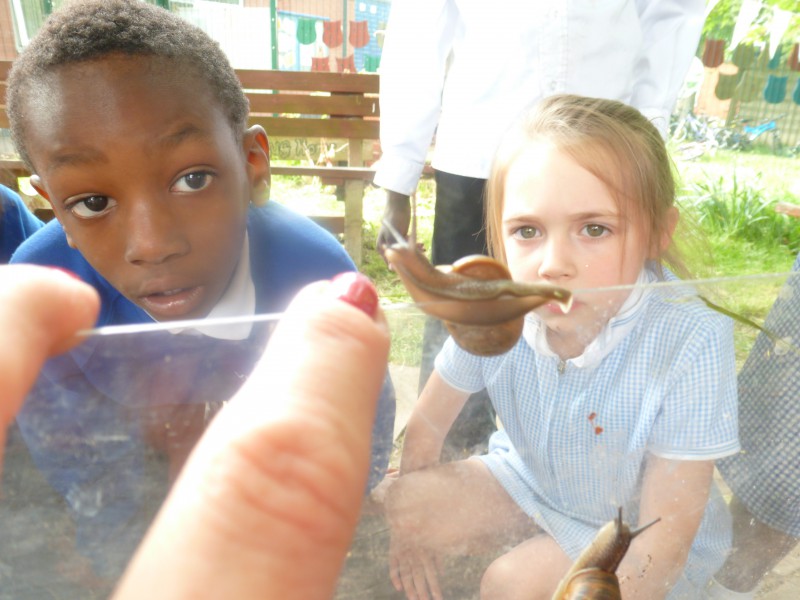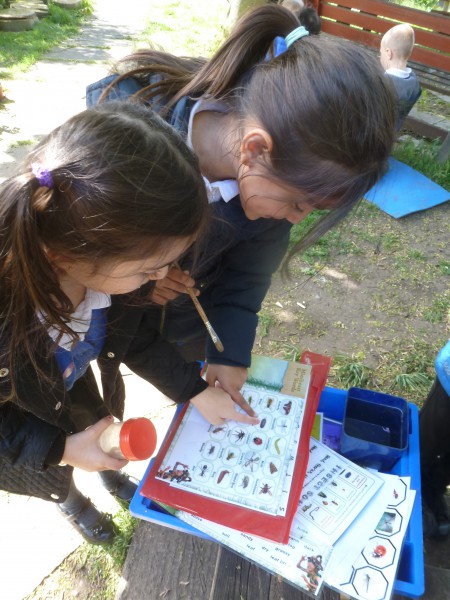 Green Day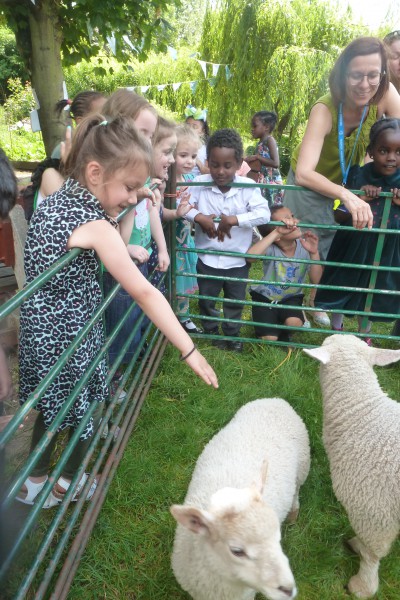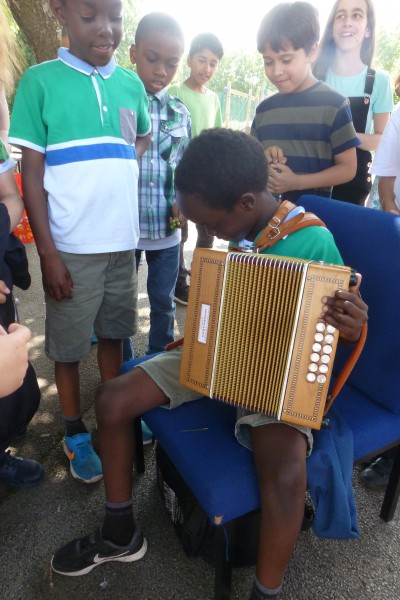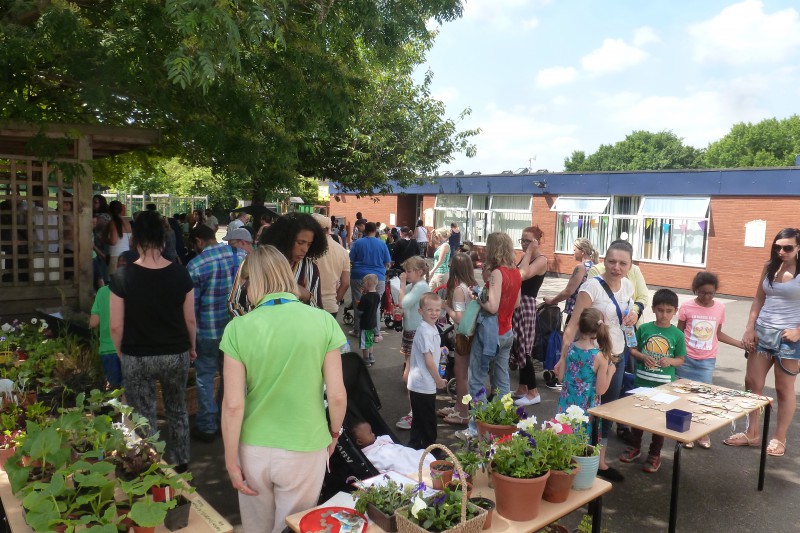 End of School Waffle Party- Fundraising for Outdoor Classroom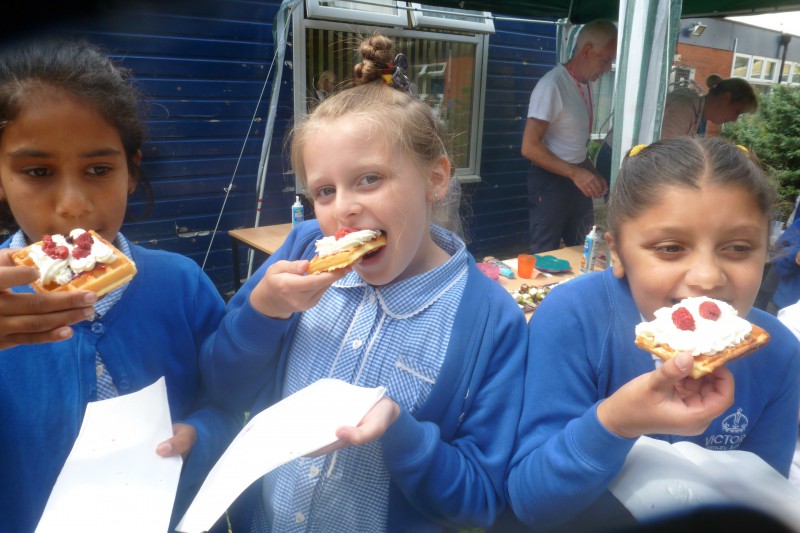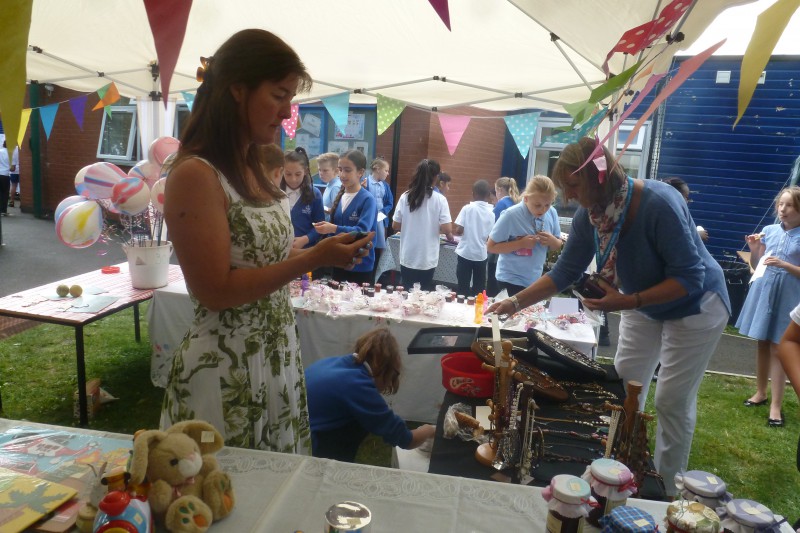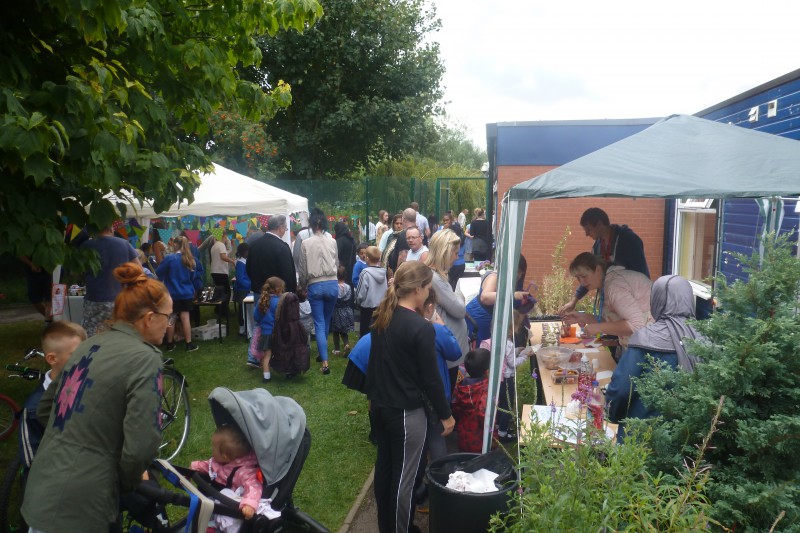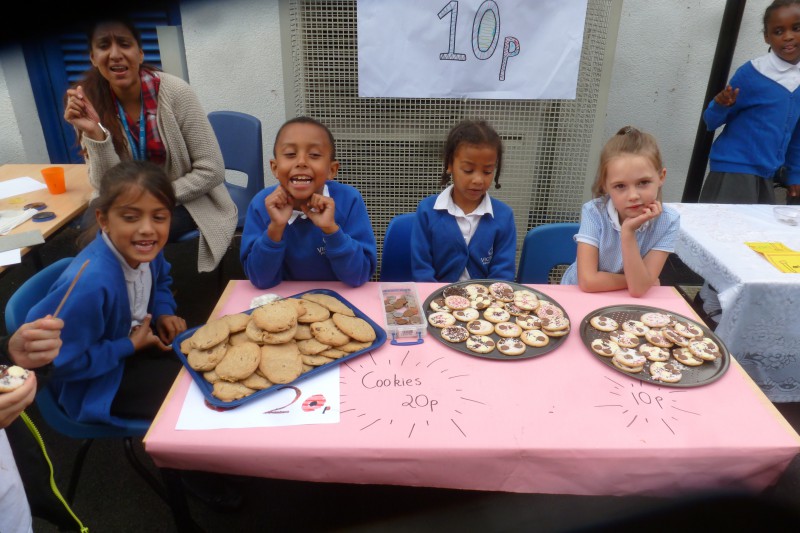 May 2019
| M | T | W | T | F | WE |
| --- | --- | --- | --- | --- | --- |
| | | 1 | 2 | 3 | 4 |
| 6 | 7 | 8 | 9 | 10 | 11 |
| 13 | 14 | 15 | 16 | 17 | 18 |
| 20 | 21 | 22 | 23 | 24 | 25 |
| 27 | 28 | 29 | 30 | 31 | |
Forest School & Garden News